Toptal alternatives
12 Best Toptal alternatives – Best Toptal competitors in 2023
And for a good reason. They were one of the first major freelance platforms in the industry for premium talent.
Interestingly, there's been an increase in the number of freelance platforms available in the market over the last 5 to 7 years, giving a lot of options for those searching to hire remote developers, designers, and product managers. Each one offers a unique set of features that makes them suitable for founders with different requirements.
So, if you're on the hunt for some Toptal alternatives to hiring developers for your projects, this guide can be of use to you.
What is Toptal?
Toptal is one of the most sought-after global talent platforms that cater to businesses on the lookout for A-grade remote tech talent. Toptal's exclusive network of freelancers consists of software developers, designers, product and project managers as well as finance experts who are pre-vetted, and ready for hire. 
According to Toptal, their extensive vetting process ensures that only the top 3% of talent pass through their multi-step screening process to get into their platform.  
Aside from the tech stack of their talent, Toptal takes a thorough look at each applicant's past work experiences and conducts an overall character analysis in order to ensure their customers would only receive the crème de la crème of the remote talent.
Why consider Toptal alternatives for your developer hiring needs?
Different Toptal competitors have specialized in other areas and aspects when it comes to offering tech talents for hire. For instance, some offer varied pricing options and bidding options, in addition to other value-added services that make them stand apart from Toptal.
Hence, if you're searching for the best talent platforms out there with flat rates for all devs, or you require a specific skill set from your freelancer that Toptal does not offer on their platform, you should consider hiring only from the best Toptal competitors out there.
How much does Toptal cost? Toptal allows its freelancers to set their own rates within the platform. This results in rates that vary from case to case.
Hourly rate:
Average developer
What is Toptal's hiring time – Hiring time is based on the availability of devs within the platform.
For more details on customer experiences with Toptal, visit their Trustpilot profile for reviews.
Top 12 Toptal Alternatives to Hire Remote Developers
If you're searching for a Toptal alternative that offers very similar services to Toptal, you're most likely searching for a platform that offers pre-vetted talent. However, this may not be the case for everyone. Those of you with some technical knowledge that can interview and vet the talent themselves may not mind hiring from a platform that offers a wider network of talent to choose from. That way, you can have full control of your hiring process.
Hence, we have provided a mix of platforms that we feel, serve as the best alternatives to Toptal, so you can pick one based on your specific requirements.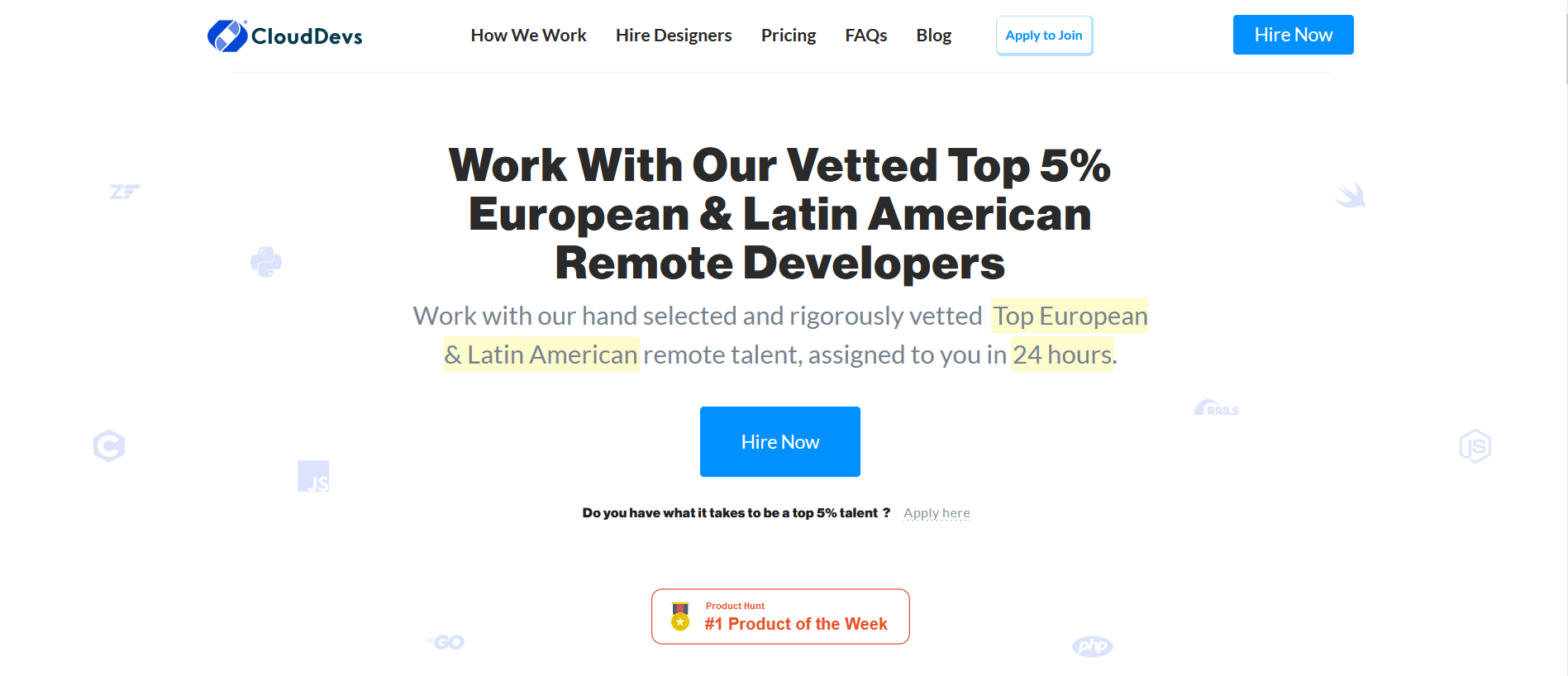 Toptal allows its freelancers to set their own prices; as such, the cost of Toptal talent would vary for each client. In contrast, CloudDevs charges a fee of $45 to $70 per hour for all vetted senior talent on its platform. They are the only top-ranking Toptal alternative to offer these rates without compromising their standards. As a company that conducts its entire operation remotely, CloudDevs can keep its overheads low and hence can afford to offer the best possible rates for the client without charging exuberant commissions.
Standing as the closest competitor to Toptal, CloudDevs has completed over $15 million worth of projects so far.
CloudDevs' 8000+ talent pool comprises Elite Senior Developers and Designers with 5 years plus experience exclusively sourced from the Latin American region.
The company ensures its hiring process can take place within 24 hours.
CloudDevs assures all their talents are assigned from the same time zone as the client, in order to warrant all communications and delivery of services can be conducted efficiently. The clients are further matched personally to the talent, based on experience, niche, and any other requirements.
The company offers a 7 Day no-risk trial period to guarantee the chosen talent is the right fit for the client. If the client is not fully content, CloudDevs is ready to either immediately replace the talent or refund the money.
CloudDevs offers a weekly rolling contract with no minimum commitment that allows the client to cancel the project whenever they want.
If you require a senior dev at a rate less than $70 per hour without compromising on the quality of their output, you can hire any of CloudDevs LatAm tech talents at an hourly rate of $45 to $70 in comparison to Toptal's rates which vary based on the type of talent. According to Reddit users, CloudDevs ensures the standard of the developers as they hire only elite senior developers and designers on a short-term or on-demand basis. chosen from your own time zone, all in under 24 hours! Considered one of the best sites to hire programmers, CloudDevs offers some of the most compatible rates in the market for freelance developers and designers based on client feedback on Reddit.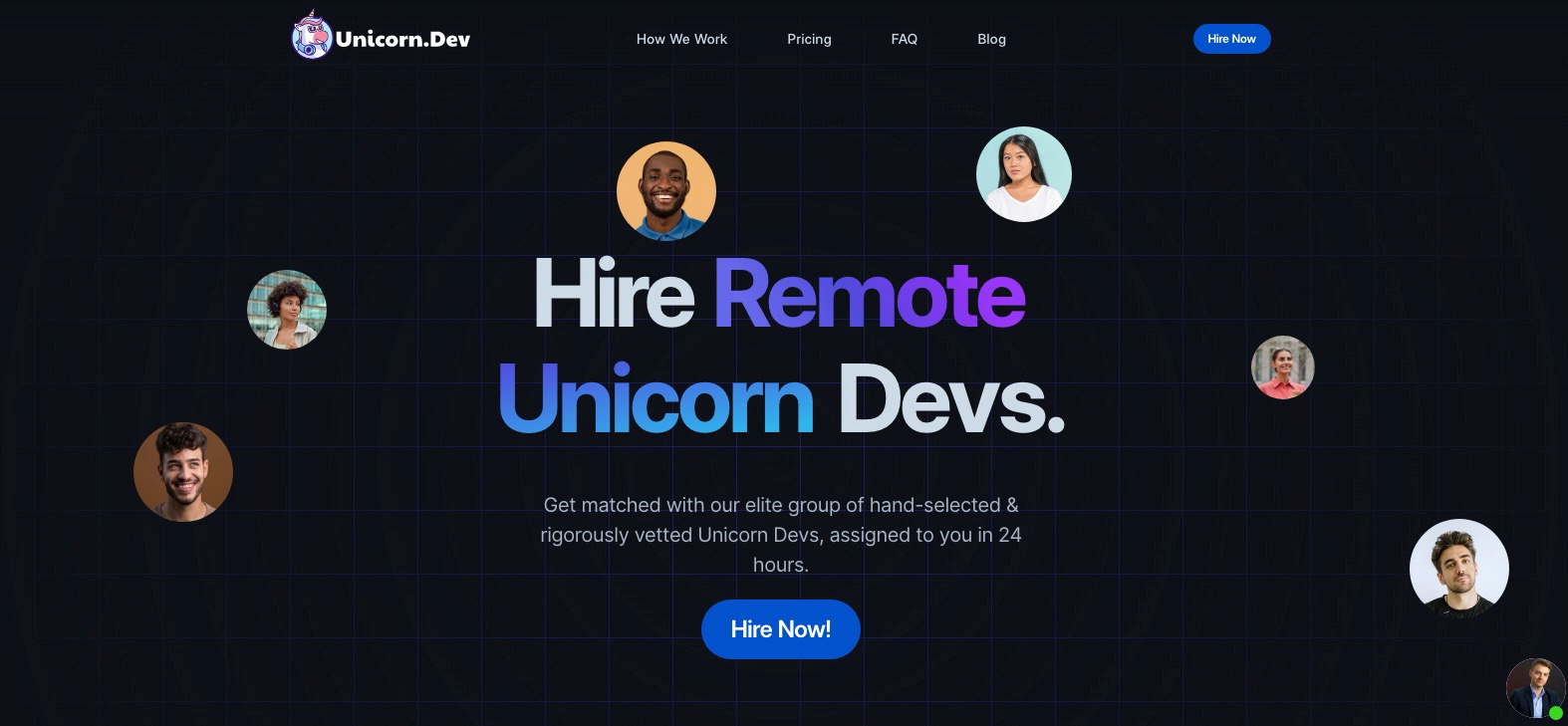 Unicorn.Dev is one of the cheaper alternatives to Toptal charging its clients a

flat rate of 35 USD per hour

for all their senior vetted talent. As Toptal's rates are different from talent to talent as well as the location of each talent, it's difficult to state how much they would quote for your dev before the sign-up process. Comparatively, Unicorn.Dev provides a

fixed, transparent rate

which is the same for all their talent.

Unicorn.Dev offers a senior talent pool with all their developers and designers having at least 5 years of experience in their respective fields.
Due to their extensive pool of pre-vetted talent, you can be matched with a Unicorn Dev in under 24 hours.
Unicorn.Dev offers a 1-week free trial when you hire each new talent, so you have an entire week to test out their work and see if it's the best fit for you. If you're not content with the talent, you may ask for a replacement that comes with another week-long free trial. If you're still unsatisfied and want to end the partnership, you can walk away, no questions asked!
According to Reddit users, Toptal developer rates vary based on their talent and location, so the cost will vary from developer to developer. Comparatively, Unicorn.Dev is a Toptal alternative that offers highly-vetted senior tech talent at a flat rate of 35 USD with utmost transparency, which makes the decision-making process easier for pre-seed founders and entrepreneurs because you are in the know from the get-go! And what's more, these software engineers are also handpicked to provide only the best talents in the market to match your needs.
3. Upwork Vs Toptal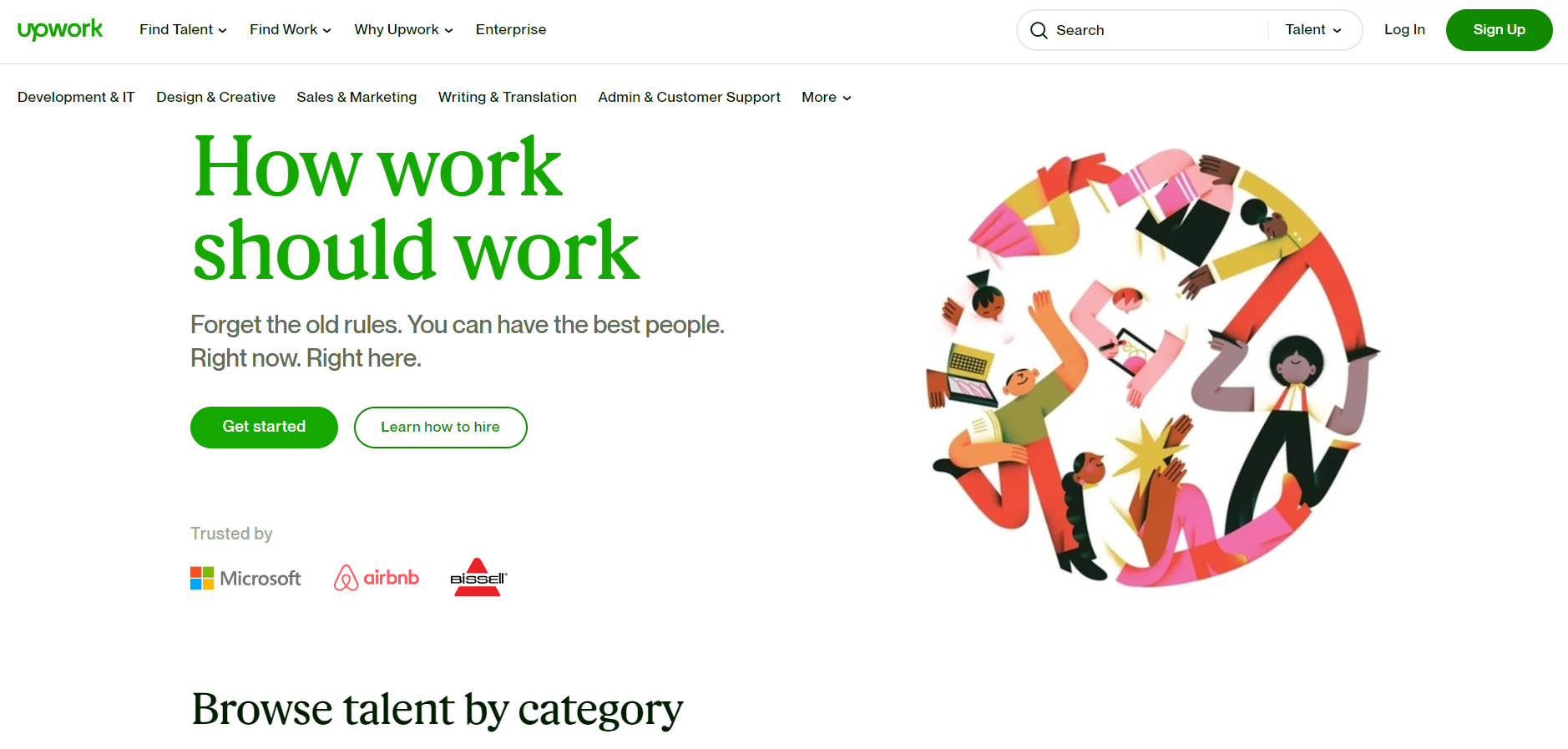 Unlike Toptal, Upwork does not screen its freelancers. Hence the client needs to have the capacity to conduct the vetting process themselves, which may take up to 8 weeks to finalize the hire.
Even though Upwork's bidding system lowers the project's price, it attracts a large number of sub-par talent, hence it's not the most suitable place to search for high-end developers for long-term projects.
Upwork is yet another Toptal alternative for clients seeking talent at a low cost, according to Reddit users.
The average Upwork developer rates are from $8-$15/hr, and they go up to $200/hr based on seniority (Both Hourly & per-project payment options being available). Additionally, Upwork charges a commission at a rate of 2.75% per client.
Upwork holds a Trustpilot Score of 4.5
If your project requires people with multiple skill sets and you want to find a quick match for a cheap price, then you should consider this Toptal alternative. However, keep in mind that Upwork does not conduct an interview or vetting process of their talent, therefore be ready to spend some time to finalize a hire. If time is of the essence, and you require an immediate hire whilst ensuring top-quality tech talent, then you're better off choosing an Upwork competitor such as CloudDevs or Toptal from this list.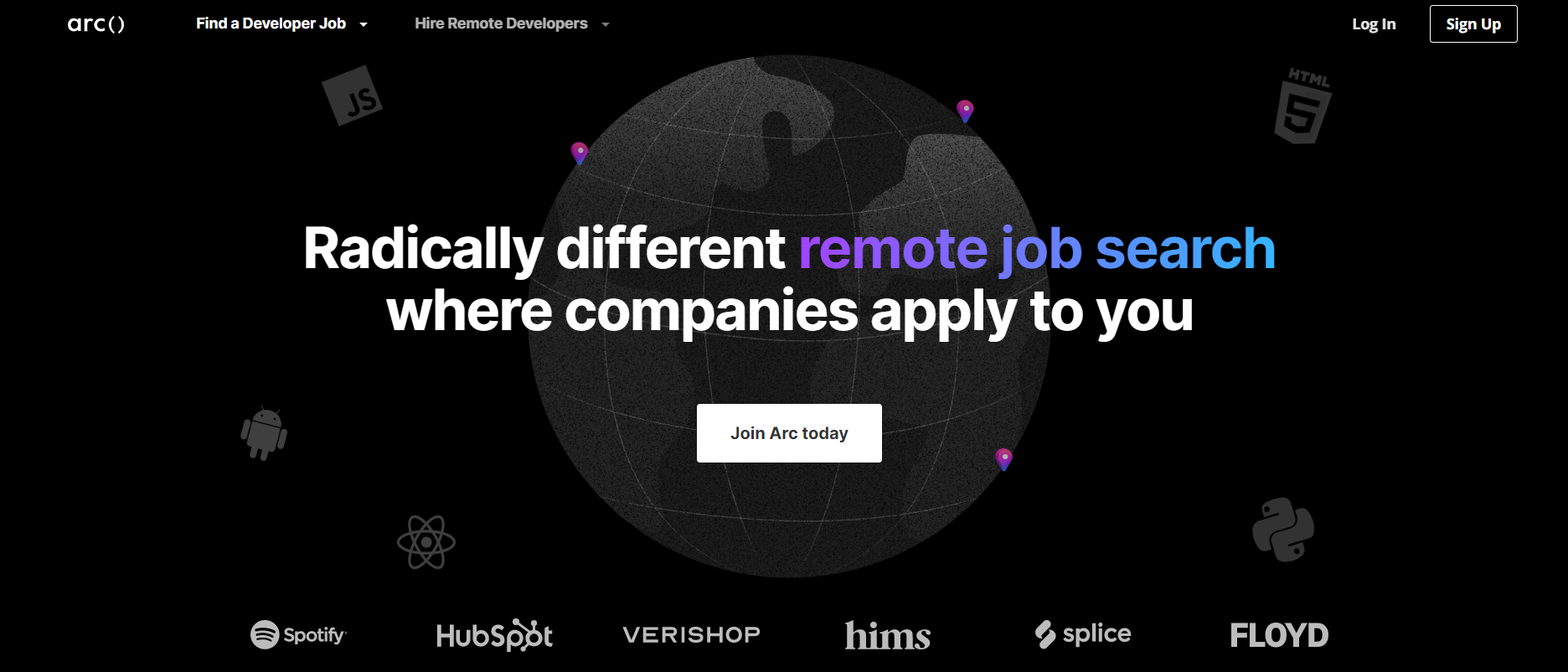 Among the other existing tech talent sites like Toptal, Arc is renowned for conducting a rigorous vetting process to warrant the quality of their developers, who are said to be in the top 1.1%.
The company specializes in assisting clients in hiring full-time remote developers, and you can expect to hire a dev in 1 to 3 weeks.
Akin to Toptal, Arc.dev lies in the higher price scale, with developers costing anything upwards of $60 to $200+ per hour.
Arc.Dev holds a Trustpilot Score of 4.5
With a six-step screening process and a 1.1% pass rate, Arc.Dev as a Toptal alternative prides itself in having the best of the best in the tech talent industry on board its platform. If this is what you aim for and their premium fees aren't a burden, then Arc. Dev would be a great choice to consider as a Toptal alternative.

Offering some of the largest numbers of freelance talent available in a single platform, Freelancer is a site that provides employers with the facility to find remote talent for a range of projects spanning software development, marketing, and accounting to data entry.

Employers post their projects, and the freelancers make bids as they send tailored proposals.

The platform collects the payment from the employers upfront, and the freelancer will be paid once the project is finished and approved.

Based on Reddit reviews, this Toptal alternative has a vast number of South Asian talent.
The pricing structure differs based on the freelancer as they may choose to be paid by the hour or charge a fixed price for the job. On average, it should cost between $10 to $100 per hour based on the chosen dev's experience and expertise level.
As the selection process is in the hands of the client, the time taken to hire suitable talent would range anything between 2 to 10 days.

Freelancer has a

Trustpilot

score of 4.6
In comparison to other sites like Toptal that specialize in tech talent, Freelancer is a Toptal alternative that serves as a great choice if you intend to hire diverse talent (not limited to tech talent), as it is a similar site to Upwork where you can conduct all your recruitment, from marketing hires to virtual assistants, all within one platform. However, this may also be a downside to those that are searching for a specific talent niche. Also worth keeping in mind that they do not offer vetted talent, and it is up to the client to make the judgment call based on their own interactions and the reviews left by others.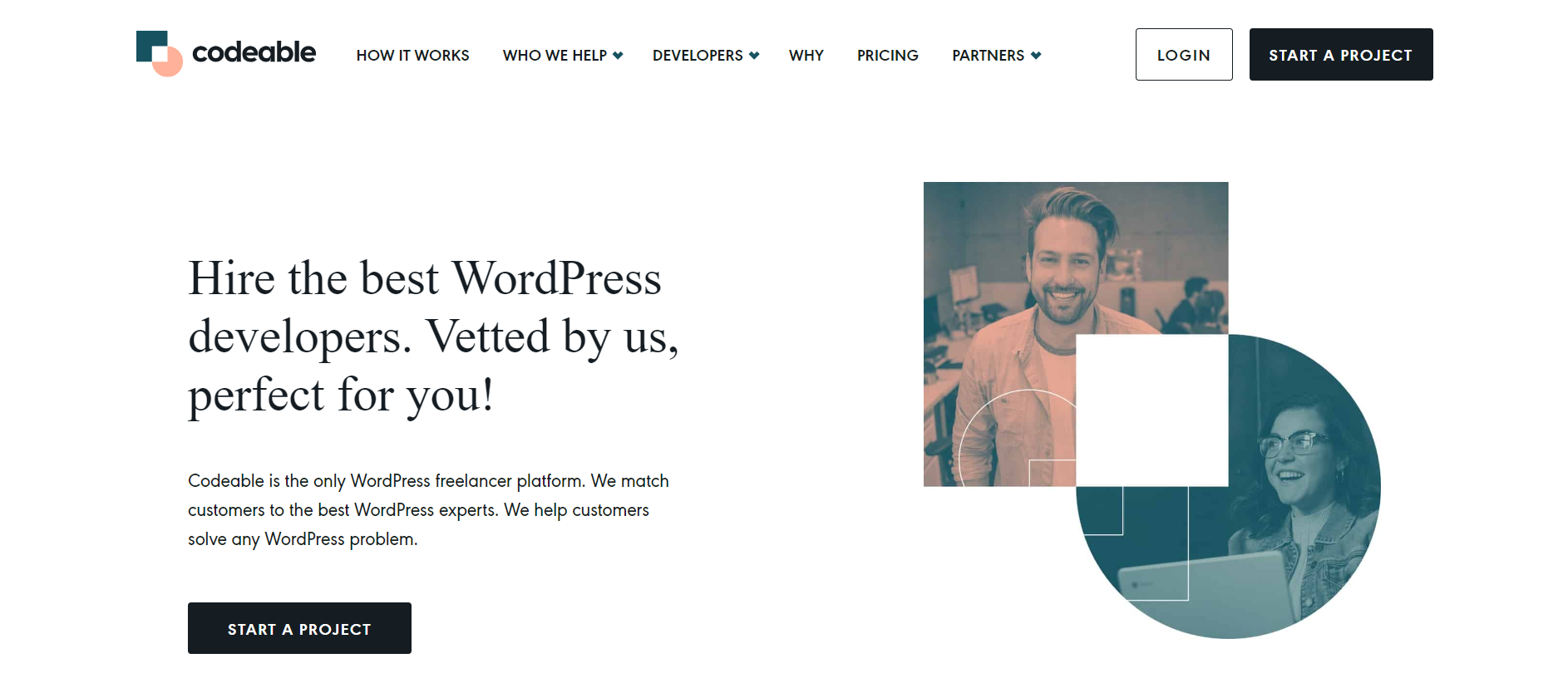 Specializing in WordPress-related development, Codeable offers vetted talent that must undergo a 45-day trial before being accepted to the platform.
Codeable provides free estimates for your projects and they place no obligation for you to make that hire through them.
You can expect to hire an expert developer to review your project in as little as 3 to 5 hours through this Toptal alternative.
Codeable rates generally fall within $75 to $120 per hour, and they are also known for their money-back policy in case the client is dissatisfied with their services.
Codeable holds a Trustpilot Score of 4.7
If your project specifically requires only WordPress coders, Codeable can provide you with some of the best in the field. However, Toptal and its alternatives mentioned in this comparison also offer WordPress developers for hire. So you may want to consider them too. However, it's worth noting that Reddit offers some mixed reviews about this Toptal alternative, with some clients not receiving expert talent for their projects as claimed by Codeable.
7. Fiverr Vs Toptal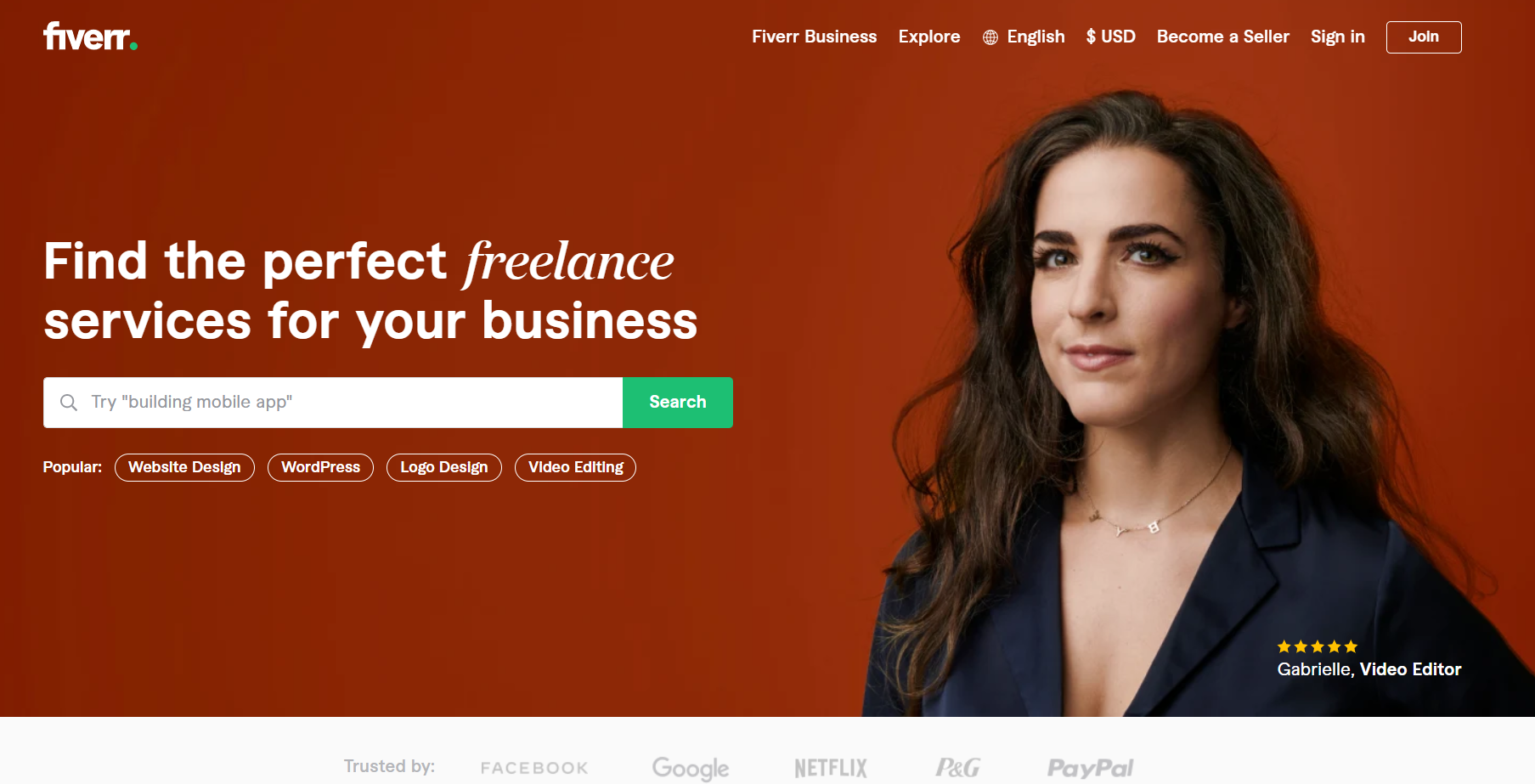 If you're on the hunt for alternatives to Toptal, then Fiverr provides a database of freelancers of varying skill sets to provide their services online. Fiverr is one such Toptal competitor where you can either post your project and allow freelancers to bid on it, or you can directly approach the talent in their freelance network if you find one that seems right.
Similarly, their highly competitive bidding system on Fiverr forces talent to reduce their rates in order to get gigs.
One can hope to hire a developer within $5-$800 per project. Additionally, Fiverr charges up to 20% of the service fee from the buyer.
They claim that hires can be made within 1 to 3 days. However, it should be noted that since Fiverr does not offer vetted talent, the hiring process can lengthen if the client doesn't find the right fit.
Fiverr holds a Trustpilot Score of 4.1
If you're working on a very tight budget and are willing to overlook the quality aspect of the project, then Fiverr might possibly be the one for you. However, there are a number of Reddit users that cry out the downsides to this Toptal alternative. Unlike most other Toptal alternatives, Fiverr does not offer pre-vetted talent. Fiver is more akin to sites like hired.com and comparatively, Toptal freelancers guarantee top-quality output and we cannot say the same for the non-screened talent at Fiverr.
Although Fiverr is a growing platform that provides a wide array of choices that fall within pretty much any price point, they warn clients to keep in mind that its good talent is vastly dispersed, so you may have to spend quite a number of weeks in order to sift through them all and find your best fit.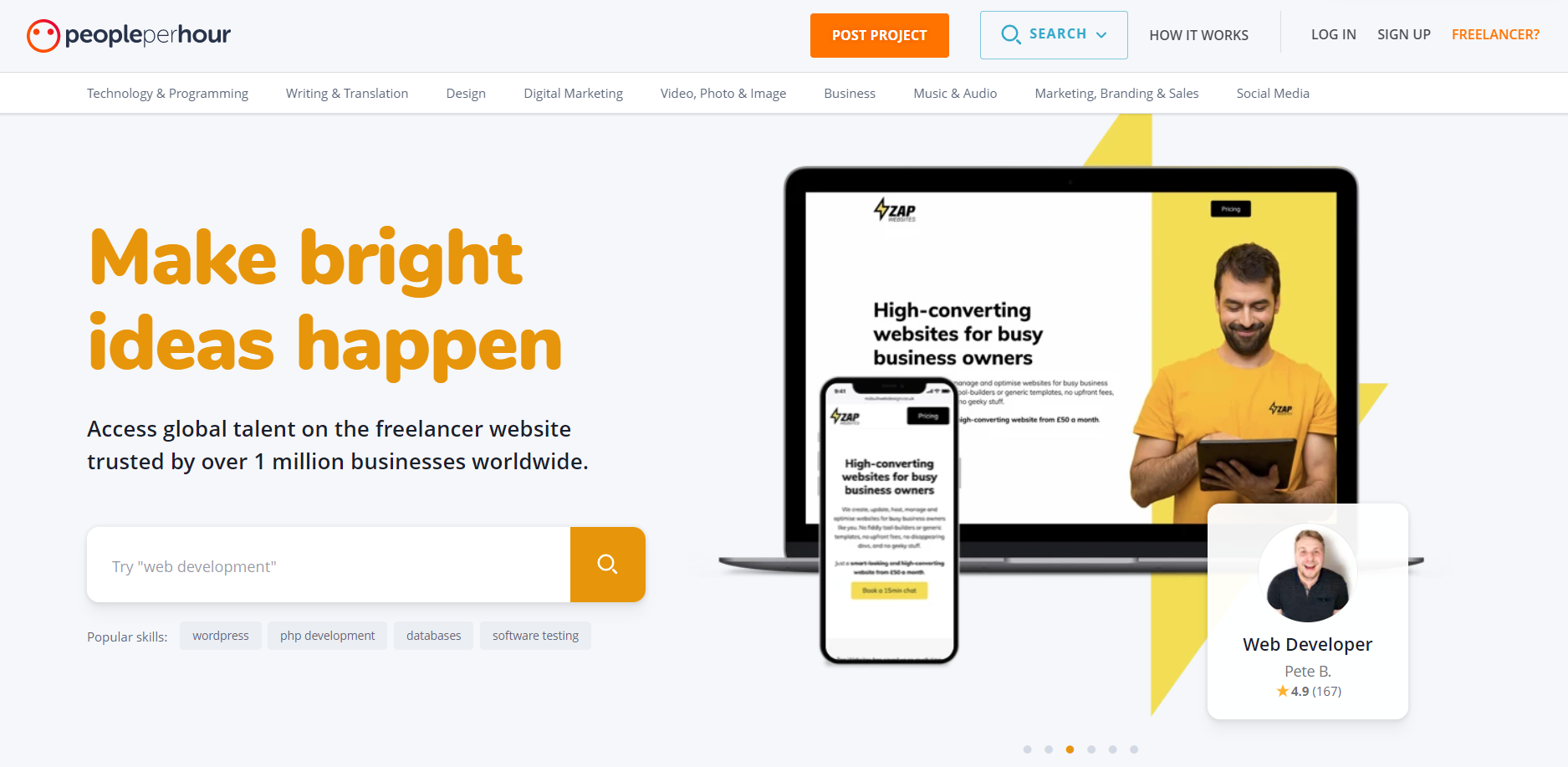 PeoplePerHour is a talent marketplace that offers a wide variety of talents for hire as remote freelancers.

Businesses can post their projects, and freelancers would send in their proposals so that the clients can select the best person for the job.

Job seekers are spread out across a range of specialties from programmers, design development, and SEO professionals to writers.

You can expect to find a developer on PeoplePerHour in the range of $15 to $50.

Finalizing the talent is dependent upon the client as they have to review the proposals submitted and make a final decision. The process can take anything between 5 to 10 days.

PeoplePerHour has a

Trustpilot

score of 4.2
PeoplePerHour, similar to the other generic sites presented here, is a worthwhile option for those intending to make a large number of hires across different job specifications. And it is also possible to find talent that is more reasonably priced here. But finding the right talent that fits your requirement may take longer than expected through PeoplePerHour.
According to reviews left on Reddit by its freelancers, this Toptal alternative is quite frowned upon due to the lack of projects on board and its poor UI design. In addition, you would have to go through a number of project proposals to find your shortlisted candidates and then proceed to discuss technicalities and finalize your hire.
9. Gun.IO Vs Toptal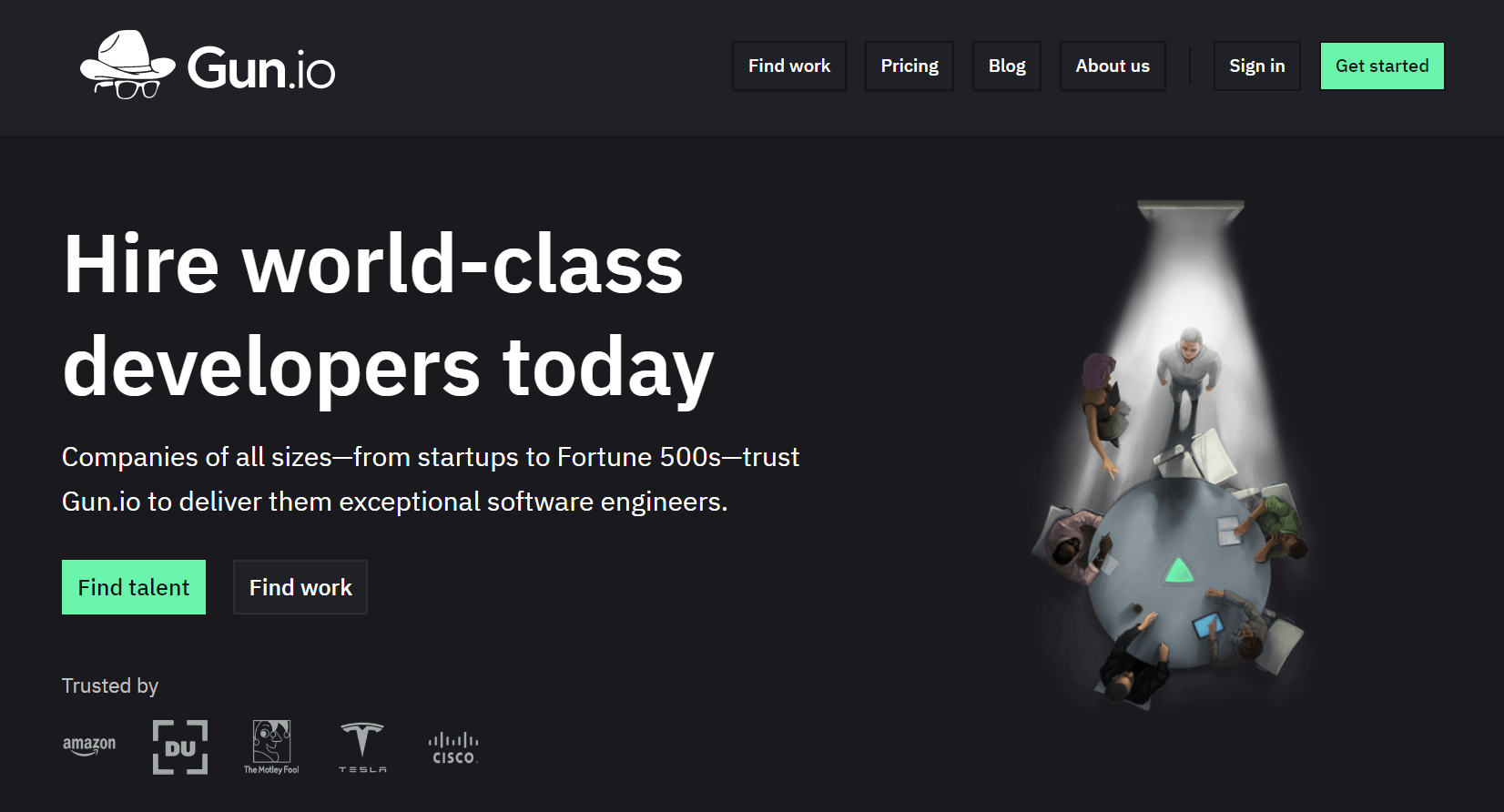 This exclusive invite-only network of highly vetted and elite software developers sourced from the United States incorporates a customized recommendation process to match developers with companies.

However, their niche invite-only pool reduces the number of options the client has to pick from compared to other Gun.io competitors like CloudDevs and Toptal which have larger talent pools to access.
Gun.io offers the ability to book freelance developers for the monthly hours required by the client, and in general, assures a hiring time of 48 hours.
The client is able to bring in additional resources or swap out talent as required.
Comparatively higher in its rates than Toptal and other Toptal alternatives, Gun.io charges upwards of $80 per hour depending upon the required specifications.
The company, however, offers a refund guarantee if the client is unsatisfied with their work.
Gun.io holds a Trustpilot Score of 3.5
If you're happy to pay a premium price for a product developed by a Toptal competitor that houses an exclusive group of software developers sourced from the United States, then Gun.io can offer you talent services similar to Toptal. However, if you aren't willing to go the premium route, you may want to go ahead with one of the other top Gun io competitors listed in this article.
10. Guru Vs Toptal

Similar to Freelancer and Fiverr, Guru has a vast number of talent registered within their platform.
In addition to developers and designers, Guru offers freelance talent in pretty much any field of interest.
However, due to a large number of non-vetted talent within their platform, the site has a reputation for scammers.
With Guru, the hiring time depends on the client and the interview process that will be conducted before selecting the talent. It may take anything up to 3 weeks to finalize a hire.
While opening an account on Guru is free for employers, the site takes a 2.9% cut from every transaction made. If you wish to promote your job listing for an extra month to receive a higher number of candidates, you can do so at a further $29.95.
Guru holds a Trustpilot score of 2.1
If you need to hire a wide variety of talent and require a large pool to pick from, you can access over 1.7 million freelancers through Guru's platform. However, they do not offer a screening of candidates, so make sure you have the time to screen the talent yourself. Due to this reason, this Toptal alternative is not considered a go-to platform for hiring talent based on reviews placed by Reddit users.

If you're wondering what is Gigster, it is a talent platform specializing in offering the entire tech team for hire. Gigster is unsuitable for small-minded clients that require only one specific task that can be accomplished by an individual developer. Having access to a pool of top-quality developers and project managers, the company uses AI-based algorithms to bring together the right team for the job.
The global network of developers presented by Gigster spans multiple time zones, and the company claims to find the right candidate to fill your position in under 10 days from a network of 1000+ global members.
While they pride themselves on their timely delivery speeds, the company also offers free cancellation of your project at any time.
Gigster is known to access a code library that significantly speeds up the coding process. However, this may not be ideal for clients requiring more bespoke options.
Gigster pricing is in the higher range as they utilize project-based compensation, charging a steep per-project fee of a Minimum of $52,000 per license.
Interesting note that all Gigster's staff works on a part-time basis.
While they offer a strong development base, the same cannot be said about their design elements within the projects developed by this Topta alternative. which may lead to the client needing a third-party design team to do the final glow-up, which would increase the product's overall cost.
Furthermore, Gigster does not offer a trial for their services, so one has got to put their complete faith in them and hand over the reins wishing for the best output.
Gigster holds a Trustpilot Score of 3.2
Try Gigster if your project requirement entails hiring an entire team of highly skilled developers and designers, and you are not too concerned about what it may cost, in that case, Gigster may be the best option for you. However, many of Gigster's competitors like Toptal also offer the option of hiring for fully managed projects, and if that is your requirement, you may want to consider Toptal as well.

Pangara specializes in offering pre-vetted Vietnamese software developers for hire.

Businesses can cancel an ongoing project on Pangara by sending in a written request within 10 days of commencement.

Their pricing is not available online, and you need to contact them directly to get a quote.

Pangara tech talent is most recommended for short-term requirements for individual developers on a budget.
Pangara is a free-to-use freelancer platform. Despite being founded by Swedish entrepreneurs, they exclusively hire Vietnamese coders. They are all hired based on a four-step qualifying procedure—application screening, psychometric exams, technical tests, and a structured interview. This ensures the candidate's linguistic abilities, motivation, and work ethic align with Pangara's norms.
Support and software maintenance is provided to ensure the smooth flow of work. You can cancel your project by giving the other party 10 business days' written notice. Pagara is a good alternative to Toptal for those seeking highly vetted developers for their outsourced programming requirements.
Pricing

Varies
Time

Based on availability