Toptal alternatives
8 Best Toptal alternatives – Best Toptal competitors in 2023
Toptal is one of the leading tech talent marketplaces in the world. And for a good reason. They were one of the first major freelance platforms in the industry for premium talent.
Interestingly, there's been an increase in the number of freelance platforms available in the market over the last 5 to 7 years, giving a lot of options for those searching to hire remote developers, designers, and product managers. Each one offers a unique set of features that makes them suitable for founders with different requirements.
TL;DR
Here is our list of the best alternatives to Toptal:
1. CloudDevs – Hire highly vetted, time zone-matched, LatAm developers & designers in 24 hours at a price range of $45-$70 per hour
2. Unicorn.Dev – A global pool of pre-screened remote developers and designers at $35 per hour flat
3. Upwork – A marketplace to connect remote freelance talents in any industry with businesses globally, with varying rates based on specific skills
4. Gun.IO – Exclusive network of top-tier US-based software engineers offering development services starting from $75 per hour
5. Fiverr – An online marketplace connecting non-vetted freelancers and clients for a wide range of digital services
6. Gigster – Outsource your project to an elite tech team providing development services starting from their minimum project fee of $52,000
7. Codeable – WordPress freelancer platform connecting clients with WordPress experts for custom website development, with rates starting at $70 per hour
8. Stack Overflow Talent – A recruitment platform connecting employers with skilled developers and technology professionals worldwide

So, if you're on the hunt for some Toptal alternatives to hiring developers for your projects, this guide can be of use to you.
What is Toptal?
Toptal is a leading global talent platform that specializes in providing businesses with access to top-tier remote tech talent. Established in 2010, Toptal offers a diverse pool of talent, including software developers, designers, product and project managers, and finance experts, all of whom are pre-vetted and ready for hire.
One of Toptal's standout features is its extensive vetting process, which ensures that only the top 3% of talent are accepted onto the platform. This ensures that Toptal's clients have access to the crème de la crème of remote talent, making it a top choice for businesses looking to hire the best. With a focus on quality, efficiency, and customer satisfaction, Toptal has become a trusted partner for businesses seeking top-tier remote talent.
Why consider Toptal alternatives for your developer hiring needs?
It's always good to explore your options when it comes to hiring tech talent. Toptal may be a popular choice, but there are other platforms out there that offer different features and services that may better suit your needs.
Each Toptal competitor has their own unique selling point. Some platforms specialize in specific areas and offer more value-added services, such as project management and quality assurance, that make them stand out from the rest.
By exploring other Toptal alternatives and their unique offerings, you can find the best fit for your specific needs and requirements, and ultimately make a more informed decision that benefits your business in the long run.
How much does Toptal cost? Toptal allows its freelancers to set their own rates within the platform. This results in rates that vary from case to case.
Hourly rate:
Average developer
What is Toptal's hiring time – Hiring time is based on the availability of devs within the platform.
For more details on customer experiences with Toptal, visit their Trustpilot profile for reviews.
Top 8 Toptal Alternatives to Hire Remote Developers
If you're searching for a Toptal alternative that offers very similar services to Toptal, you're most likely searching for a platform that offers pre-vetted talent. However, this may not be the case for everyone. Those of you with some technical knowledge that can interview and vet the talent themselves may not mind hiring from a platform that offers a wider network of talent to choose from.
Hence, we have provided a mix of platforms that we feel, serve as the best alternatives to Toptal, so you can pick one based on your specific requirements.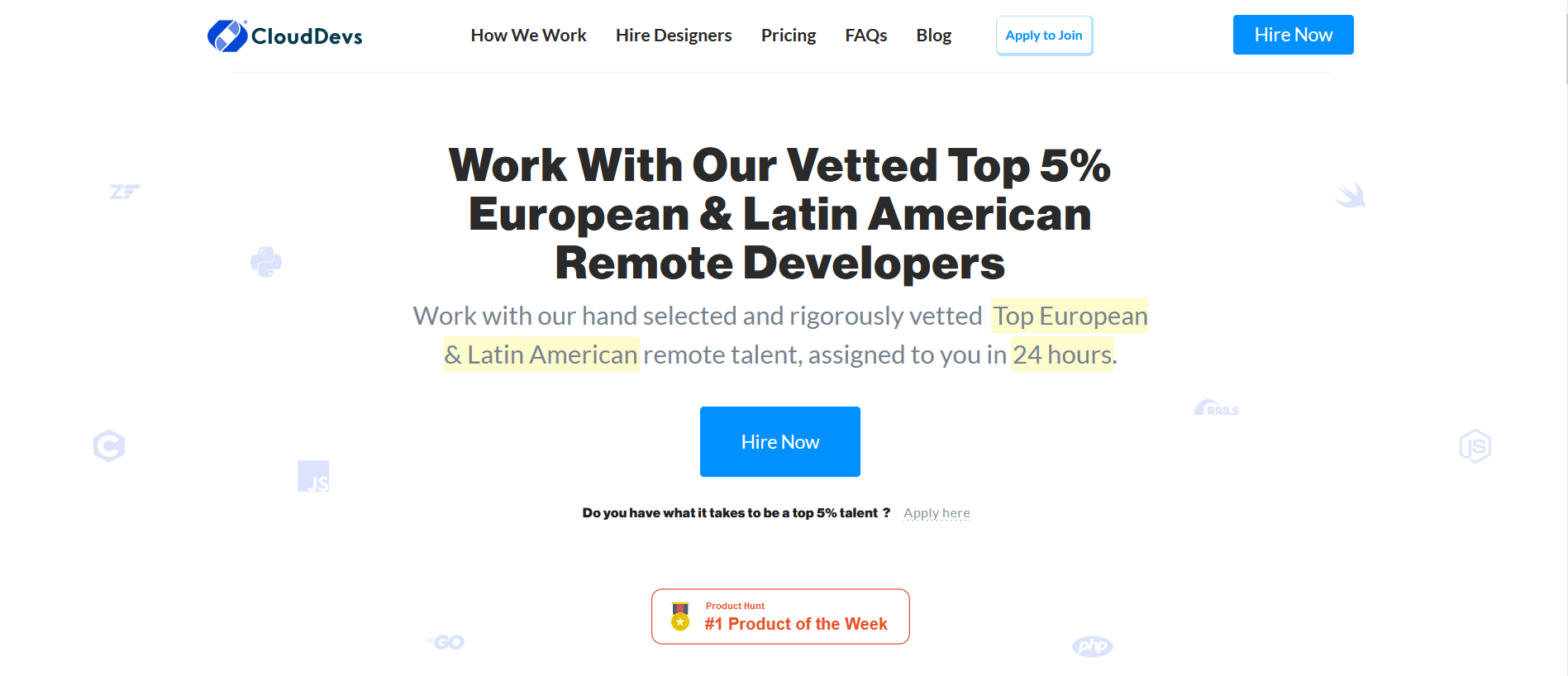 Toptal allows its freelancers to set their own prices; as such, the cost of Toptal talent would vary for each client. In contrast, CloudDevs charges a fee of $45 to $70 per hour for all vetted senior talent on its platform. They are the only top-ranking Toptal alternative to offer these rates without compromising their standards. 
Standing as the closest competitor to Toptal, CloudDevs has completed over $15 million worth of projects so far.
CloudDevs' 8000+ talent pool comprises Elite Senior Developers and Designers with 5 years plus experience exclusively sourced from the Latin American region.
CloudDevs hiring process can take place within 24 hours.
CloudDevs assures all their talents are assigned from the same time zone as the client, in order to warrant all communications and delivery of services can be conducted efficiently.
The company offers a 7 Day no-risk trial period to guarantee the chosen talent is the right fit for the client. If the client is not fully content, CloudDevs is ready to either immediately replace the talent or refund the money.
CloudDevs offers a weekly rolling contract with no minimum commitment that allows the client to cancel the project whenever they want.
If you're looking for a platform that focuses on connecting clients with remote developers for specific technology stacks, CloudDevs can be a favorable choice over Toptal. The platform offers a seamless hiring process, allowing clients to review developers' profiles, skills, and past projects.
You can hire elite senior developers and designers from LatAm through CloudDevs at an hourly rate ranging from $45 to $70, without compromising on the quality of their output. As per Reddit users, CloudDevs assures high standards of developers as they only hire the best talent on a short-term or on-demand basis.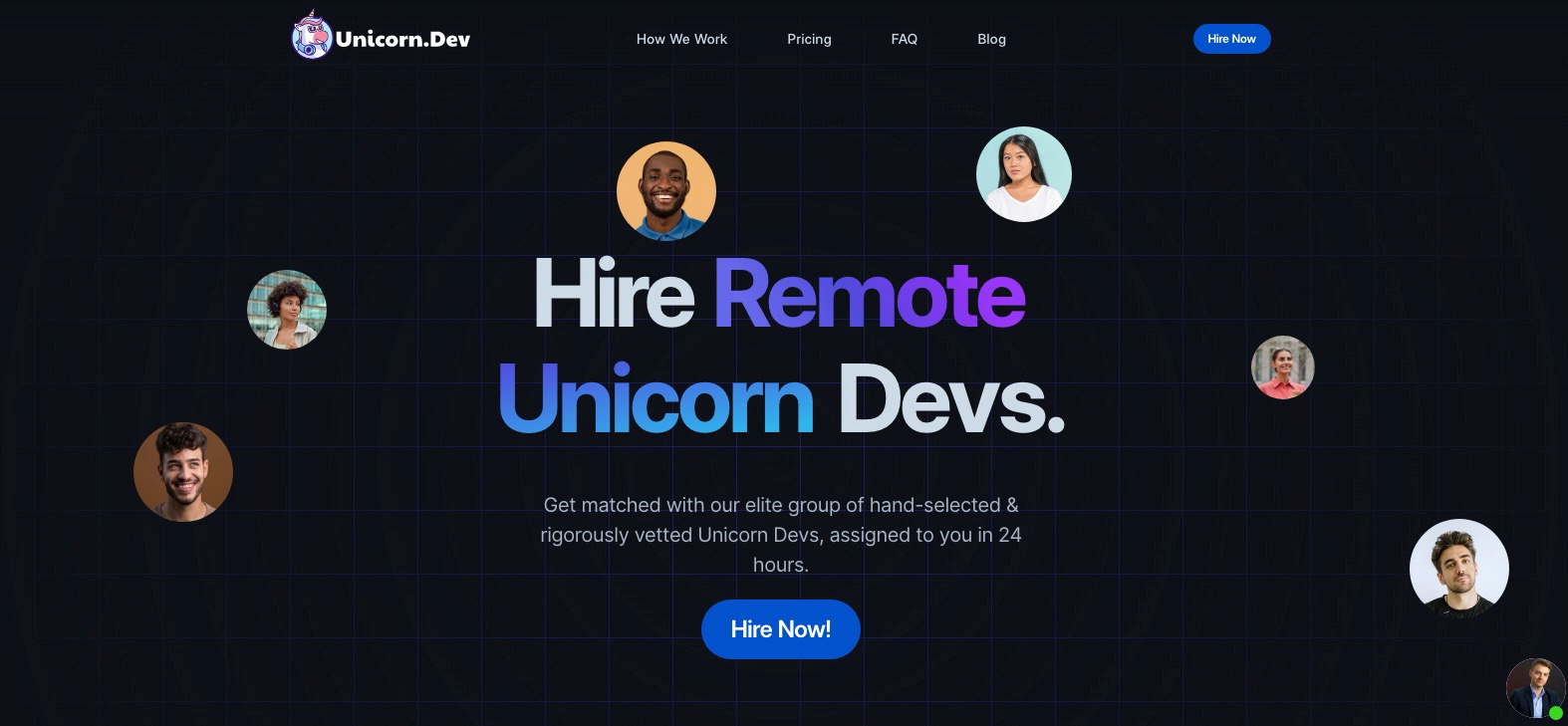 Unicorn.Dev is one of the cheaper alternatives to Toptal charging its clients a

flat rate of 35 USD per hour

for all their senior vetted talent. As Toptal's rates are different from talent to talent as well as the location of each talent, it's difficult to state how much they would quote for your dev before the sign-up process. Comparatively, Unicorn.Dev provides a

fixed, transparent rate

which is the same for all their talent.

Unicorn.Dev offers a senior talent pool with all their developers and designers having at least 5 years of experience in their respective fields.
Due to their extensive pool of pre-vetted talent, you can be matched with a Unicorn Dev in under 24 hours.
Unicorn.Dev offers a 1-week free trial when you hire each new talent, so you have an entire week to test out their work and see if it's the best fit for you. If you're not content with the talent, you may ask for a replacement that comes with another week-long free trial.
Toptal developer rates differ depending on their talent and location, resulting in a varying cost for each developer. However, Unicorn.Dev is an alternative to Toptal that offers pre-vetted senior tech talent at a flat rate of 35 USD, which provides transparency and simplifies the decision-making process for pre-seed founders and entrepreneurs. According to Reddit users, Unicorn.Dev is a reliable choice for those who seek clarity and quality in their hiring process.
3. Upwork Vs Toptal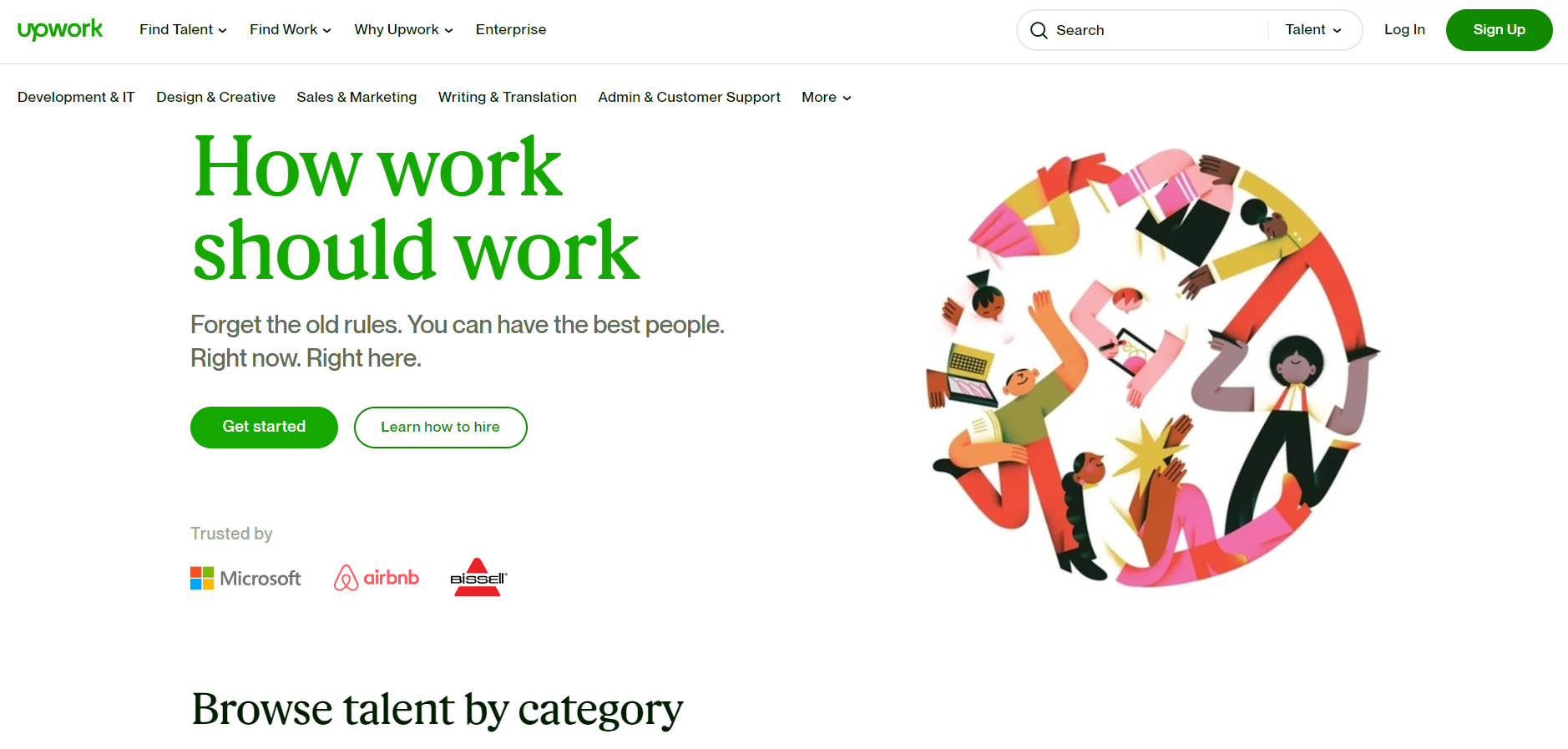 Unlike Toptal, Upwork does not screen its freelancers. Hence the client needs to have the capacity to conduct the vetting process themselves, which may take up to 8 weeks to finalize the hire.
Even though Upwork's bidding system lowers the project's price, it attracts a large number of sub-par talent, hence it's not the most suitable place to search for high-end developers for long-term projects.
Upwork is yet another Toptal alternative for clients seeking talent at a low cost, according to Reddit users.
The average Upwork developer rates are from $8-$15/hr, and they go up to $200/hr based on seniority (Both Hourly & per-project payment options being available). Additionally, Upwork charges a commission at a rate of 2.75% per client.
Upwork holds a Trustpilot Score of 4.5
If you're looking for a more flexible and diverse pool of freelancers at varying price points, Upwork can be a preferred choice over Toptal. Unlike Toptal's exclusive selection process, Upwork provides a platform where clients can review freelancers' profiles, portfolios, and client feedback to make informed hiring decisions.
4. Gun.IO Vs Toptal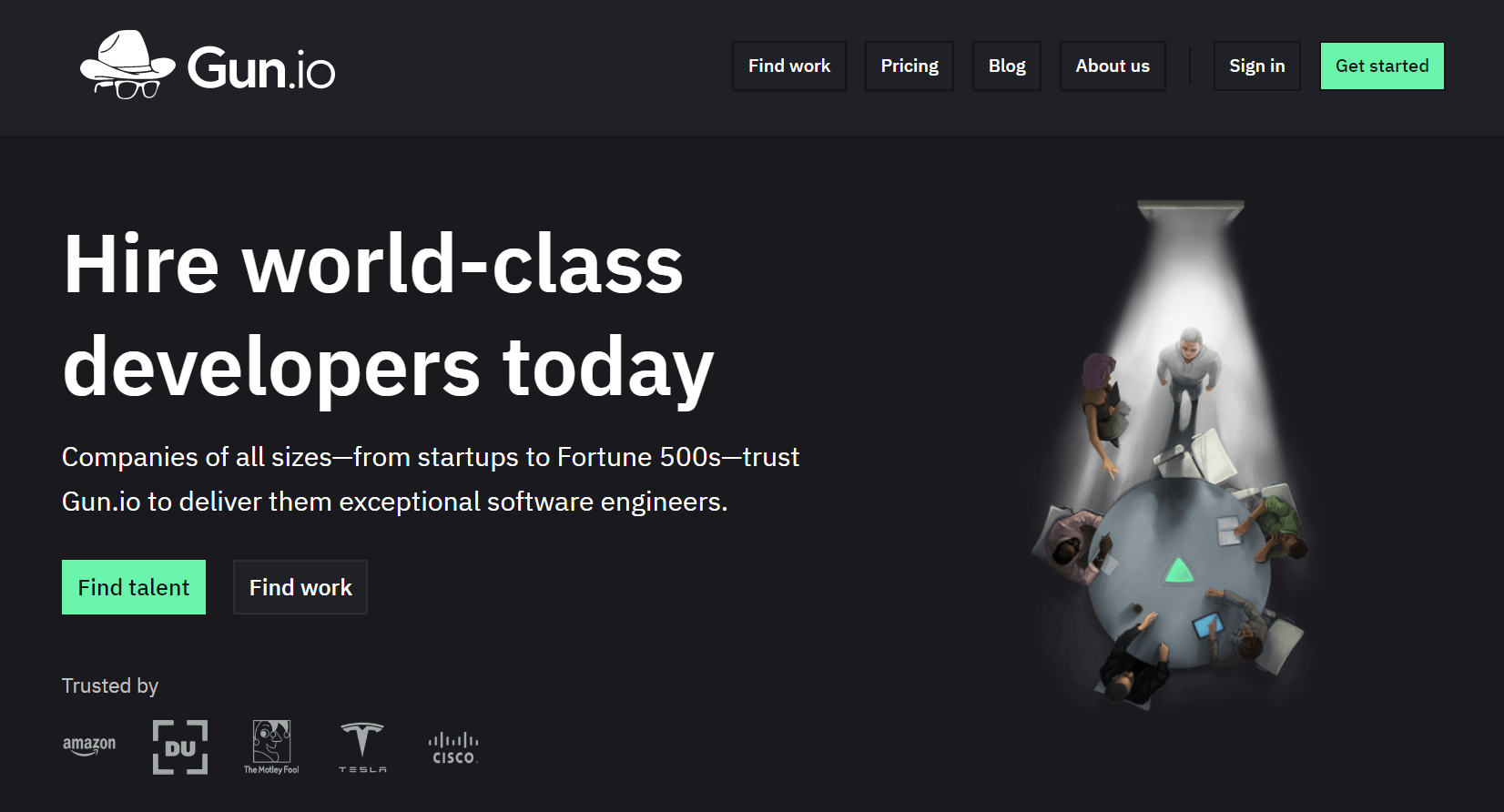 This exclusive invite-only network of highly vetted and elite software developers sourced from the United States incorporates a customized recommendation process to match developers with companies.

However, their niche invite-only pool reduces the number of options the client has to pick from compared to other Gun.io competitors like CloudDevs and Toptal which have larger talent pools to access.
Gun.io offers the ability to book freelance developers for the monthly hours required by the client, and in general, assures a hiring time of 48 hours.
The client is able to bring in additional resources or swap out talent as required.
Comparatively higher in its rates than Toptal and other Toptal alternatives, Gun.io charges upwards of $80 per hour depending upon the required specifications.
Gun.io holds a Trustpilot Score of 3.5
If you're willing to pay a premium price for a product developed by a Toptal competitor that sources an exclusive group of software developers from the United States, Gun.io can provide talent services similar to Toptal. Gun.io provides dedicated account managers who assist in matching clients with developers who fit their specific project requirements. However, if you're not willing to opt for the premium route, there are other top Gun.io competitors listed in this article that you may want to consider, offering more cost-effective options.
5. Fiverr Vs Toptal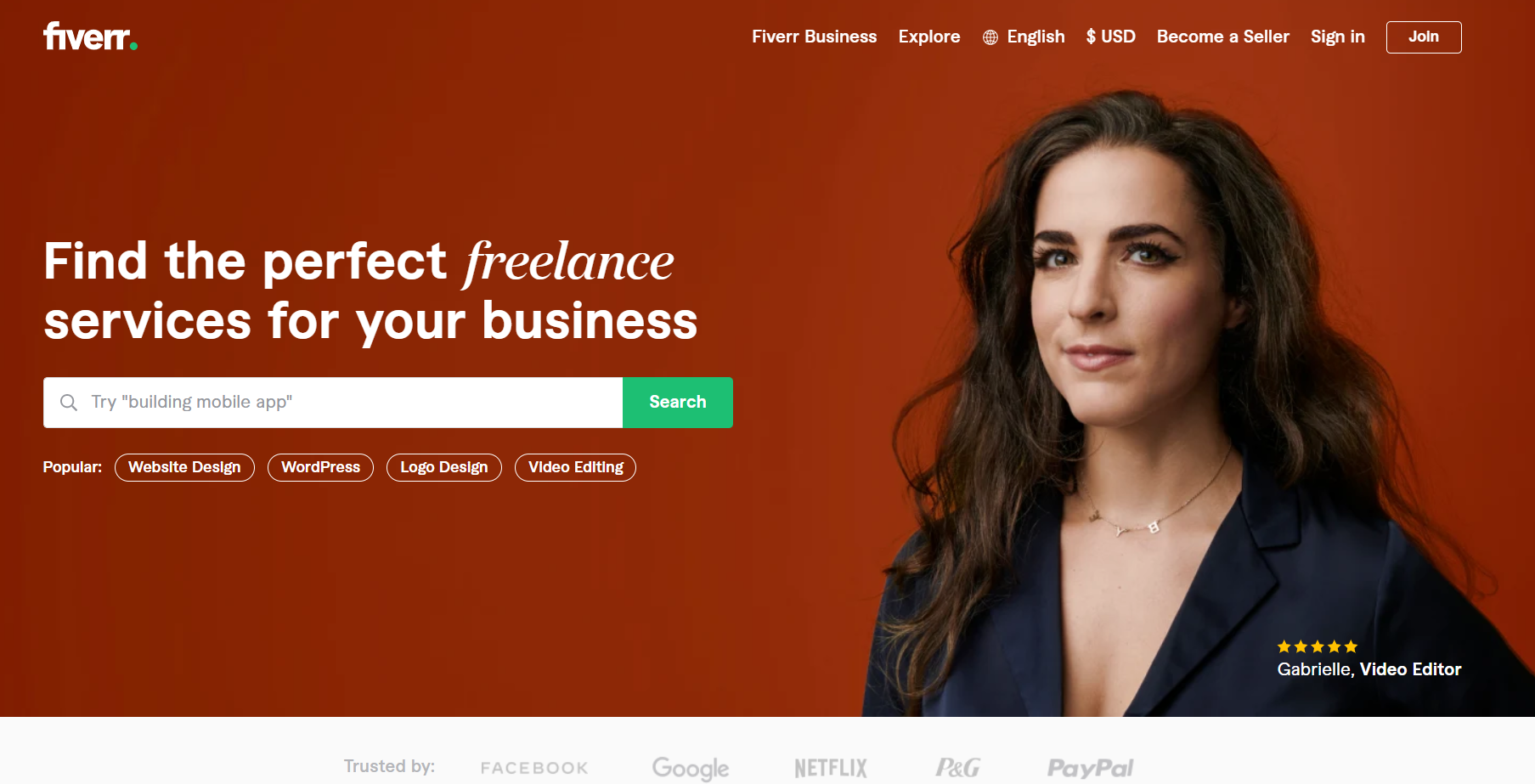 If you're on the hunt for alternatives to Toptal, then Fiverr provides a database of freelancers of varying skill sets to provide their services online. Fiverr is one such Toptal competitor where you can either post your project and allow freelancers to bid on it, or you can directly approach the talent in their freelance network if you find one that seems right.
Similarly, their highly competitive bidding system on Fiverr forces talent to reduce their rates in order to get gigs.
One can hope to hire a developer within $5-$800 per project. Additionally, Fiverr charges up to 20% of the service fee from the buyer.
They claim that hires can be made within 1 to 3 days. However, it should be noted that since Fiverr does not offer vetted talent, the hiring process can lengthen if the client doesn't find the right fit.
Fiverr holds a Trustpilot Score of 4.1
If you have a very tight budget and are willing to compromise on the quality of your project, Fiverr may be an option for you. However, several Reddit users have pointed out the downsides of this Toptal alternative. Unlike other platforms, Fiverr does not offer pre-vetted talent. In comparison, Toptal freelancers guarantee high-quality output, which cannot be said for the non-screened talent at Fiverr.

If you're wondering what is Gigster, it is a talent platform specializing in offering the entire tech team for hire. Gigster is unsuitable for small-minded clients that require only one specific task that can be accomplished by an individual developer. Having access to a pool of top-quality developers and project managers, the company uses AI-based algorithms to bring together the right team for the job.
The global network of developers presented by Gigster spans multiple time zones, and the company claims to find the right candidate to fill your position in under 10 days from a network of 1000+ global members.
Gigster pricing is in the higher range as they utilize project-based compensation, charging a steep per-project fee of a Minimum of $52,000 per license.
While they offer a strong development base, the same cannot be said about their design elements within the projects developed by this Topta alternative. which may lead to the client needing a third-party design team to do the final glow-up, which would increase the product's overall cost.
Furthermore, Gigster does not offer a trial for their services, so one has got to put their complete faith in them and hand over the reins wishing for the best output.
Gigster holds a Trustpilot Score of 3.2
Try Gigster if your project requirement entails hiring an entire team of highly skilled developers and designers, and you are not too concerned about what it may cost, in that case, Gigster may be the best option for you. However, many of Gigster's competitors like Toptal also offer the option of hiring for fully managed projects, and if that is your requirement, you may want to consider Toptal as well.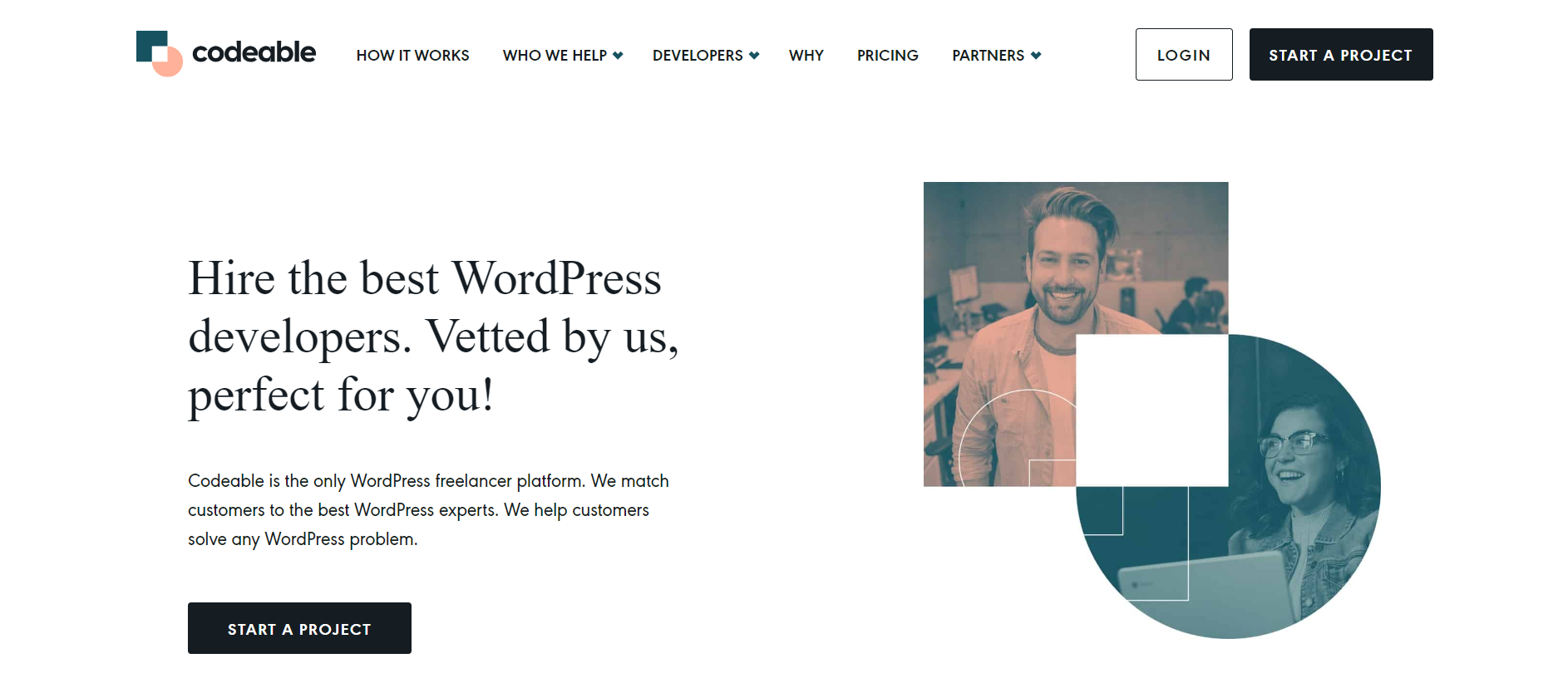 Specializing in WordPress-related development, Codeable offers vetted talent that must undergo a 45-day trial before being accepted to the platform.
Codeable provides free estimates for your projects and they place no obligation for you to make that hire through them.
You can expect to hire an expert developer to review your project in as little as 3 to 5 hours through this Toptal alternative.
Codeable rates generally fall within $75 to $120 per hour, and they are also known for their money-back policy in case the client is dissatisfied with their services.
Codeable holds a Trustpilot Score of 4.7
If you're specifically seeking WordPress experts for your development needs, Codeable can be a preferable choice over Toptal. Codeable is a platform that specializes in connecting clients with highly skilled WordPress developers.
However, Toptal and its alternatives mentioned in this comparison also offer WordPress developers for hire. So you may want to consider them too. However, it's worth noting that Reddit offers some mixed reviews about this Toptal alternative, with some clients not receiving expert talent for their projects as claimed by Codeable.

While Toptal offers freelancers the flexibility to set their own prices, Stack Overflow Talent adopts a different approach by charging a fixed fee of $45 to $70 per hour for all vetted senior talent.
Stack Overflow Talent, leverages its vast community of developers and designers to connect clients with professionals who have demonstrated their skills and knowledge on the Stack Overflow platform.
While Toptal provides personalized talent matching, Stack Overflow Talent, offers a straightforward process where clients can browse through profiles and reach out to potential candidates directly.
Stack Overflow Talent holds a Trustpilot score of 1.9
Both Toptal and Stack Overflow Talent provide valuable platforms for hiring skilled developers and designers. Toptal offers flexibility in pricing and a personalized matching process, while Stack Overflow Talent offers a fixed fee structure and leverages its community of developers. Ultimately, the choice between the two will depend on the specific needs and preferences of the client.
Pricing

Varies
Time

Based on availability