Sites to Hire LATAM Developers
Top 7 Websites to Hire LATAM Developers in 2023
When it comes to expanding your software development team, hiring LATAM developers from the Americas can be a game-changer. Emerging tech hubs in countries like Brazil, Colombia, Peru, and Mexico are home to skilled professionals ready to tackle a wide range of tech projects. The added benefit of cost-effectiveness makes hiring LATAM developers an attractive proposition for businesses looking to grow. For country-specific information on hiring developers, visit our Latin America Developer Hiring Guides here.
In this article, we'll explore some of the best websites to hire LATAM developers for your tech and software development projects. These platforms offer unique features, pricing structures, and diverse talent pools, ensuring you find the right fit for your business. 
7 Best Sites to Hire LATAM Developers in 2023
In 2023, Latin American countries continue to be a hub for top-notch developers. With above-average English language skills compared to other global talents, and their time zone proximity to Northern Americas, hiring LATAM dev talent is undoubtedly the best choice for US-based startups.
If you're looking to augment your project team with skilled developers, there's a myriad of websites available for hiring LATAM talent.
To help you make an informed choice, here are our top 7 sites to hire LATAM developers you must consider in 2023:
1. CloudDevs – Leading Website to Hire LatAm Software Developers

CloudDevs stands out as the top choice among websites to hire LATAM developers in 2023. This leading tech talent platform offers a compelling solution for companies seeking to hire top-quality Latin American developers. With a focus on providing elite, rigorously vetted remote talent, CloudDevs sets itself apart in the hiring landscape. It is the ideal solution for businesses looking to build their tech teams with minimal hassle and maximum cost-efficiency.
Key Features of Using CloudDevs:
Elite Latin American Talent: CloudDevs is dedicated to providing access to elite Latin American developers who are all seniors with 7+ years of experience and have undergone a rigorous vetting process. 
Fast Talent Assignment: Time is of the essence, and CloudDevs understands that. They commit to assigning suitable talent within 24 hours, allowing companies to start working with their new team members without unnecessary delays. 
Flexible Contracting: With CloudDevs, there are no minimum commitments. Companies can hire LATAM developers on a pay-as-you-go, rolling weekly basis, which grants them the flexibility to adapt their staffing needs according to project requirements.
7-Day Risk-Free Guarantee: CloudDevs is confident in the quality of their talent. If, for any reason, a client is not satisfied with their assigned developer, they offer a 7-day risk-free guarantee.
Three Hiring Options: CloudDevs caters to various hiring needs. Clients can choose from three different hiring options: Freelance Hires, Direct Recruitment, and Team Augmentation. Whether you need part-time or full-time developers, CloudDevs has a solution that fits your requirements.
Streamlined Vetting Process: To ensure the highest quality services, CloudDevs' talent undergoes a comprehensive 3-step vetting process. This rigorous evaluation ensures that clients receive top-tier developers who are well-prepared to meet their needs and expectations.
CloudDevs Pricing: One of the standout features of CloudDevs is its transparent pricing model. Companies pay only for the time the job takes, with hourly rates ranging from $45 to $70 it is the most affordable website for hiring LATAM developers in the market.
CloudDevs is the ideal solution for businesses and startups looking for cost-effective options while maintaining high-quality results. Visit the CloudDevs hiring page to book your consultancy call.
2. YouTeam – Simplifying Remote Development Team Hiring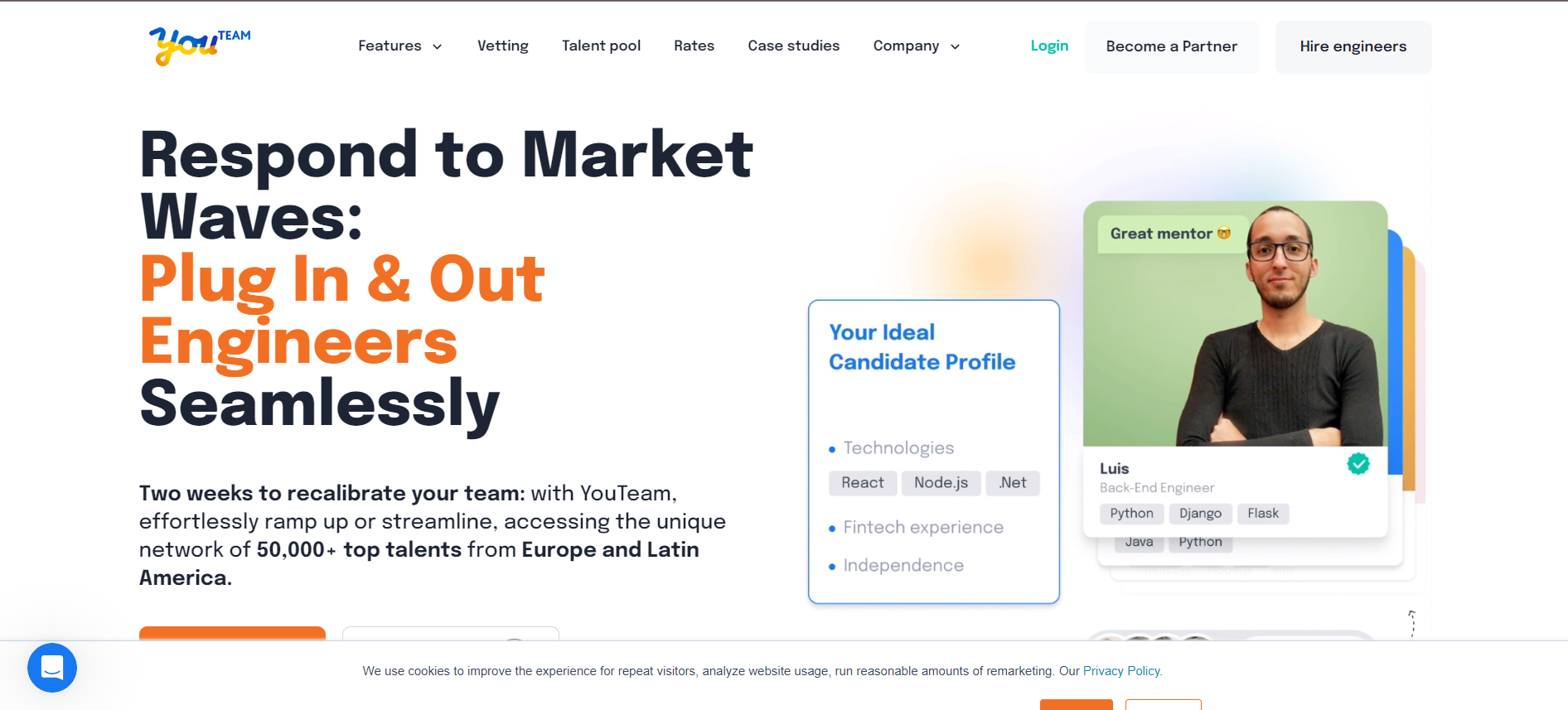 YouTeam is a dynamic online platform that facilitates the seamless acquisition of highly skilled software development talent, including both individual developers and entire development teams. With a global reach and a strong focus on the Latin American (LATAM) region, YouTeam empowers businesses to effortlessly access and hire top-tier developers from this talent-rich part of the world. By offering a diverse pool of tech expertise, YouTeam opens doors for companies seeking to expand their projects, bolster their development capabilities, and leverage the talents of LATAM professionals, making it a pivotal resource in today's competitive technology landscape.
Here are the key features of YouTeam:
Global Developer Marketplace: Access to a vast and diverse pool of software development teams and individual developers from around the world.
Vetted Talent: YouTeam ensures the quality of its talent pool by vetting and screening developers and teams to meet specific skill and experience criteria.
Diverse Skill Sets: Find developers with a wide range of technical expertise and specialization, covering various programming languages, frameworks, and technologies.
Project Management Tools: YouTeam provides tools for managing remote development teams, including time tracking and collaboration features.
Quality Assurance: YouTeam ensures that developers and teams are committed to delivering high-quality work and meeting project deadlines.
YouTeam Pricing: Developers at YouTeam set their own prices and as such their rates vary vastly. You may find talent for upwards of 60 USD per hour through this website.
3. Revelo – Dedicated Nearshore Matching Services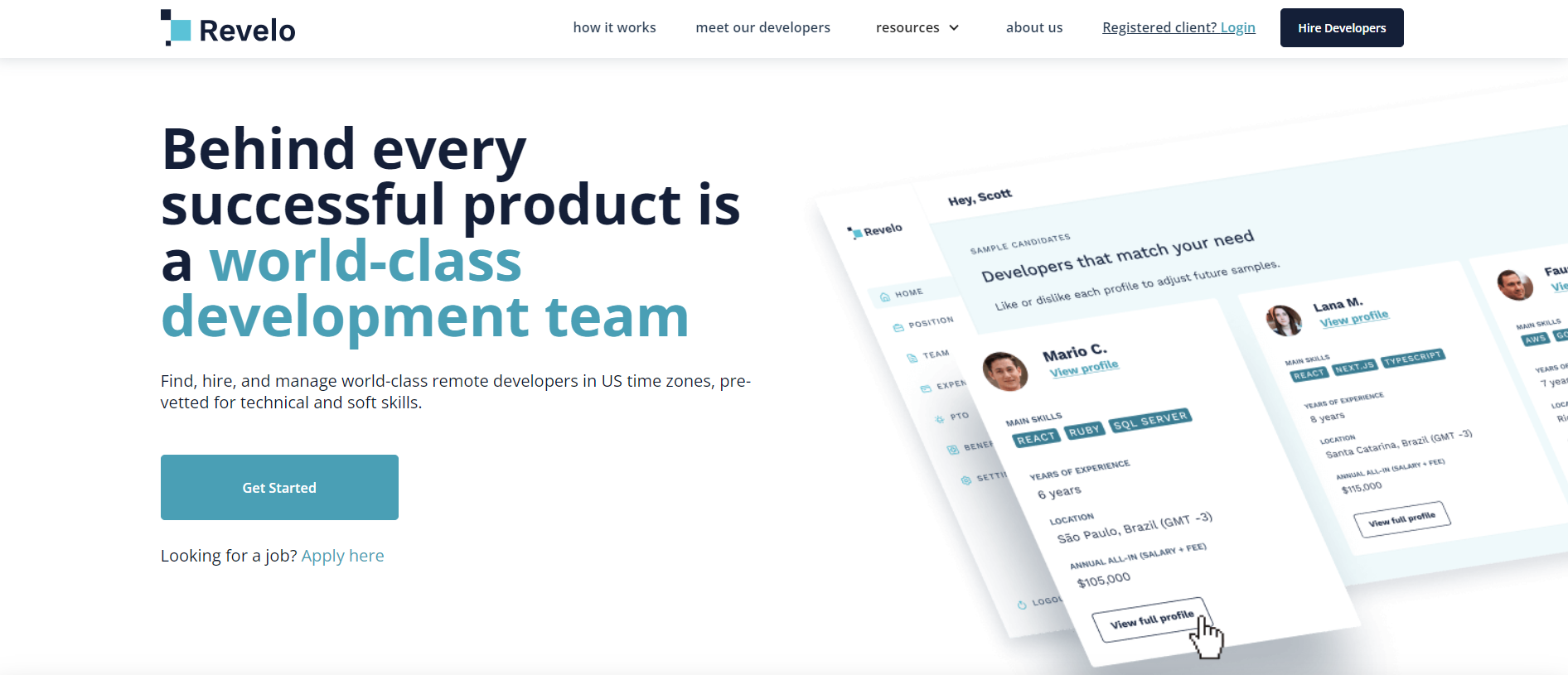 Revelo is another excellent option for businesses in the United States and Europe looking for websites to hire LATAM developers. This platform simplifies the hiring process by offering pre-vetting, sourcing, matching, and hiring services. Revelo also provides comprehensive talent management solutions, including contract and payroll management, tax and local compliance, and routine follow-ups with developers.
Key Features of Working with Revelo:
End-to-End Talent Management: Revelo ensures full oversight of your hires, making talent management seamless.
Low-Risk Sourcing Process: Their streamlined hiring process simplifies the recruitment of developers.
Multiple Tech Fields: Choose from various developer fields based on your project's requirements.
Talent Across LATAM: Revelo collaborates with teams across South America, providing a wide pool of talent.
Revelo Pricing: Revelo does not disclose its hiring prices on its website. To explore their platform and receive a detailed breakdown of pricing, create a client profile and contact their representatives.
Revelo is an ideal choice for businesses and startups seeking a straightforward and organized approach to hiring LATAM developers. Their extensive reach across South America ensures that you can find the best team for your nearshore hiring initiative.
4. TECLA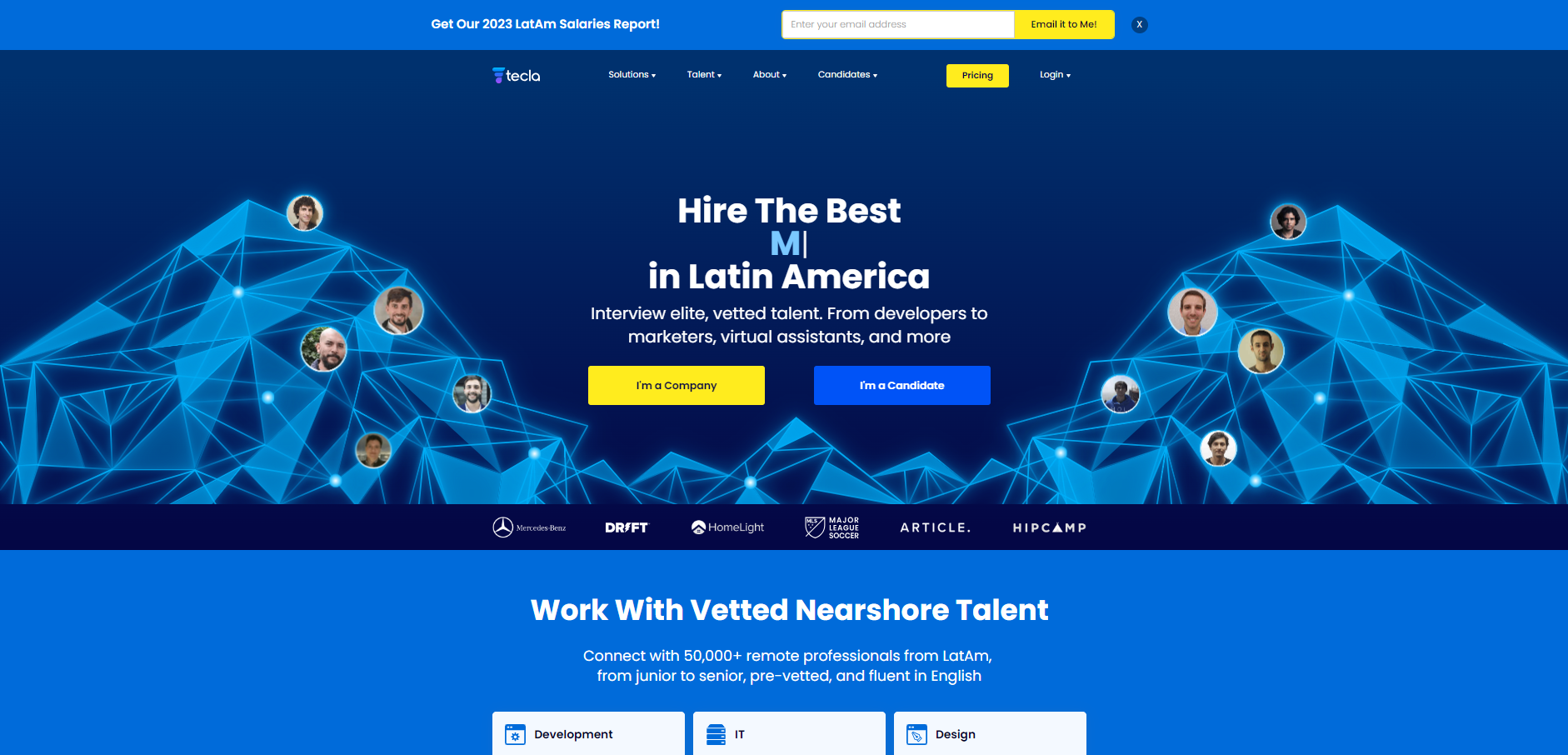 TECLA is a leading network comprised of exceptional tech professionals across Latin America. Boasting a vast membership of over 50,000 highly skilled individuals, TECLA stands as a great resource for the region's talented tech professionals. Leveraging the power of artificial intelligence and expert human screening, TECLA excels in seamlessly connecting companies with remote candidates from within its extensive network. This matching process considers an array of factors, including skills, experience, timezone compatibility, and even personality traits, ensuring the perfect synergy between employers and the best talents LATAM has to offer.
Key Features of Working with TECLA:
Transparent Hiring Process: TECLA provides a transparent hiring process, ensuring a smooth experience for both businesses and developers.
Access to Vetted Developers: Gain access to a pool of vetted developers, simplifying the selection process.
Build Remote Teams: TECLA specializes in helping businesses build and manage remote development teams, emphasizing clear communication and collaboration.
TECLA Pricing: While TECLA does not offer its pricing details on-site, they have two options you can consider. One pa-per-hire option and one staffing option on a pay month-to-month basis. 
5. Talently.Tech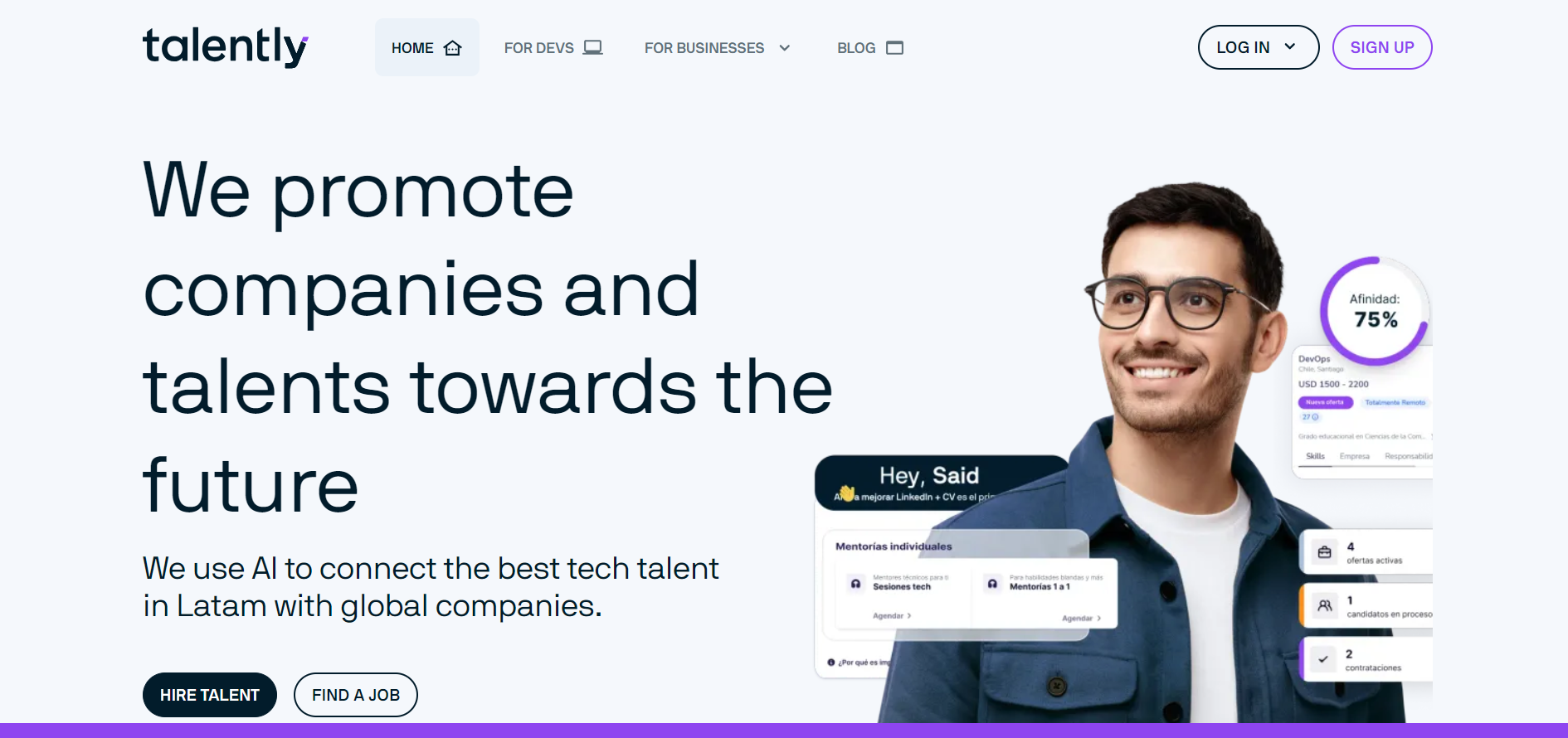 Talently.Tech is your gateway to an expansive network of highly skilled software developers across Latin America. With a meticulously vetted pool of over 7,000 developer profiles, this platform simplifies the process of hiring the ideal talent for your tech projects. Their commitment to technical validation ensures that you only connect with top-tier candidates, saving you time and effort in your recruitment journey. Whether you're looking for AI-based matching, managed hiring services, tailored solutions, or flexible payment plans, Talently.Tech provides a comprehensive and efficient solution for all your LATAM developer hiring needs.
Key Features of Working with Talently.Tech:
AI-Based Matching: Use an AI-based algorithm to assess your options and streamline the hiring process.
Managed Hiring Services: Access fully managed remote team talent management for optimal results.
Tailored Solutions: Receive specific solutions tailored to your goals without unnecessary add-ons.
Flexible Payment Plans: Organize your payment plans with flexible options to align with your business plans.
Talently.Tech Pricing: Talently.Tech offers tailored pricing solutions for those looking to hire LATAM developers. To learn more about their pricing plans and access their pool of developers, explore their platform and schedule a consultation to gain a full understanding of the process.
Talently.Tech expedites the hiring process by providing immediate access to professional CVs and talent profiles. The platform also boasts a comprehensive network of software developers across the Americas, offering access to top professionals in the region, regardless of your location.
6. Terminal.io

Terminal.io offers access to a vast pool of Latin American talent in software development, with over 500,000 professionals across the LATAM market. When you hire LATAM developers through Terminal.io, you can expect to save up to 35% on nearshore options compared to hiring within North America. The platform also acts as a recruiting platform for top talent, ensuring you have access to pre-vetted experts.
Key Features of Working with Terminal.io:
Multiple Hiring Options: Terminal.io provides flexibility in hiring, offering contracted, long-term, full-time, and project-based options.
Diverse Skill Sets: Choose your team based on a wide range of skills, creating a complementary team or working with versatile individuals.
Multiple Professional Roles: Streamline your sourcing by exploring professional roles to match your project's specific needs.
Terminal.io Pricing: Terminal.io does not display its pricing plans on its website. To receive an accurate assessment of costs based on your requirements, contact their representatives through their website and schedule a consultation.
Terminal.io emerges as an excellent solution for enterprises and emerging startups in search of a dynamic approach to constructing a nearshore remote team, granting them unparalleled access to a multifaceted array of talents within the realm of LATAM developers. Their vast network spanning across South America not only champions adaptability but also presents a mosaic of alternatives, enabling seamless collaboration with professionals tailor-made to complement the unique requirements of your project.
7. Blue Coding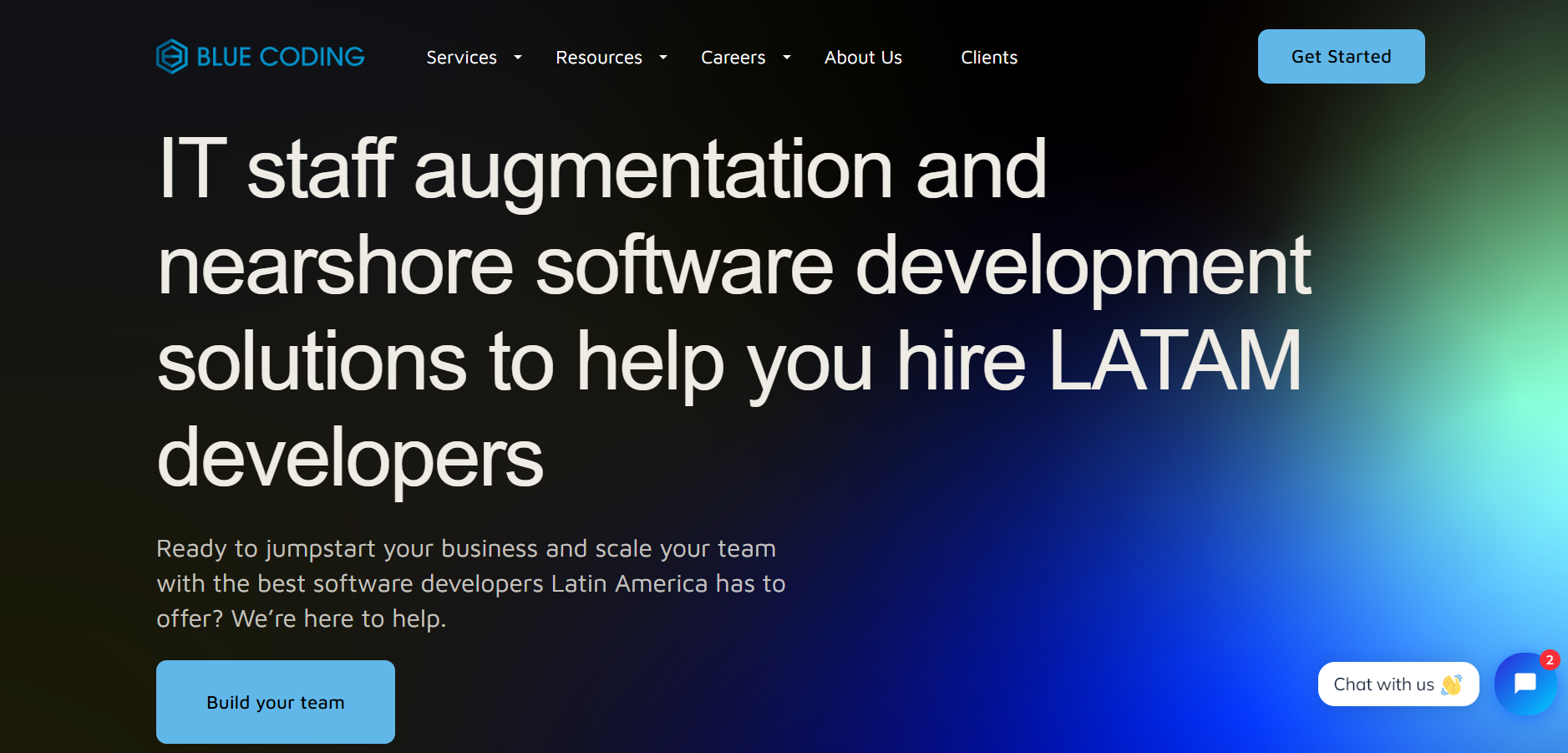 Blue Coding offers an efficient and accessible approach to building a remote team of LATAM developers. The platform provides three hiring options: Staff Augmentation, Managed Services, and Custom Development. These choices simplify selecting the ideal remote working setup based on your project type and business requirements. Developers from Blue Coding can guide you through the entire development process, from discovery to maintenance.
Key Features of Working with Blue Coding:
IT Staff Augmentation: Create exclusive teams tailored to your specific needs and goals.
Dedicated Quality Assurance: Access dedicated quality assurance services to ensure your product meets all requirements.
Easy Hiring Process: Blue Coding's hiring process is simple, efficient, and straightforward, enabling you to onboard new talent easily.
Multiple Hiring Options: Choose from on-site, off-site, local, or remote teams to match your business needs.
Blue Coding Pricing: Blue Coding's pricing plans vary based on the services you require and the level of commitment needed for your project. Prospective clients should reach out to Blue Coding directly for an accurate assessment of their costs.
Blue Coding is an excellent choice for businesses seeking to access the LATAM market efficiently and cost-effectively. Their dedicated services are tailored to your specific needs, ensuring that you work with professionals who have the knowledge and experience necessary for success.
How to Vet LATAM Developers
When hiring LATAM developers for your project, a thorough vetting process is essential to ensure you select the right team. Here are some key steps to consider:
Review Portfolios: Examine the developer's past projects, code samples, and case studies. This will help you gauge their technical proficiency and the quality of their work.
Conduct Technical Interviews: Conduct technical interviews to assess a developer's problem-solving skills, coding abilities, and knowledge of relevant technologies. Ensure the interview process aligns with the specific requirements of your project.
Check References: Contact references provided by the developers to learn about their work ethics, communication skills, and performance on past projects. This step is crucial for understanding their ability to work in a team.
Evaluate Soft Skills: Don't overlook soft skills such as communication, adaptability, and teamwork. Remote developers must excel in these areas to ensure effective collaboration, especially when working across different time zones.
Assess Cultural Fit: Cultural alignment is vital for seamless collaboration. Ensure the developer's values and work style match your company's culture.
Trial Projects: Consider assigning a small trial project to assess a developer's capabilities, work ethic, and ability to meet deadlines. This provides real-world insights into their skills.
Check for Certification and Education: Depending on your project's requirements, verify if the developer holds relevant certifications or degrees. While this is not always necessary, it can be beneficial for specific projects.
Hiring your LATAM developers through a site like CloudDevs that pre-screens all their talent, allows you to skip this vetting stage altogether and save valuable hiring time.
Top Skills to Look for When Hiring Remote Developers
Hiring remote developers, including LATAM developers, requires a keen focus on specific skills that ensure a successful collaboration. Here are some of the essential skills to prioritize when selecting remote development talent:
Communication Skills: Remote developers must have excellent communication skills to convey ideas, provide updates, and collaborate effectively with team members and stakeholders.
Self-Motivation: Remote work demands a high level of self-discipline and motivation. Look for developers who can stay focused and productive independently.
Time Management: Effective time management is critical for meeting project deadlines. Developers should be skilled at prioritizing tasks and managing their schedules efficiently.
Problem-Solving Abilities: Remote developers often work independently and encounter various challenges. Strong problem-solving skills are essential for resolving issues quickly and effectively.
Technical Proficiency: Assess the developer's technical skills, including programming languages, frameworks, and tools relevant to your project. Ensure they have a deep understanding of the technologies required.
Adaptability: The ability to adapt to new tools, technologies, and methodologies is crucial, especially in the fast-paced tech industry. Remote developers should be open to continuous learning.
Teamwork and Collaboration: Even in a remote setting, developers need to work effectively within a team. Look for individuals who can contribute to a positive team dynamic and align with your company's goals.
Attention to Detail: Meticulous attention to detail ensures the delivery of high-quality code and reduces the risk of errors in the final product.
Cultural Sensitivity: Given the global nature of remote work, developers should be culturally sensitive and respectful of diverse perspectives and working styles.
Project Management Skills: While project management may not be their primary role, developers should have a basic understanding of project management principles to contribute to successful project outcomes.
By evaluating these skills during the vetting process, you can select remote developers who not only possess the technical expertise required but also the qualities necessary for productive remote collaboration. Within CloudDevs' 3-stage vetting process, all talents are subjected to a range of tests that screen them for their tech skills and soft skills, to ensure top-quality candidates for clients.
Conclusion
Hiring LATAM developers from the Americas can be a strategic move for businesses looking to enhance their software development capabilities and the above websites to hire LATAM developers are expected to give your talent search a satisfactory outcome. With platforms like CloudDevs, you can access a diverse pool of talent, choose from a wide range of services, and ensure project success through efficient collaboration and clear communication. 
Learn more about why you should opt for this hiring solution by visiting our guide on Reasons for Hiring LATAM Developers in 2023. Explore these options to find the right fit for your business and propel your tech projects to new heights.