How To Hire Freelancers
Find Top Freelance Developers for Your Projects
Remote work and freelancing are becoming highly sought-after alternatives to traditional work environments in recent times. This is especially so in the tech talent sector where improved digitization and globalization make it far more convenient to engage in remote work, as it enables businesses to fulfill their hiring requirements by sourcing talent from a global pool of freelancers.  
TL;DR
Here is our list of the best websites to hire developers in 2023:
1. CloudDevs – Hire freelance developers who are pre-vetted and time zone-matched in 24 hours, priced at $45-$70 per hour.
2. Unicorn.Dev – Access pre-screened remote developers and designers globally at a flat rate of $35 per hour.
3. Toptal – Access a highly selective network of skilled developers and designers. Work with industry-leading professionals tailored to your project needs.
4. Fiverr – Online marketplace connecting clients and freelancers for various digital services.
5. Gun.io – Exclusive US-based software engineers offering development services starting from $75 per hour.
6. PeoplePerHour – Find talented freelance developers for your project needs. Enjoy competitive rates and flexible hiring options.
7. Upwork – Connect with freelance talents globally across industries, with rates based on specific skills.
8. Gigster – Outsource to elite tech teams starting from a $52,000 minimum project fee.
In this guide, we explore how to hire freelance developers for all your software development requirements, and we provide some carefully curated websites that are the go-to talent marketplaces in 2023.
Let's start by looking at what are the best alternative modes to traditional developer hiring and why you should hire developers from overseas.
1. Methods of Hiring Software Developers
There are multiple methods that are popular for hiring developers. Let us explore all of them here.
Through online job boards  
Remote job boards are another great alternative to finding developers for hire at reasonable prices from the world over. You can post your job with a detailed description of the job role and technical skills requirements on ta popular remote job board and allow freelancers seeking work opportunities to apply for the position.
While some of the job boards allow free postings majority would require a nominal fee to post your job for a specified duration of time.
However, keep in mind that when you're hiring through job boards, you would require a technical recruiter to conduct the interviews and screening which can be extremely time-consuming and would increase your hiring budget if you're depending on an external recruiter.  
Coding communities & networking forums
Another alternative to hiring freelance developers is to reach out to them through coding communities and networking forums.
Both GitHub and StackOverflow communities can be leveraged to hunt down the most suitable software developers for your projects. Additionally, web and mobile apps such as Meetup can also be utilized to get in touch with other developer networks to meet the hiring criteria of your projects. 
LinkedIn – Among social media channels, LinkedIn is the go-to platform for employers to connect with professionals from all over the world. Similar to other freelance platforms, you may use LinkedIn to post an ad indicating that you're looking to add a freelance developer to your team. You're destined to attract an expert that meets your criteria. 
Talent hiring platforms 
Compared to the above methods, hiring platforms offer a much more versatile and convenient freelancer hiring solution for businesses.
Read our article 'When and why you should hire freelance developers', to better understand if hiring freelance talent is the right choice for your business.
In the next section, let's have a look at some of the top talent platforms in the market that allow you to hire freelance developers for your upcoming software development projects in 2023.
2. Top platforms to hire freelance developers in 2023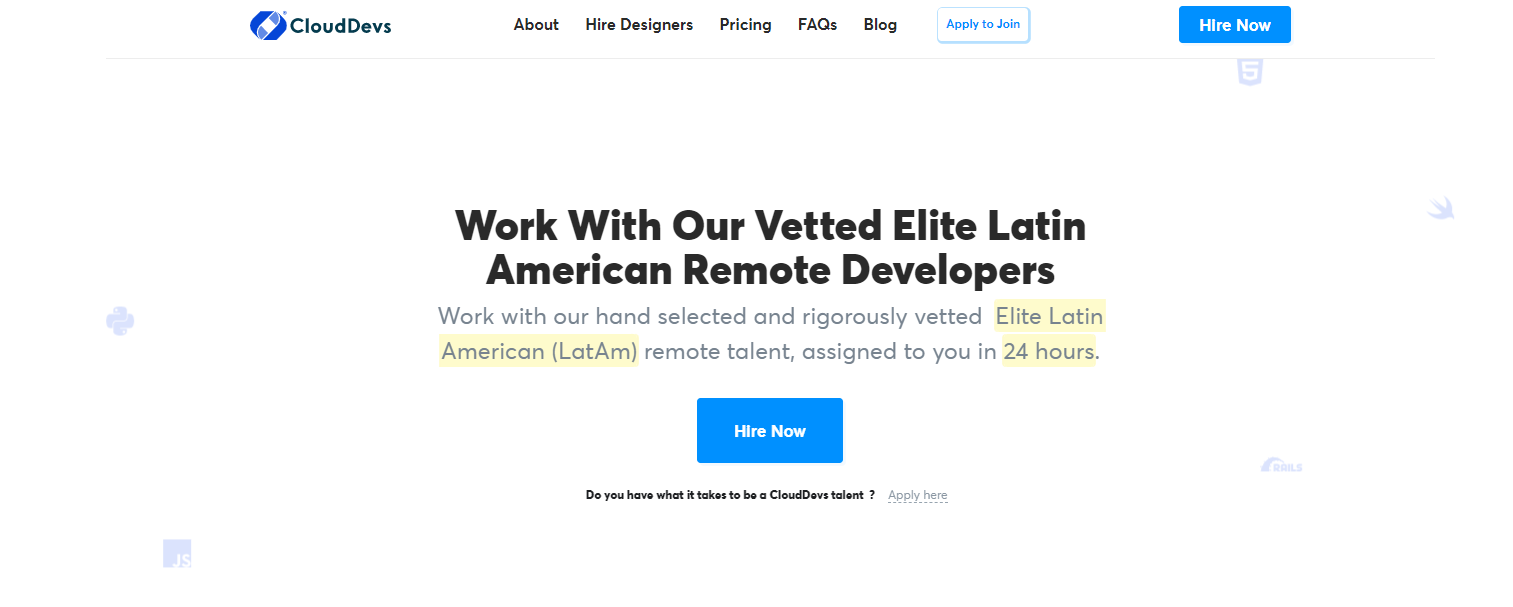 CloudDevs charges a fee of $45 to $70 per hour for all vetted senior talent on its platform. They are the only top-ranking Toptal alternative to offer these rates without compromising their standards. As a company that conducts its entire operation remotely, CloudDevs can keep its overheads low and hence can afford to offer the best possible rates for the client without charging exuberant commissions. Standing as the closest competitor to Toptal, CloudDevs has completed over $15 million worth of projects so far. 
How to hire developers through CloudDevs? 
Get in touch with a CloudDevs consultant by scheduling a call through the website here. Explain your development needs and a consultant will assist you in determining the talent that's required for your project. Based on the requirements, you will be presented with a couple of top choices for developers from their platform and you may schedule calls with them to finalize your choice. Once you make your pick, you can sign off on the contract and get to work immediately via your own dedicated Slack workspace.  
CloudDevs: Pros
CloudDevs offers a 14 Day no-risk trial period to guarantee the chosen talent is the right fit for the client. If the client is not fully content, CloudDevs is ready to either immediately replace the talent or refund the money.  

8000+ talent pool comprises Elite Senior Developers and Designers 

Talents exclusively sourced from the LatinAms enable US-based clients to work with devs within their own time zone that's 

All the talents at CloudDevs are seniors in their respective fields with over 5 years of experience 

CloudDevs offers a weekly rolling contract with no minimum commitment that allows the client to cancel the project whenever they want. 

The company ensures its hiring process can take place within 24 hours.
CloudDevs: Cons
Clouddevs limits its freelancer pool to the tech talent niche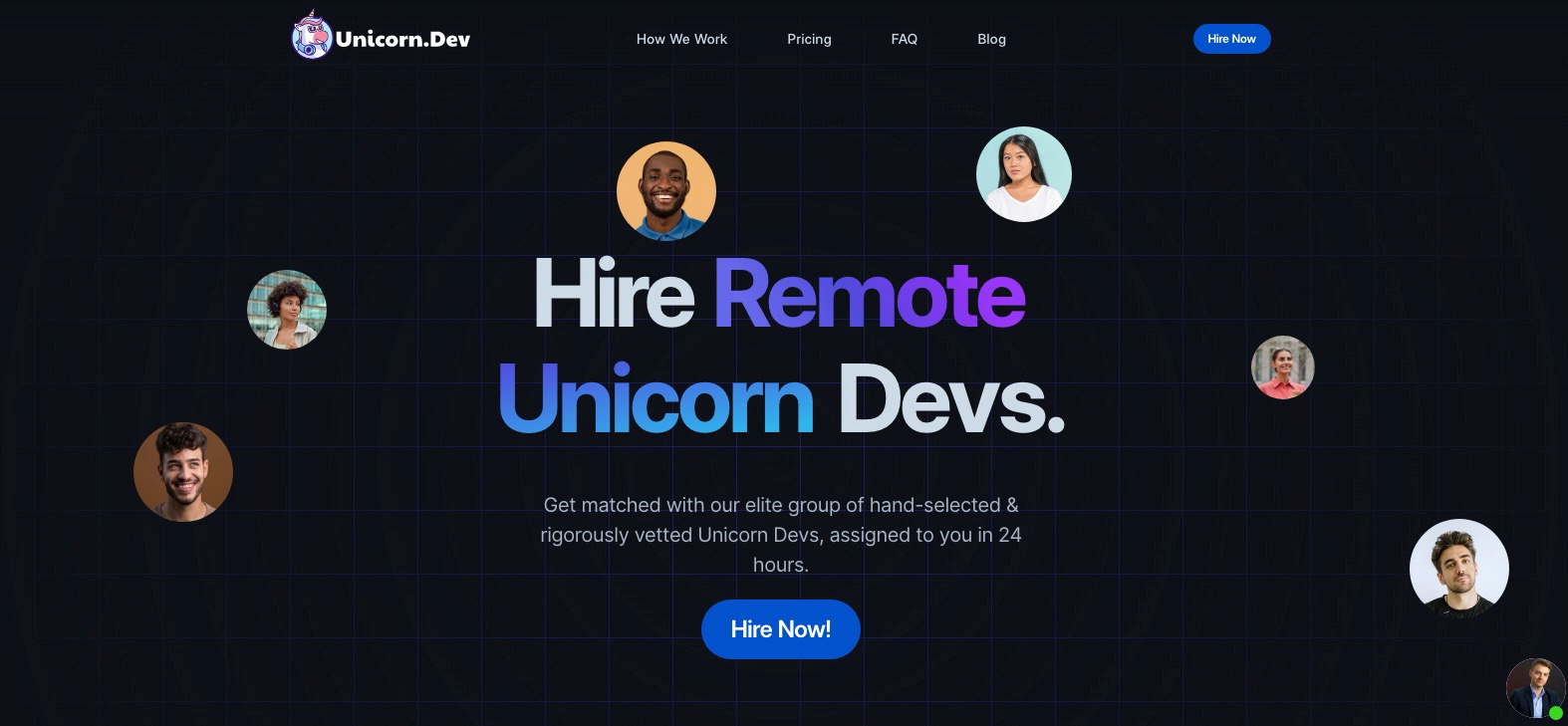 Unicorn.Dev is one of the most budget-friendly options for hiring developers for tech projects. They charge a flat rate of 35 USD per hour for all their highly vetted talent.  Unicorn.Dev offers a senior talent pool with all their developers and designers having at least 5 years of experience in their respective fields. They offer fast hiring times where you can hope to get matched with a Unicorn Dev in under 24 hours.  
Unicorn.Dev offers a 1-week free trial when you hire each new talent, so you have an entire week to test out their work and see if it's the best fit for you. If you're not content with the talent, you may ask for a replacement that comes with another week-long free trial. If you're still unsatisfied and want to end the partnership, you can walk away, no questions asked!
How to hire developers through Unicorn.Dev?
Get in touch with the Unicorn.Dev network through the contact us page here, and explain all your development needs. Whether you need to hire an individual freelance developer or an entire tech team, Unicorn.Dev can help you find the right tech talent for your project. You can hope to have shortlisted candidates presented for you within 48 hours and you may arrange a call with the talents to further determine the fit. Once you make your pick, you can kickstart work on the project with a risk-free 7-day trial that allows you to work one-on-one with your chosen talent and coordinate via a dedicated Slack workspace. If you are not 100% satisfied with your talent match, you may request a replacement that comes with another free trial or walk away, no questions asked.
Unicorn.Dev: Pros 
7-day free trial so the clients can determine if the talent matched with is the best fit for their project 

No minimum commitment is required with their weekly rolling contract

Buy off talent from the platform

Senior talent with minimum 5 years of experience within their fields

Their globally distributed talent pool still works in collaboration with a 4-hour time zone overlap 
Unicorn.Dev: Cons
 Unicorn.Dev specializes in tech talent sourced from Asia and Africa. If your hiring requirements extend beyond developers and designers and if you require other varieties of talents, then you should consider a platform without a tech niche. 
Toptal is a widely recognized global freelance tech talent platform that offers pre-vetted and screened developers, designers, and project and product managers in addition to financial advisers for hire.
Their stringent vetting process ensures that all their talents are highly skilled and provided top-quality work. You can hope to find a developer that best fits the job role you're hiring for, within one to three weeks.
How to hire developers through Toptal? 
Toptal lists out the following instructions on their website with regard to their freelance developer hiring process: 
Step 1 – Determine the type of talent you require with all the specifics pertaining to the tech stack, the number of developers, and any other skills/ past experiences you prefer for the developers you hire. Once all the required information is provided, Toptal's internal team of experts will review your criteria and connect you with the most suitable talents from within their pool of pre-vetted tech talents.
Step 2 – Once you have provided Toptal with all the information regarding your requirements, they'll notify you with a status report concerning your request within a few days. The report will inform you if they have found you the perfect talent match from within their pool that's available immediately, OR, if there is a potential candidate they are currently evaluating for your position in which case they will notify you at the end of the screening process, OR, they will let you know then do not have a suitable candidate within their pool and would hence continue to search for and make a new hire on your behalf.
Step 3 – if one of the above stages is completed and Toptal is able to find you a developer for hire, you will be presented with your new hire/s for an introduction so you may review and sign off on the talent. Once complete, the talent will be ready for integration into your team so you can commence work on your project.
Toptal: Pros
Toptal offers a thorough vetting process that allows them to maintain high-quality standards in their output.

Toptal offers the option for you to hire on-site as well as remote talent.
Toptal: Cons
Requires a $500 deposit

More expensive compared to other competitor platforms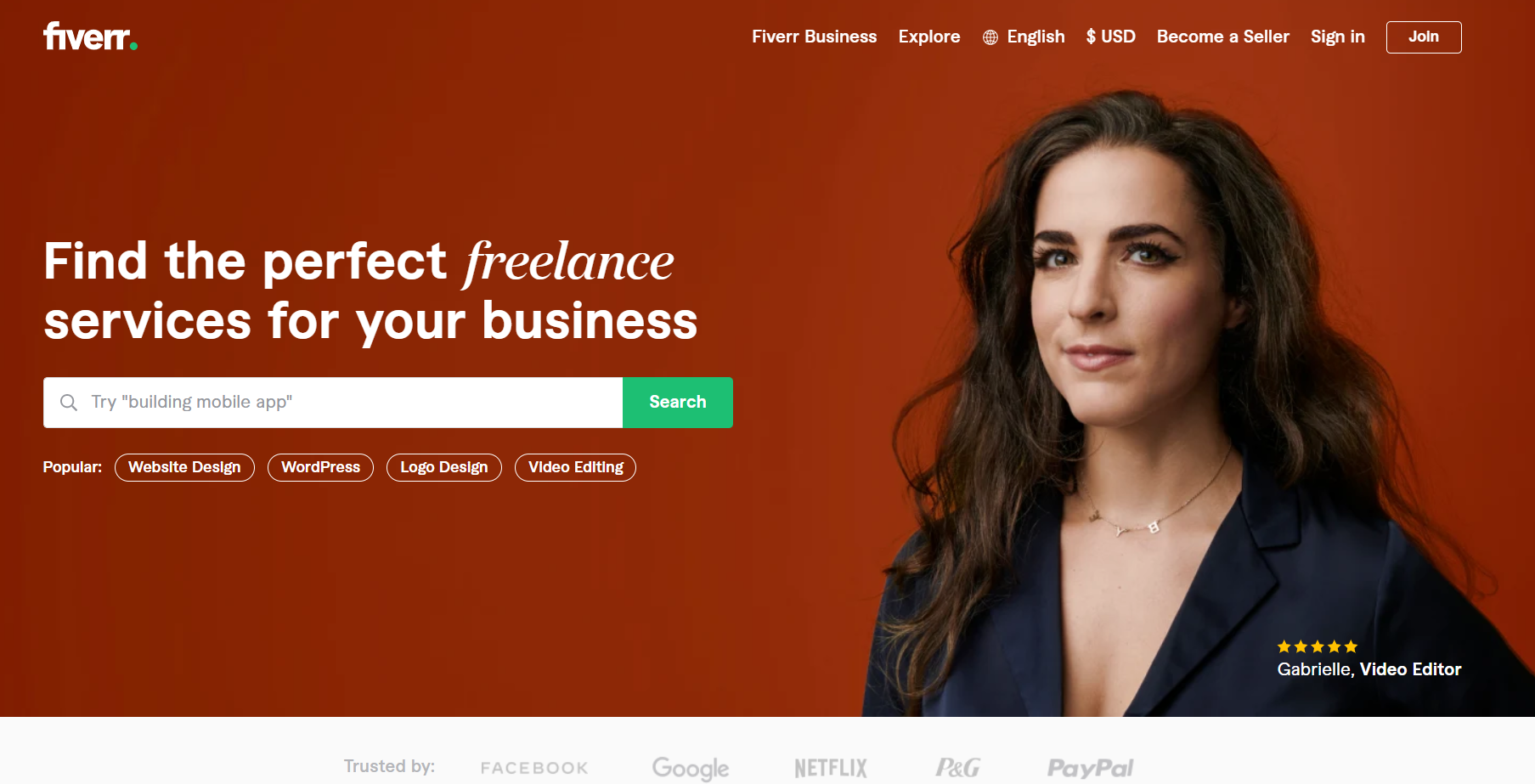 Fiverr is a popular talent marketplace to hire developers amongst a wide variety of specialists across a range of fields spanning from marketing, and accounting to design and technology. It is most recommended for making short-term freelance hires from a global talent pool.
Fiverr joins the list of platforms that makes freelancing a whole lot easier for both the freelancer and the client. Through their portal, over 50 million transactions between businesses and contracted freelancers occur monthly. There, you can find thousands of IT specialists who have the credentials to complete your job. Whether you're looking to hire a short-term developer or an expert to grow within your team, Fiverr is a good place to look. 
How to hire developers through Fiverr? 
Once you create an account on Fiverr, you may post a job and allow freelancers to bid on it and you may go through the profiles, reviews, and portfolios of the interested candidates and set up a line of communication to ensure they are legit before you sign on the project to their hands.  Furthermore, you may use Fiverr's filters to search for freelancers that are offering the skillsets at the price point that you're looking for and invite them to bid on your job. Once you find a freelancer that you're comfortable working with, you may continue to hire them for future projects.
Fiverr: Pros
A vast network of freelance talents from around the world 

Fiverr provides a database of freelancers of varying skill sets to provide their services online.

Fiverr is a talent platform where you can either post your project and allow freelancers to bid on it, or you can directly approach the talent in their freelance network if you find one that seems right. 

Similarly, their highly competitive bidding system makes talent reduce their rates in order to get gigs. 
Fiverr: Cons   
None of the talents onboard the regular Fiverr network are screened or vetted for their skills 

No trial period to determine if the talent is the right fit

Developers hired through Fiverr are of 

One can hope to hire a developer within $5-$800 per project. Additionally, Fiverr charges up to 20% of the service fee from the buyer.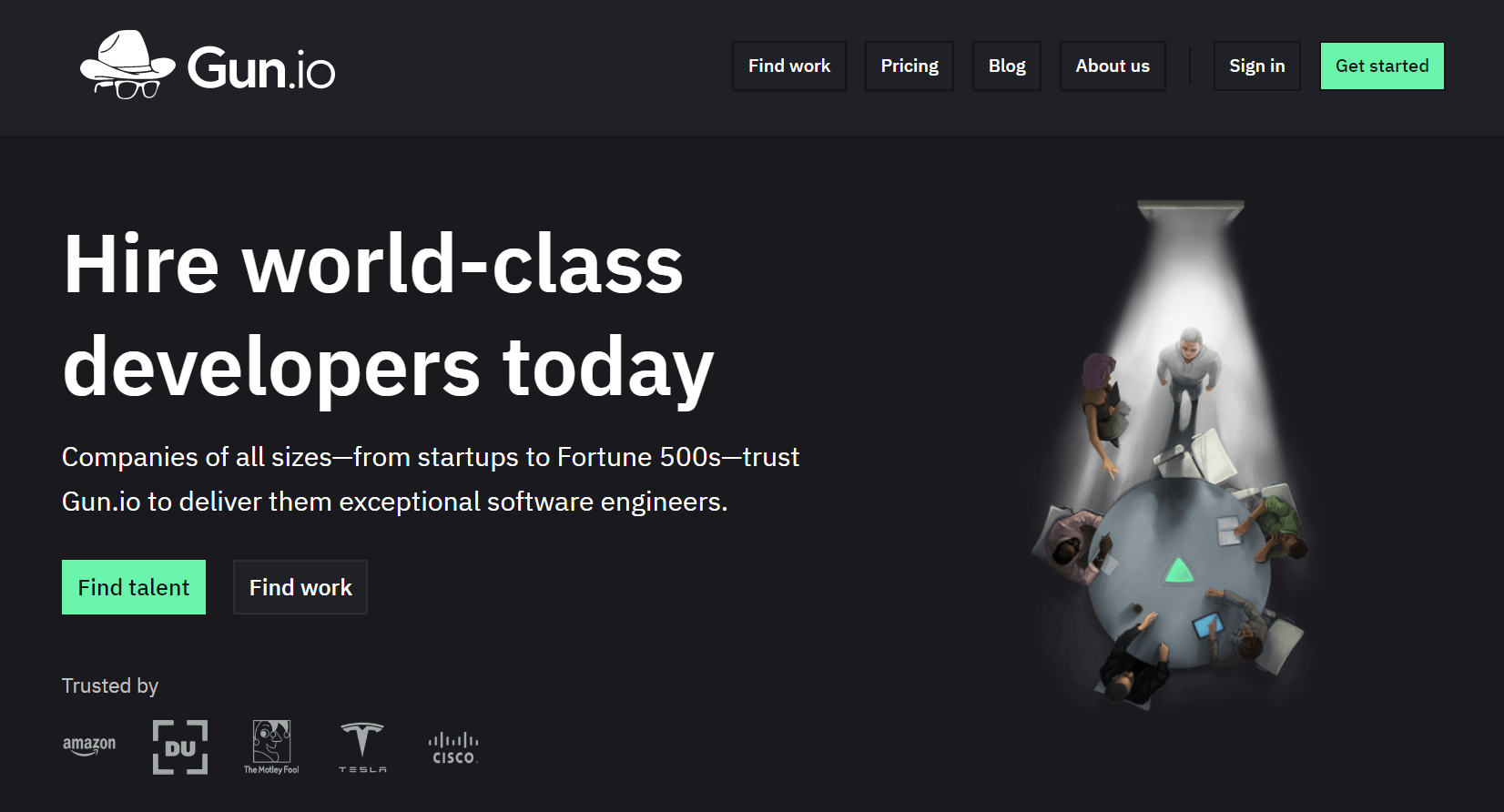 Gun.io is an elite developer marketplace that offers vetted and screened freelance developers for hire. This exclusive invite-only network consisting of over 25,000 highly vetted and elite software developers sourced from the United States incorporates a customized recommendation process to match developers with companies. 
How to hire developers through Gun.io?
You are expected to get in touch with Gun.io via their website by signing up for their email list. Once that's done, you may wait until a customer service agent emails you to find out further information regarding your project and what your requirements are for hiring developers. Once they gather the information they may take 2 to 3 weeks to find and source a shortlist of candidates who are matched to your requirements. You are allowed to interview these candidates and sign off on the one you prefer the most.
Gun.io: Pros
Access to a pre-vetted talent pool

The company offers the ability to book the freelancer for the monthly hours required by the client and in general, assures a hiring time of 48 hours. 

The client is able to bring in additional resources or swap out talent as required.

The company offers a refund guarantee if the client is unsatisfied with their work. 
Gun.io: Cons
Customer services can lag

No system to offer feedback while the project is ongoing 

Hiring time can exceed 2 weeks

This niche invite-only pool reduces the number of options the client has to pick from. 
Comparatively higher in its rates compared to other alternatives. Gun.io charges upwards of $80 per hour depending upon the required specifications.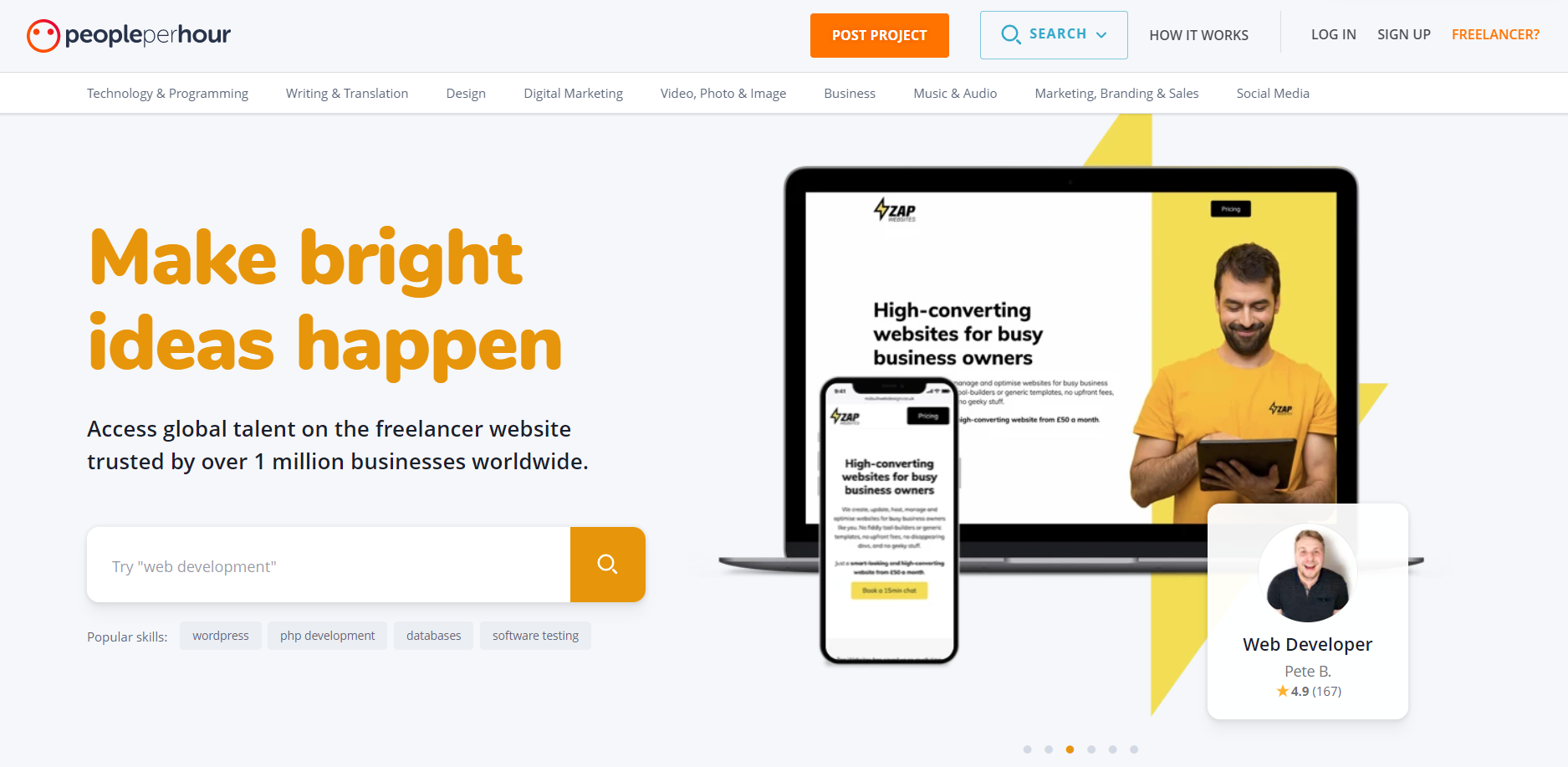 People Per Hour is a recognized recruitment platform founded in 2007 that's at the disposal of clients looking to hire freelance developers as well as a number of other skilled talents remotely. 
While it started off as a freelancer network matching remote workers to clients in the UK, today you can find a wide range of freelance talents from all over the world within the PeoplePerHour network. Job seekers at the platform are spread out across a range of specialties from programmers, design developers, and SEO professionals to writers. You can expect to find a developer on PeoplePerHour in the range of $15 to $50. 
How to hire developers through People Per Hour? 
Businesses can post their projects, and freelancers would send in their proposals so that the clients can select the best person for the job. 

Finalizing the talent is dependent upon the client as they have to review the proposals submitted and make a final decision. The process can take anything between 5 to 10 days.
People Per Hour: Pros
There's a vast network of users (freelancers and buyers alike) offering a range of work opportunities are present for people from around the world.

Flexible hiring options for clients

Each freelancer on site has their history of work on display for reference for the clients

Clients can view customer reviews for the freelancers left by previous employers rating their work

It is free to post a project on the website and payments are only processed when work commences.  
People Per Hour: Cons
No customer support is present in case of any technical issues. 

Some people can make scam accounts on the website and take work orders and due to no screening processes in place, the clients are taking a risk when making hires. 

PeoplePerHour provides no trial period or financial protection for clients or freelancers.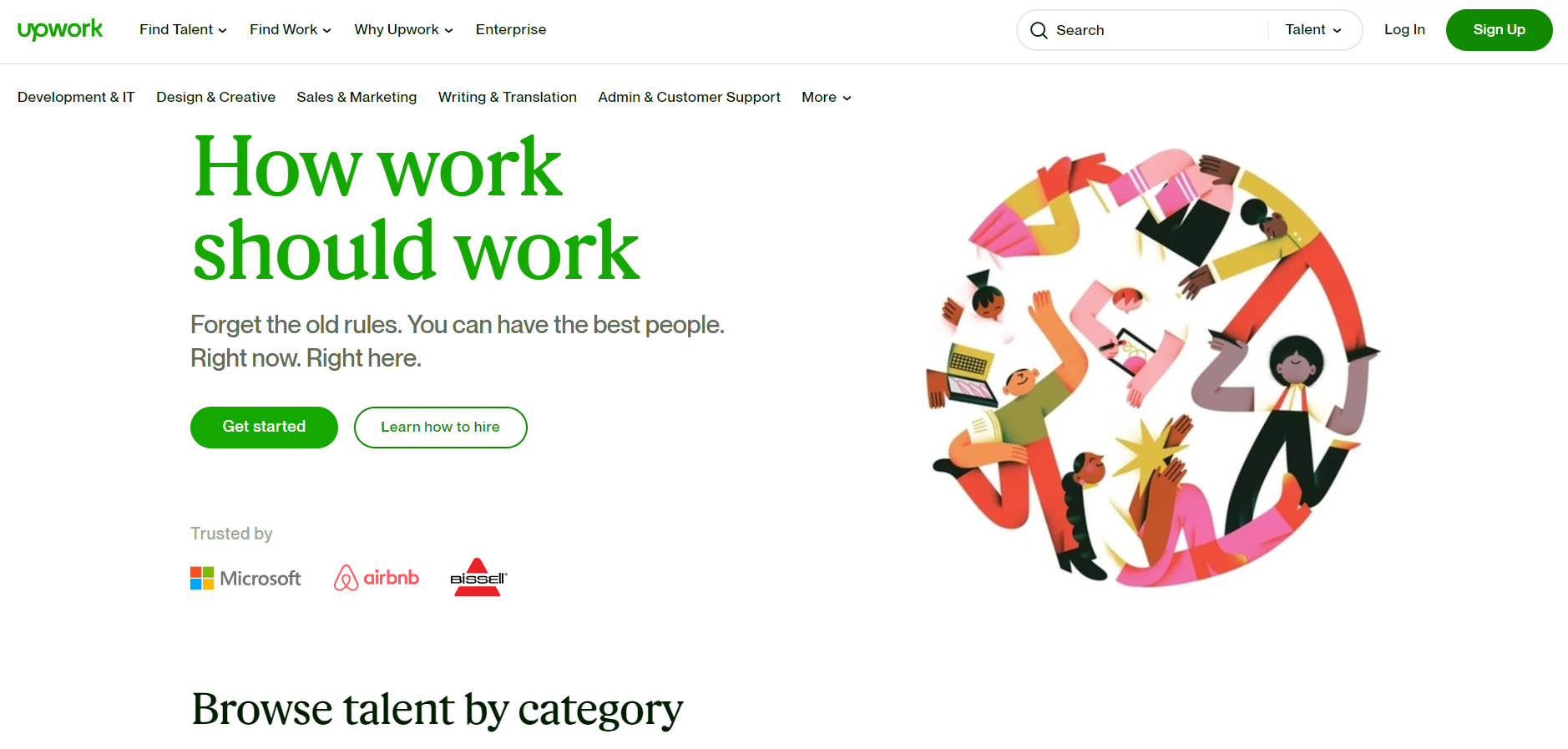 With 12 million active freelancer accounts onboard, Upwork is one of the most recognized online platforms for hiring developers. The platform, not limited to developers, offers a wide range of skill sets and experience levels amongst the freelancers onboard the site. Offering access to a globally distributed talent pool, Upwork is home to thousands of tech talents available for hire.
The average Upwork Developer rates are from $8-$15/hr, and they go up to $200/hr based on seniority (Both Hourly & per-project payment options being available). Additionally, Upwork charges a commission rate of 2.75% per client.
How to hire developers through Upwork? 
The client posts a job description with all the skill requirements and the budget. Additionally, you may browse the available freelancers' profiles and invite potential candidates to apply for your job posting. Shortlist the candidates. Interview the shortlisted candidates. Depending on the candidate the payments can be a project-based flat fee or an hourly rate. Long-term projects tend to charge by the hour while short-term projects can have a per-project fee  
Upwork – Pros
Access to a large pool of global talent.

Built-in time tracker.

Talent to suit different budgets. 

Wide variety of talents not limited to the tech industry.

Due to the bidding system, you are able to find a developer for hire at a lower price.
Upwork – Cons
Upwork chooses quantity over quality which leads to the saturation of low-quality freelancers and a lack of experts who are constantly over-bid on.

Candidates are not being vetted resulting in a poor quality of freelancers.

Due to non-screened talent, there has been a rise in scam accounts over recent times.

Poor customer support and company detachment from the hiring process lead to frustration on both sides.

Upwork commission is 20% of each payment made.

Hiring time may take up to several months as the client has to interview and screen all the prospective talents themselves

Gigster is a well-recognized tech project outsourcing company that allows clients to hire freelance developers on a project basis. They are suitable for clients that require only one specific task that can be accomplished by an individual developer. 
Having access to a pool of top-quality developers and project managers, the company uses AI-based algorithms to bring together the right team for the job. The global network of developers presented by Gigster spans multiple time zones, and the company claims to find the right candidate to fill your position in under 10 days from a network of 1000+ global members.  
How to hire developers through Gigster?
As a fully managed software development platform, Gigster does not allow you to hire individual developers. However, you may visit their site and fill out their questionnaire on what time of development project you have at hand, how much time you have to develop your project, your budget restrictions, and any further information you have to divulge. Based on what you've provided, Gigster's AI-backed algorithm will look at their available pool of devs, assemble a fully-fledged development team for your project and quote a project estimation fee.
Gigster: Pros
Gigster currently has close to 500 developers within their pool of elite tech talent. This allows them to source developers with relevant experience fast for projects of all sizes.

Gigster assigns a freelance project manager to ensure that projects are progressing as planned and that the developers are doing what they are meant to be.

Throughout the process, Gigster provides clients with reports as to how the project is progressing. 

The company also offers free cancellation of your project at any time.
Gigster: Cons
Gigster pricing is in the higher range as they utilize time-based compensation, charging a steep per-project fee of a Minimum of $52,000 per license.




Interesting note that all their staff works on a part-time basis. 

While they offer a strong development base, the same cannot be said about their design elements, which may lead to the client needing a third-party design team to do the final glow-up, which would increase the product's overall cost.  

Furthermore, Gigster does not offer a trial for their services, so one has got to put their complete faith in them and hand over the reins wishing for the best output.  

The Majority of Gigster's freelancers work for the platform as part-timers. Hence, while they have developers from top tech firms in the industry working for them, their talent works for the platform part-time. As most tech projects require dedicated tech talents that are fully focused on the job, this may not be the best solution for companies looking to hire full-time remote developers.

Added to the above point is the fact that the project managers that Gigster assigns to their clients are actually freelancers themselves. Having your freelance developers managed by a part-time freelance project manager is certainly not the best solution for client companies. While developers can be quickly replaced, having a project manager let you down can be a total nightmare. 
3. Why should you hire freelance developers instead of an in-house team of full-time devs?
Hiring freelance developers is highly beneficial for your company. Let's explore your advantages in more detail:
3.1 Lower costs: 
The costs of hiring a freelancer will depend primarily on where the freelancer is from. While in general, freelance software developer rates are higher than an in-house software developer's salary, the business saves money on legal fees and other benefits that in-house workers require. Most freelance web developers work out of their homes. This helps them reduce the overheads associated with running full-fledged offices. They are able to pass on these savings to clients. If your website requires ongoing maintenance, you can pay freelancers retainer fees that are only a fraction of what you would pay an agency. 
3.2 Flexibility: 
Hiring a freelancer tends to be a temporary arrangement that ends with a project or a specific time frame. You can hire niche talent on a project-by-project basis if you know that you'll only need that particular skill set for a fixed number of days. You can always re-hire them at any time if you see the need, making them extremely flexible and cost-efficient. 
3.3 Quality work delivered quickly: 
Freelancers live off of their reputation. They are motivated to do an excellent job and deliver results fast. Not because they're superhuman, but because that's how they earn their bread and butter. Plus, we believe that highly self-motivated individuals are more likely to become freelancers in the first place. 
3.4 Tap into a vast talent pool: 
Hiring fixed employees means looking into a talent pool that is limited by your geographical location. On the other hand, if you consider freelancers, your options are much broader. What's more, you'll be able to find the help you need at a much faster pace. Hiring for a permanent position may take months, on top of recruitment costs. Hiring a freelancer can be done in days or weeks. And if your project needs urgent help, you'll always be able to find a talented freelancer available to work right away.