Turing Review
8 Best Turing Alternatives for Hiring Remote Developers in 2023
Turing is a freelance talent platform that offers sourced and vetted remote developers and software engineers for hire. In this article, we will compare the top Turing alternatives for remote developers in 2023.
1. What is Turing?
Turing is recognized as a talent provider that coordinates with US-based companies seeking remote freelancers in the tech industry. Turing sources its software engineers from a global pool of freelancers through an AI-backed intelligent talent cloud. This enables them to help their clients ranging from startups, entrepreneurs, and large-scale organizations to source, vet, match and manage talent easily.
Turing tailors their services to your requirements based on the role, tech stack, and seniority level required, and they fully focus on offering full-time dev talent for hire. But this may also be the main reason why you are searching for Turing alternatives for remote developers, as you prefer to have some flexibility with your talent-hiring requirements.
2. Features of Turing 
How much does Turing cost?
Turing pricing is expected to be around $40 to 99 per hour.
Hourly rate:
$70-$150hour
What is Turing's hiring time:
Turing requires 5 to 7 days to source the right talent for your project.
Hiring time:
Wait up to 2 Weeks
Turing focuses only on offering full-time developers for hire, and there is no flexibility for short-term contracts or part-time developers.

All Turing matching and managing of talents are conducted through an AI-backed intelligent talent cloud.
So what are some of the most sought-after Turing alternatives for remote developers in the market today? Let's have a look:
3. Top 8 Turing Alternatives for Remote Developers in 2023
CloudDevs is one of the top Turing alternatives for outsourcing remote developers currently in the market, offering elite senior developers from the Latin American regions to their US-based clients. The company is renowned for its extensive screening and vetting procedure to ensure the quality of its talent is maintained across the platform.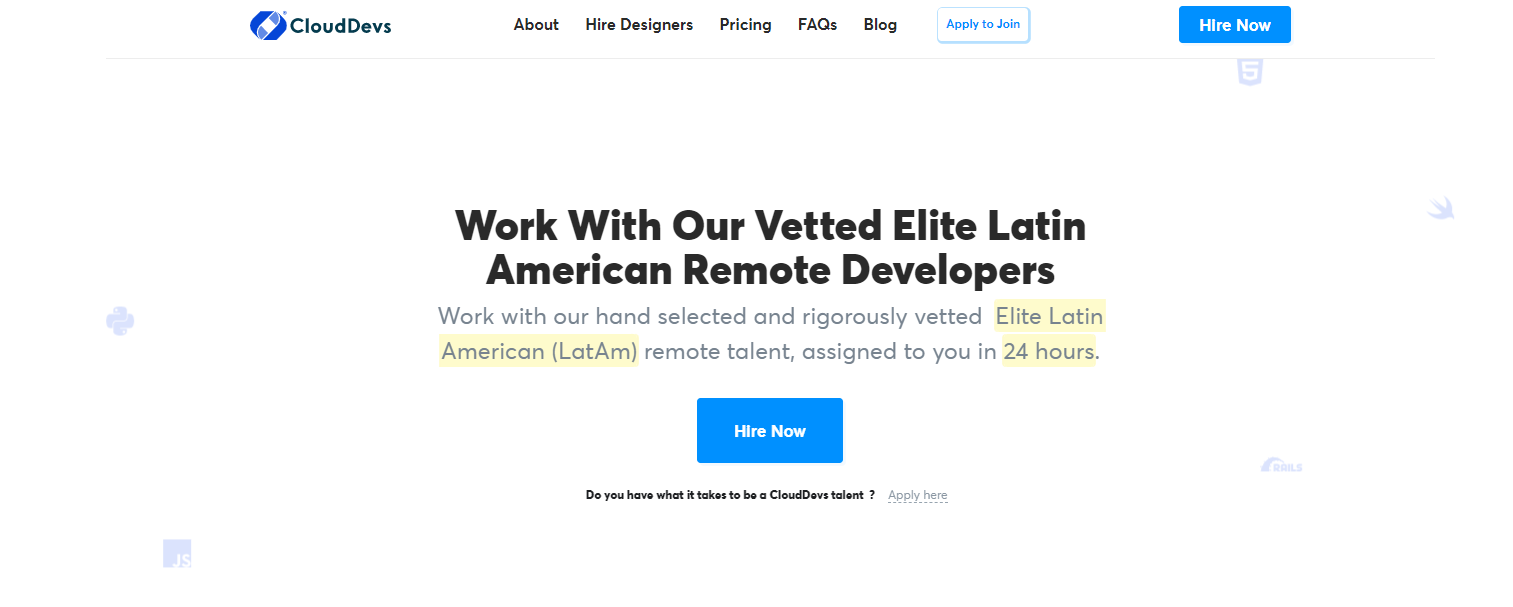 Features of CloudDevs:
CloudDevs is able to find you a talent match in under 24 hours. 
CloudDevs offers a 1-week long free trial with each new dev hire to ensure client satisfaction.  
CloudDevs charges a transparent rate of $45 to $70 per hour for their pre-vetted talent, making them a more reasonably priced Turing alternative to consider for your remote talent hires in 2023.
CloudDevs hiring process consists of 5 stages that screen talent for their coding skills, speed as well as English language proficiency.
CloudDevs offers flexible hiring options, whether full-time or part-time, that can be customized according to your requirements.
As CloudDevs offer talents from Latin America, they are assigned from the same time zone as the client.
1-week no-risk trial to assess if the talent is the right fit.
Why Choose CloudDevs as a Turing Alternative for Remote Developers?
"You want a high-quality flexible hiring option"
If you require a flexible hiring option while not compromising on the quality of the product,  you can hire any of CloudDevs LatinAm tech talents at a  fee of $40 per hour. In comparison to Turing's full-time-only contracts, Clouddevs offers a more flexible and customizable hiring plan, according to their past client on Reddit. CloudDevs ensures the standard of the developers as they hire only elite senior developers and designers chosen from your own time zone, all in under 24 hours! Considered one of the best sites to hire programmers, CloudDevs offers some of the most compatible rates in the market for freelance developers and designers based on client feedback on Reddit.
Unicorn.Dev is the global talent partner of CloudDevs. This Turing alternative sources senior tech talents from around the world and matches them with US-based clients according to client requirements.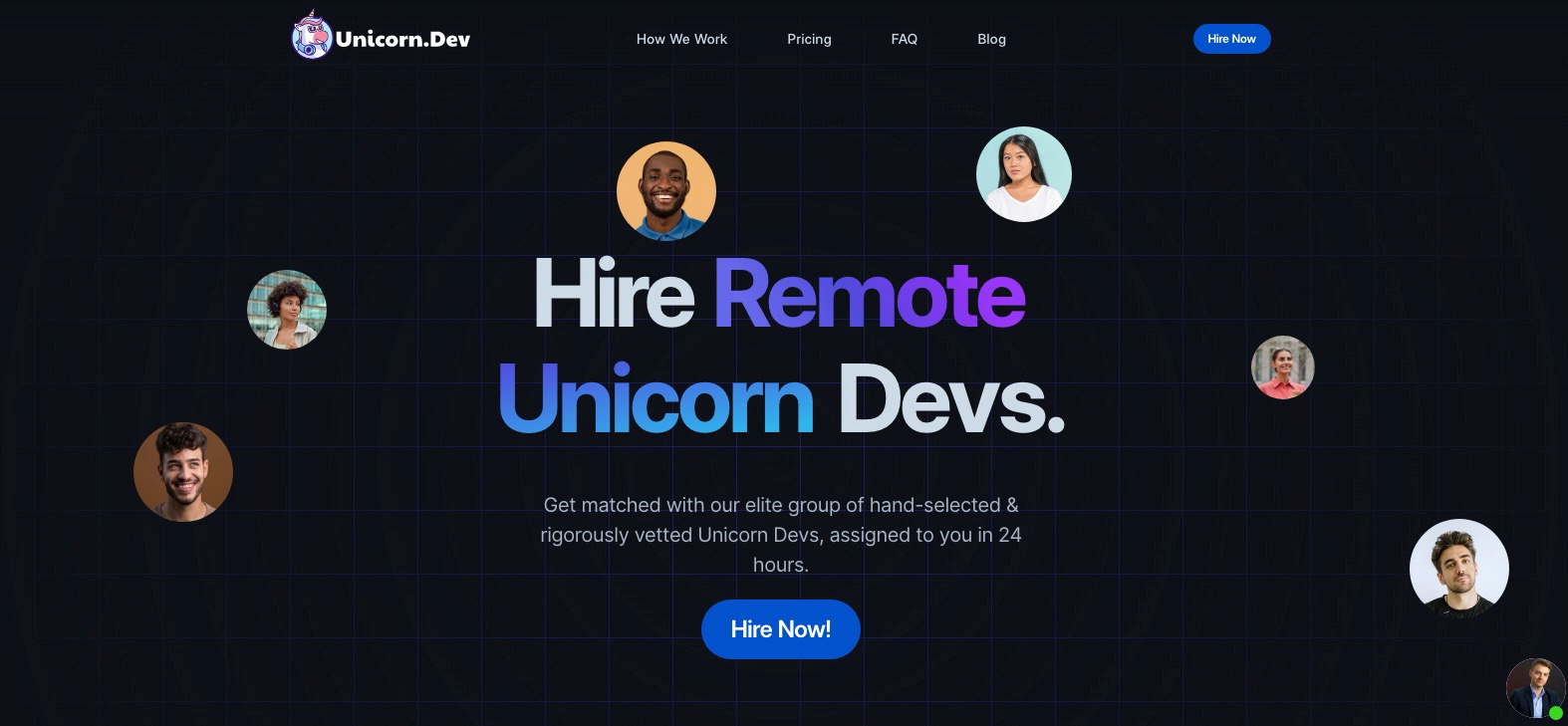 Features of Unicorn.Dev:
All pre-vetted Unicorn.Dev talents are priced at $35 per hour.
All Unicorn talents work with a 4-hour time-zone overlap with their clients.
Unicorn.Dev enlists a hiring process where they screen and vet their talent for coding abilities and English language proficiency.
All talents come with a seven-day free trial to ensure the proper fit.
Unicorn.Dev offers flexible contracts to hire developers and designers customized according to your requirements.
Why Choose Unicorn.Dev as a Turing Alternative for Remote Developers?
"You want vetted tech talent at highly affordable prices."
According to Reddit users, Unicorn.Dev which is the global talent arm of CloudDevs, offers exceptional quality vetted talent sourced from around the globe. Compared to Turing, Unicorn.Dev is a far more feasible hiring solution for vetted tech talent as the talents are offered at 35USD per hour flat. The Unicorn.Dev price is fixed no matter where the developer comes from and how experienced he/she is, which makes them highly affordable to bootstrapped and pre-seed founders. And you've ensured a 4-hour time overlap with your international talents to make remote collaboration a breeze!
Toptal Toptal is an exceptional platform that provides access to a network of elite freelance developers and designers. As a Turing alternative, Toptal focuses on connecting clients with individual top-tier professionals who have undergone a rigorous screening process to ensure their expertise and skill.
Features of Toptal:
Toptal offers a personalized matching service, carefully selecting the most suitable developers or designers for your project based on your specific requirements. 

Toptal offers a global tech talent pool across multiple time zones and their rates vary based on the location and experience of each talent.

Toptal provides flexibility in terms of project duration, allowing you to hire freelancers on a part-time, full-time, or hourly basis, depending on your needs. 

Toptal ensures quality by thoroughly screening its talent pool, including comprehensive technical assessments and interviews. 

Toptal guarantees the expertise of its freelancers by offering a trial period, during which you can assess their performance and compatibility. 
Why Choose Toptal as a Turing Alternative for Remote Developers?
"You desire the highest level of talent and expertise for your project."
Toptal is a great choice as a Turing alternative if you seek exceptional individual talents that belong to the top 3% of the world. By handpicking top-tier professionals, Toptal ensures that you have access to the industry's best talent, offering unparalleled expertise and skill.
However, it's important to note that while Toptal excels at providing excellent freelancers, there are other Turing alternatives that offer similar comprehensive talent solutions to suit different budgets and requirements.
Gigster specializes in offering entire tech teams for hire to build out your product from scratch. Gigster has access to a pool of top-quality developers and project managers, and the company uses AI-based algorithms to bring together the right team to build out your project.

Features of Gigster:
Gigster will find you the ideal tech team for your project from their global network within 2 weeks.
Gigster has a minimum per-project fee of $52,000.
Gigster has access to a code library that significantly speeds up the coding process. However, this may not be the ideal solution for clients requiring customized solutions.
Gigster does not offer a free trial for their services, so one has got to put their complete faith in them and hand over the reins wishing for the best output.
Why Choose Gigster as a Turing Alternative for Remote Developers?
"You want your project to be built without any involvement from you."
You should hire Gigster as your Turing alternative if your project requirement entails an entire team of highly skilled developers and designers, and you are not too concerned about what it may cost.  However, many of Gigster's competitors also offer the option of hiring an entire team if that is your requirement, so you may want to consider those Turing alternatives as well.
As one of the leading talent providers in the market, Upwork has been serving as a versatile Turing alternative for nearly 10 years. But unlike Turing, Upwork has access to a wide range of talents across a vast number of job roles. The wide variety of talent the platform presents makes it suitable for a range of hiring requirements across varied project sizes.     

Features of Upwork:
Ability to find tech talents that fall within the range of $15 to $100 per hour.
None of the Upwork talents are vetted; hence you must conduct the screening yourself.
Talent is available from anywhere in the world, and they do not ensure English language proficiency.
A wide variety of talents is available, offering a range of freelance services.
No free trials are available.
Why Choose Upwork as a Turing Alternative for Remote Developers?
"You want to source and hire your own talent."
Upwork is a Turing alternative that does not offer vetted talent, and it does not provide talent matching. If you prefer to find, source, screen, and onboard the talent yourself, Upwork is a great place to find a wide variety of remote freelance developers for hire.
Fiverr is a freelancer marketplace with a range of talents from across the globe, enabling them to easily find clients in search of remote talents and provide services. Operating on an order-based system, this Turing alternative allows clients to specify their project requirements and have interested freelancers make bids on the project with their own proposals. Clients may even directly reach out to freelancers offering services they require and hire them for a gig.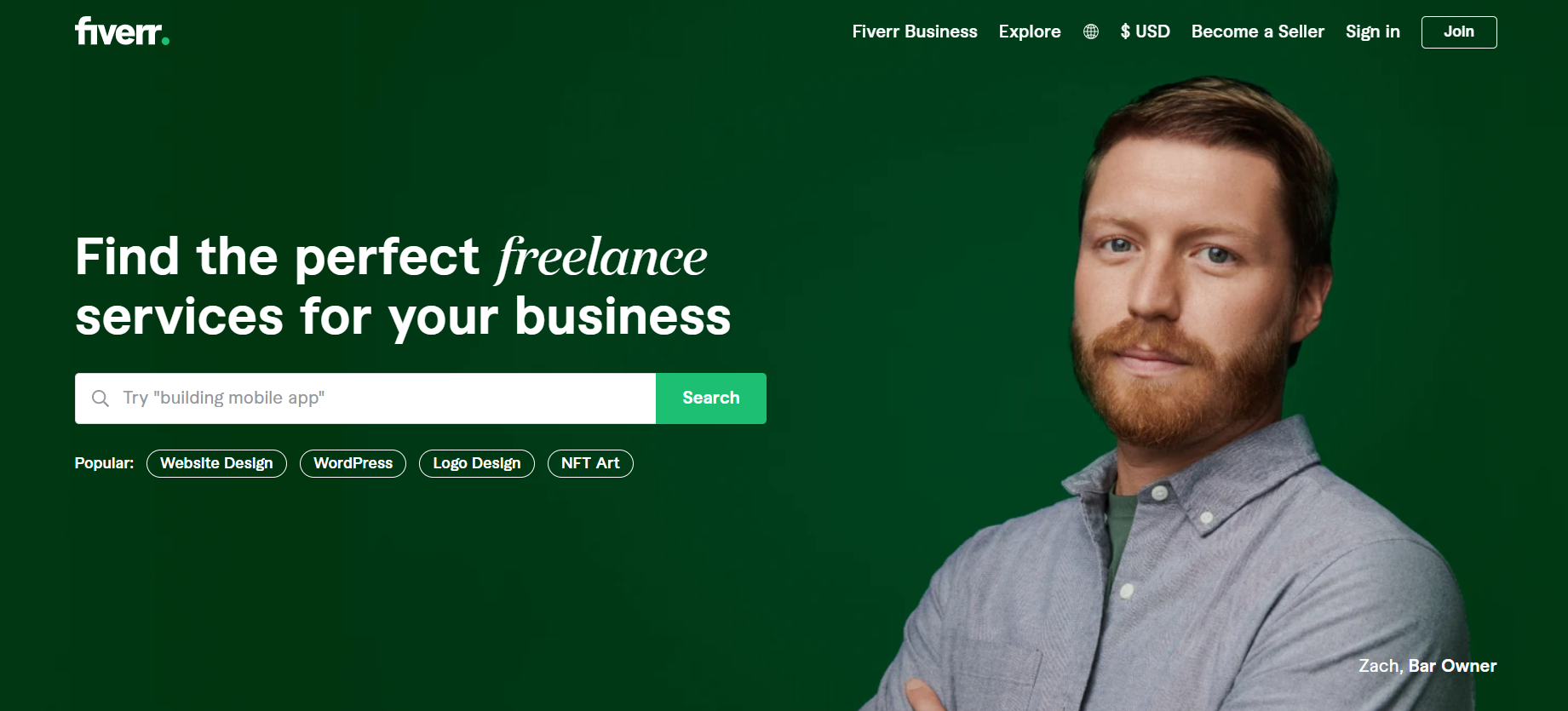 Features of Fiverr:
Unlike Turing, Fiverr talents are not vetted, and it is the duty of the client to screen the talent prior to hiring.
Possible to find developers offering services at rates ranging from $25 to $100 per hour.
A wide variety of freelance talents and professionals are available for remote work.
Does not provide a free trial with talent.
Why Choose Fiverr as a Turing Alternative for Remote Developers?
"You need the cheapest option, and you have the time to do the vetting."
If your project requires people with multiple skill sets and you want to find a quick match for a cheap price, then you should consider Fiverr. However, keep in mind that they do not conduct an interview or vetting process of their talent, and based on advice given by its past clients on Reddit, be ready to spend some time to finalize a hire.
Guru has been a go-to option among Turing alternatives for remote developers as they offer a wide network of freelance talents to hire from around the world. However, the majority of the current Guru freelance service providers are based in Asia, and you can access 1.7 million remote talents through this platform.

Features of Guru:
Guru does not offer pre-vetted or screened talent.

Hiring time from Guru depends on the interview and screening process done by the client.

No trials or money-back guarantees are on offer for non-satisfactory services.
Clients may open an account for free on the Guru platform and list their job openings. But the platform will take a cut of 2.9% per transaction.
Why Choose Guru as a Turing Alternative for Remote Developers?
"You need the cheapest option out there."
If you're working on a very tight budget and are willing to overlook the quality aspect of the project, then Guru might be an option for you. However, there are a number of Reddit users that cry out the downsides to this Turing alternative. Although Guru is one of the largest freelancer platforms that provides a wide array of choices that fall within pretty much any price point, Reddit users warn clients to keep in mind that its good talent is vastly dispersed, so you may have to spend quite a number of weeks in order to sift through them all and find your best fit.
This Turing alternative is a global freelancer platform that launched in 2007, offering a variety of talents across multiple specialties.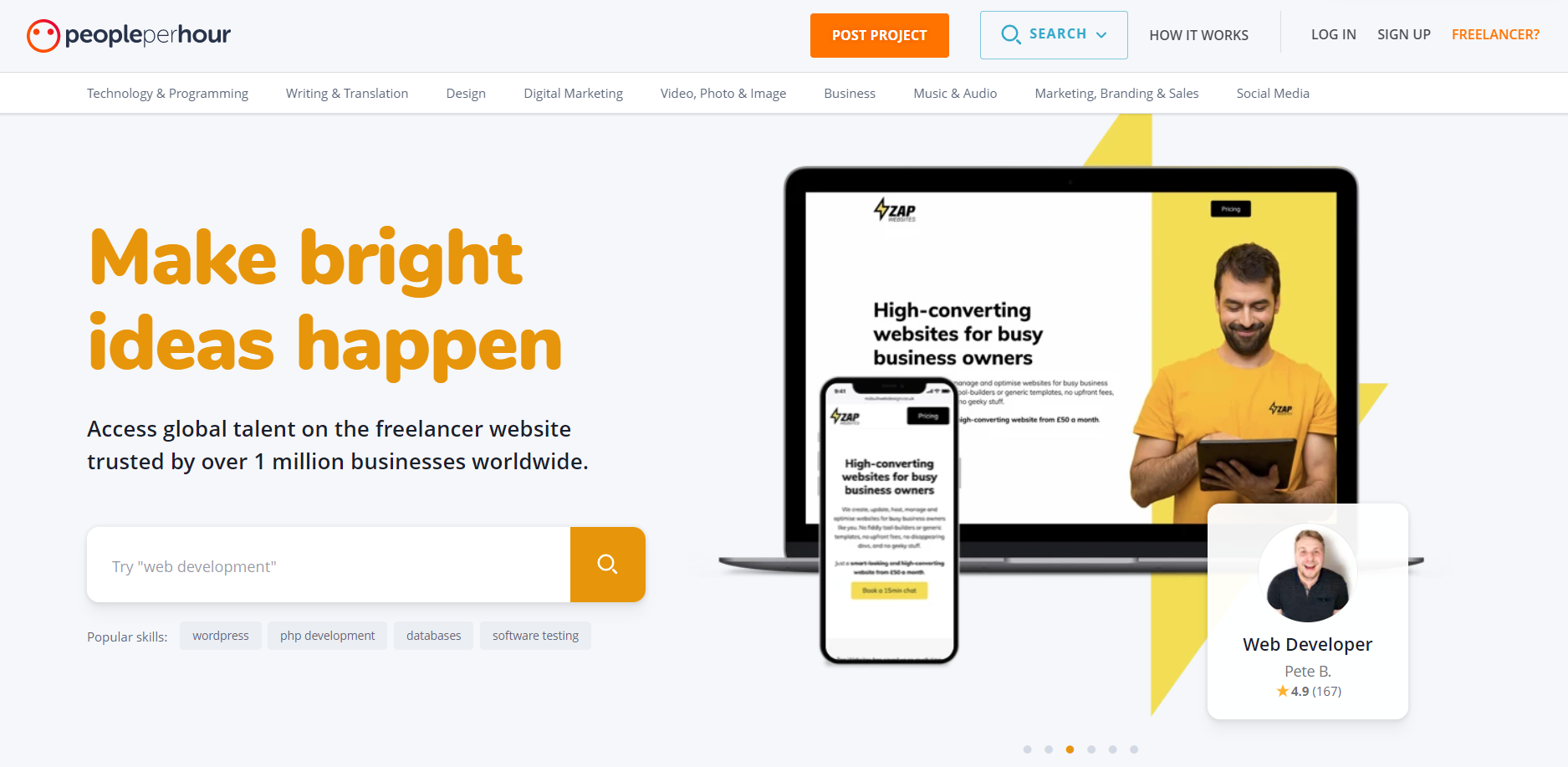 Features of People Per Hire:
A cost of a developer may range from $15 to 75.
Talents are not vetted. Hence the clients should spend some time evaluating their work prior to making a hire.
Find freelancers for a range of job roles.

Clients can post-project details and allow freelancers to send in proposals for review prior to hiring.
Why Choose PeoplePerHour as a Turing Alternative for Remote Developers?
"You want to find talent from a wide range of skill sets."
If you need to hire a wide variety of talent and require a large pool to pick from, you can access a vast number of freelancers through the PeoplePerHour platform. However, they do not offer a screening of candidates, so make sure you have the time to screen the talent yourself. Due to this reason, this Turing alternative is not considered a go-to platform for hiring talent based on reviews placed by Reddit users.
4. Best Turing Alternatives in 2023
| | CloudDevs | Unicorn.Dev | PeoplePerHour | Gigster | Upwork | Fiverr |
| --- | --- | --- | --- | --- | --- | --- |
| Service Cost | $40/hour | $35/hour | $15 – $75/hour | Minimum $52,000 per project | $8- $200/hr | $5-$800 per project |
| Platform Features | | | | | | |
| No-risk Trial Period | (14 Days) | Yes | N/A | N/A | N/A | N/A |
| Time Taken to Hire Talent | 24 to 48 Hours | 24 Hours | 2+ Weeks | 2 Weeks | Up to 8 Weeks | Up to 15 Days |
| Pre-Screened Candidates | Yes | Yes | No | Yes | No | No |
| Trustpilot Score | 4.5 | | 2 | 4.2 | 4.4 | 3.9 |
| Talent profiles | | | | | | |
| Average Years of Experience | 7+ | 5+ | 5+ | 3+ | Not Required | Not Required |
| Talent Location | Latin American | Worldwide | Worldwide | US & EU mostly | Worldwide – Mostly Asian | Worldwide |
| Niche | Highly vetted Senior Developers and Designers from LatAms | Highly vetted Senior Developers and Designers from the world over | Varies | Software Development Only. Focuses on complete project development. | Varies | Varies |
5. Which of these is your requirement for a Turing alternative?
As demonstrated, each of the above-mentioned freelance platforms offers distinct features suitable for different requirements.
Based on your needs, you may want to consider the following options:
| Requirement | Option 1 | Option 2 |
| --- | --- | --- |
| You require great quality while at a lower price | CloudDevs | Unicorn.Dev |
| You want the cheapest option regardless of quality | Fiverr | Upwork |
| You want to make a hire ASAP | CloudDevs | Unicorn.Dev |
| You wish to hire senior developers with 5+ years of experience | CloudDevs | Unicorn.Dev |
| You want the option of hiring a developer on a long-term basis | CloudDevs | Unicorn.Dev |
You require great quality service while working on a strict budget:
CloudDevs and Unicorn.Dev is by far the lowest on the pricing scale when it comes to platforms that offer vetted talent. As some of the closest competitors to Toptal, both these platforms ensure a rigorous screening and vetting process for all their developers.
You're looking for the cheapest option & are not too fussed about the quality of the product:
Fiverr and Upwork are by far the cheapest freelancer marketplace alternatives available that can fit any budget framework, as the platforms that offer vetted developers doing quality work cannot bring down their rates below industry standards.
You want to make a hire ASAP:
If time is your main concern, CloudDevs, and Unicorn.Dev are both two Turing competitors that offer some of the fastest hiring times out there.
You want the option of hiring a developer on a long-term basis:
If you're on the hunt for a Turing alternative that you can work with in the long run, CloudDevs, and Unicorn.Dev are renowned for offering long-term contracts for clients.
You wish to hire senior developers with 5+ years of experience:
If your project requires senior developers then CloudDevs and Unicorn.Dev are the only platforms that solely offer seniors with 5+ years of experience.