Upwork Alternatives
Upwork Alternatives for Hiring Developers in 2023
In the ever-evolving world of remote work and freelancing, Upwork has carved out its space as a major player, connecting clients and freelancers from all walks of life. As of 2023, Upwork stands as one of the go-to platforms for hiring freelance developers and tech workers across the globe. 
However, the landscape of online freelance platforms is vast and diverse, offering a range of alternatives that cater to different needs, preferences, and expectations. In this article, we'll venture beyond the realms of Upwork and delve into the most well-known Upwork alternatives for hiring developers who are the perfect fit for your tech project.
TL;DR
Here is our list of the best alternatives to Upwork:
CloudDevs – Access highly screened, LatAm developers & designers matched to your time zone within 24 hours, priced at $45-$70 per hour.
Unicorn.Dev – Explore a global hub of vetted remote developers and designers, all available at a flat rate of $35 per hour.
Toptal – A premium talent network connecting businesses with top-tier software developers and tech professionals, with pricing starting at competitive hourly rates.
Freelancer – A global platform connecting clients with freelance professionals across various industries, offering competitive rates based on project requirements.
Fiverr – Join an online marketplace bridging freelancers and clients for diverse digital services, with varying pricing options.
Gun.io – Top-tier developers exclusively sourced from the US at $110-145 per hour.
Guru – An online marketplace linking clients with skilled freelancers and experts, providing flexible pricing structures tailored to project needs.
So, if you're on the hunt for some Upwork alternatives to hiring developers for your projects, this guide can be of use to you.
Why Consider Upwork Alternatives for Hiring Developers?
Upwork does not conduct a vetting process on their talent and hence it's very easy for unqualified individuals to register on the platform.
Due to the huge concentration of sub-par talent in the platform, recruiters have to waste a lot of time going through unworthy applications to find something even remotely relevant.
Even though Upwork has a rating system for their talent, it doesn't necessarily signify the talent's overall skills such as communication and work ethic. Furthermore, the rating system is partial to those that have been with the platform for longer, hence many qualified talents that have joined more recently can get easily overlooked.
It is next to impossible to make a hire for an urgent position as the vetting and screening have to be done by the clients themselves.
The success rate of projects is known to be exceptionally low as clients end up making bad hires.
Upwork has seen quite some criticisms due to poor customer support when clients need to resolve concerns and they're also infamous for slow response rates.
Due to the above reasons, we find that more and more clients are veering away from Upwork, towards Upwork competitor platforms that offer freelance talent.
Take a look at some of Upwork's more recent Trustpilot reviews featured below:




If the above statements are evidence enough and you want to consider an Upwork alternative that offers a better overall experience, then keep reading!
Top Upwork Alternatives for Developer Hiring in 2023: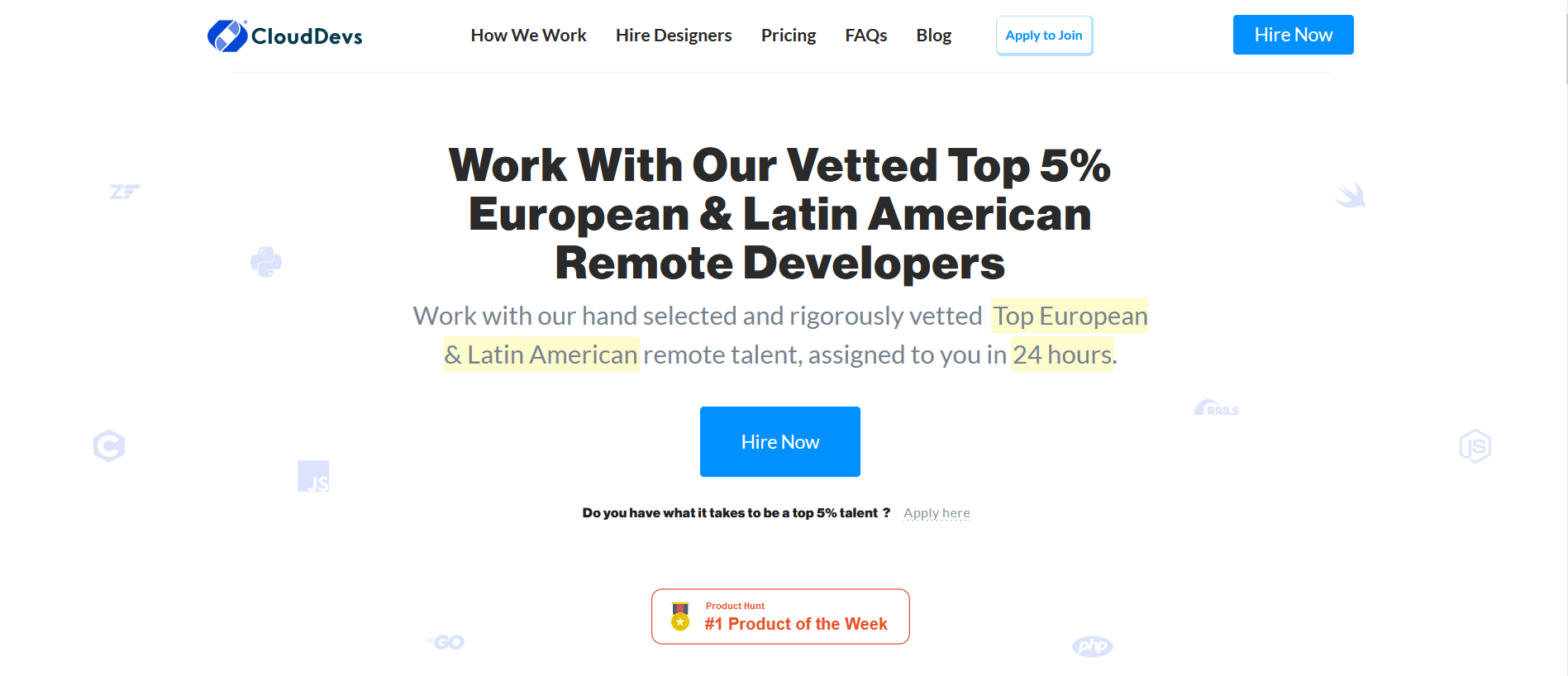 What is CloudDevs? 
This exclusive platform of vetted developers and designers is highly recommended as one of the top alternatives to Upwork. Unlike other well-known platforms in the same niche, CloudDevs offers some of the most reasonable pricing scales in the market for their highly qualified talent. They charge a flat fee of $40 per hour for all their senior talent which is a highly competitive rate even in Upwork's terms.
Why use CloudDevs as an alternative to Upwork for your developer requirements:
CloudDevs' 8000+ talent pool comprises

Elite Senior Developers

that are

highly vetted

and Designers, unlike Upwork's millions of non-vetted sub-standard talent base.

CloudDev's talent base is exclusively from the

European and Latin American regions,

unlike Upwork's globally distributed talent.

Due to their process of carefully selecting each candidate based on their set of skills and talents, the company can ensure that they'll

find a suitable match for the client in under 24 hours

, whereas with Upwork you may have to wait for weeks and even months to make a suitable hire.

CloudDevs assures all their

talents are assigned from the same time zone

as the client, in order to warrant all communications and delivery of services can be conducted efficiently. The clients are further matched personally to the talent, based on experience, niche, and any other requirements. None of which is offered at Upwork.

Unlike Upwork, CloudDevs offers a 7-

Day no-risk trial period

to guarantee the chosen talent is the right fit for the client. If the client is not fully content, CloudDevs is ready to either immediately replace the talent or refund the money.

Furthermore, CloudDevs offers a

weekly rolling contract with no minimum commitment

that allows the client to cancel the project whenever they want.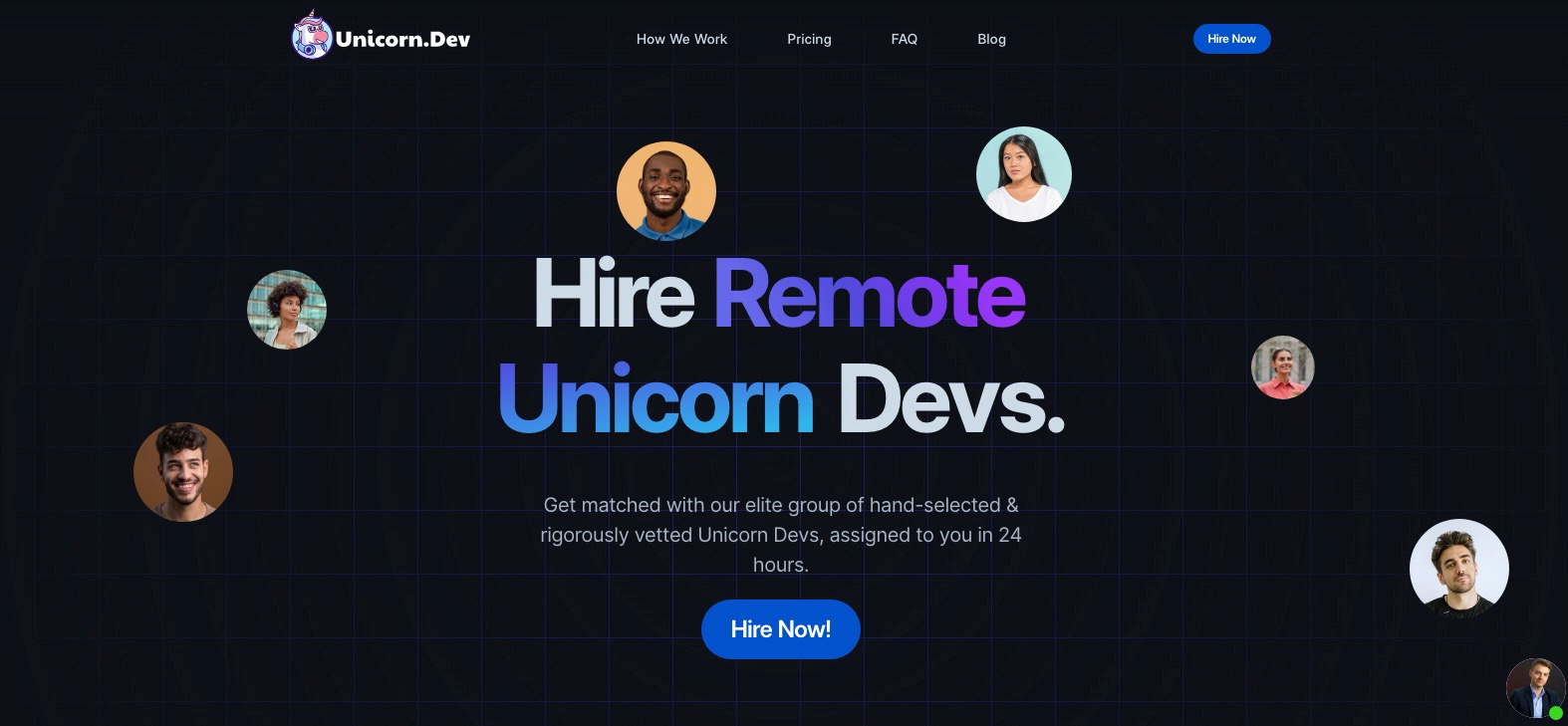 What is Unicorn.Dev? 
Unicorn.Dev is an exclusive pool of highly vetted, remote developers and designers for hire. This Upwork alternative specializes in the tech talent niche and is considered one of the market's most affordable tech talent platforms. Unlike Upwork and most other Upwork competitors, Unicorn.Dev is entirely focused on the quality of talent and ensures that all its talents are seniors with a minimum of 5 years of work experience in their specialties. In addition, Unicorn.Dev talents have to undergo 5 stages of screening and vetting in order to enter the exclusive platform which makes the caliber of their talent stand apart from Upwork.
Why use Unicorn.Dev as an alternative to Upwork for your developer requirements:
Unlike the millions of talents spread across different specialties on Upwork, Unicorn.Dev offers a more niche-based platform that makes it convenient for clients to hire all their tech talent from one place

While Unicorn.Dev offers a global talent base similar to that of Upwork, all Unicorn talents are highly vetted and screened which makes them stand apart from the thousands of non-vetted sub-par talent that crowd Upwork's platform.

Unicorn.Dev can provide a talent match within 24 hours due to their existing pre-vetted pool. Unlike sourcing talents through Upwork and other similar Upwork competitors that would require up to 3 or 4 weeks as the client has to conduct the screening and interview processes themselves, having access to Unicorn.Dev's pre-vetted save so much time.

Although Unicorn.Dev presents a global talent pool similar to Upwork, this Upwork alternative provides a 4-hour time-zone overlap for clients with their talent, which makes it easier to collaborate and communicate with their internal teams.

Finally, Unicorn.Dev provides a 1 week-long free trial for the clients with each new tech talent their hire, which is not a possibility through platforms like Upwork and most of its competitors.
What is Toptal? 
Toptal is synonymous with top-tier talent. It prides itself on curating a network of elite freelancers, ensuring that clients have access to the best in the industry.
Why Consider Toptal? 
If you're a client seeking exceptional expertise, Toptal stands out as a platform that rigorously vets freelancers. The platform's rigorous screening process ensures that only the top 3% of applicants are accepted, giving you confidence in the caliber of talent you're engaging. Toptal is a platform that connects businesses with top 1% of freelance talent. All of the developers on Toptal are pre-screened and vetted, so you can be confident that you're hiring someone who is qualified and experienced.
Toptal is a bit more expensive than Upwork, but you're paying for the quality of talent. If you need a highly skilled developer for a complex project, Toptal is a great option. Toptal specializes in offering experienced talent in the fields of software development, design, and finance, and its rigorous screening process ensures that only the top 3% of the talent makes it to their premium platform. In contrast to Upwork, Toptal only offers highly-vetted talent which makes them so much more reliable.
Here's why you should consider Toptal as an alternative to Upwork:
Option to hire talent on a full-time, part-time, or hourly basis

Risk-free trial period up to 72 hours

Highly vetted and screened talent from multiple timezones

Hiring time at Toptal can vary based on talent availability

What is Freelancer.com? 
Freelancer.com is a renowned platform in the world of freelance talent, offering a wide range of services designed to cater to your unique project requirements. With a name synonymous with trustworthiness and excellence, Freelancer.com serves as a dependable choice for those in search of top-tier freelancers. Initially focused on connecting clients with skilled professionals who could deliver exceptional results, Freelancer.com has since expanded its offerings to encompass a diverse spectrum of services, ensuring that you can find the perfect expertise for your project.
Why Choose Freelancer.com as an Upwork alternative for hiring developers?
Tailored Job Listings: Clients enjoy the flexibility to create job listings that precisely match their project needs and specifications.
Direct Communication: Freelancer.com fosters open and direct communication between clients and freelancers, facilitating meaningful discussions prior to project commitments.
Extensive Talent Pool: Whether you're in need of swift solutions for small tasks or comprehensive services for larger projects, Freelancer.com boasts a vast and diverse pool of skilled professionals who can fulfill your requirements.

What is Fiverr?
Billing itself as one of the pioneers of online marketplaces for freelance talent worldwide, Fiverr originally offered their services at $5, hence their name! Although since then, this Upwork competitor has grown a great deal, and today you can find pretty much any type of service that's needed, from simple data entry to more complex software engineering services for anything between $5 to $200 per hour within their platform.
Why Use Fiverr as an Upwork Alternative?
The client is able to post a job or browse through gig offers till they find something that meets their requirement.
The clients can create an account on Fiverr for free and communicate with the talent prior to making an order so they can gauge the fit beforehand.
It is best suited for those who want small tasks completed fast within a limited budget.
It covers a wide range of talent and does not have a specific focus.
Due to its distributed focus and the lack of a screening or vetting procedure, you're unlikely to receive high-quality output through Fiverr hires. However, if you were to discover some capable and reliable talent, it is very likely that you can stick to working with this alternative to Upwork in the future.

What is Gun.io?
Gun.io is a reputable platform in the world of freelance talent, offering a diverse array of services tailored to meet your specific needs. With a name that echoes reliability and excellence, Gun.io stands as a dependable alternative for those seeking top-notch freelancers. Originally, this platform focused on connecting clients with skilled professionals who could deliver outstanding results, and today, Gun.io has expanded its offerings to cater to a wide spectrum of services, ensuring that you can find the right expertise for your project.
Why Choose Gun.io as an Upwork alternative for hiring developers?
Customizable Job Posting: Clients have the flexibility to post job listings that align precisely with their project requirements.
Direct Communication: Gun.io fosters open and direct communication between clients and freelancers, allowing for meaningful discussions before committing to a project.
Wide Talent Pool: Whether you require a quick solution for small tasks or seek comprehensive services for larger projects, Gun.io offers a diverse pool of talented professionals who can meet your needs.
Quality Assurance: Unlike some platforms, Gun.io places a strong emphasis on quality and expertise. Freelancers undergo rigorous screening and vetting procedures, ensuring that you receive top-quality work.
Long-Term Relationships: When you find a reliable freelancer through Gun.io, you have the opportunity to build lasting working relationships, streamlining future collaborations and ensuring consistent results.

What is Guru?
Guru brings together a range of software developers, designers, and tech workers across a range of experience levels to pick from.
Why Consider Guru?
Similar to Fiverr and Upwork, Guru is another generic freelancer marketplace that offers all manner of services within its platform. They too do not offer vetted talent, however, there is a large pool of talent to pick from at very cheap prices. As with Fiverr and Upwork, the risks are higher when recruiting through Guru as the likelihood of making bad recruitment is significantly high. Yet it is possible to find a few good talents if you have the time and the patience to sift through the scammers. On the plus side, Guru's customer care has better reviews from clients and it's known to be more reliable than Upwork.
How to Choose the Best Upwork Alternative for You
The best Upwork alternative for you will depend on your specific needs and budget. Here are a few factors to consider when making your decision:
The type of project you need help with. Some platforms are better suited for certain types of projects than others. For example, Toptal is a good choice for highly skilled developers for complex projects, while Fiverr is a good choice for small projects or tasks that don't require a lot of specialized expertise.

Your budget. The pricing of Upwork alternatives can vary widely. Toptal is the most expensive option, while Fiverr is the most affordable.

The quality of talent. The quality of talent on Upwork alternatives can vary. Toptal and Guru have a reputation for having high-quality talent, while Fiverr and Freelancer have a wider range of talent, including some less experienced developers.

The ease of use. The ease of use of Upwork alternatives can also vary. Some platforms are more user-friendly than others.
In Conclusion
While Upwork remains a prominent player in the freelance developer hiring landscape, it's essential to explore the diverse array of upwork alternatives available before you make your hire. Your choice of platform should align with your goals, expertise, and expectations. Whether you're a freelancer seeking the perfect project or a client looking for specialized developer, the world of online freelance platforms has something unique to offer. 
From tech-focused platforms like CloudDevs to those celebrating the extraordinary like Unicorn.Dev, the choices are as diverse as the talents and aspirations of freelancers and clients alike.