Andela Alternatives
9 Best Andela Alternatives to Hire Remote Developers in 2023
Andela is a popular option to hire remote developers for tech projects. Since its inception in 2014, Andela has built a brand image around the training processes it offers its developers who are predominantly from Africa.
Andela is a tech talent marketplace with its headquarters in the US and offices preset in Kenya, Nigeria, Rwanda, and Uganda respectively. Today, Andela calls itself a network of tech talent that enables companies or individuals searching for high-quality engineering teams to hire remote developers for their projects. But when it started back in 2014, it had a fairly different business model. 
The company initially started off as a distance learning platform for African universities. Their aim was to empower young Africans by providing training and learning resources to develop their careers in programming and find them long-term job placements at companies wishing to hire teams of developers.
But as of September 2019, Andela no longer hires engineers in training. After laying off over 400 full-timers, by claiming their customers require more senior talent, Andela has completely reformed its business model to offer remote developers for hire on a contract basis.
2. Features of Andela
Andela offers 77,000+ software engineers that are sourced globally

Andela claims that all their developers are pre-screened 

Provides data-driven matches that assure a fit of the technical and cultural fit required by your organization

100+ tech skills on offer including Ruby, Python, Go, JavaScript, React-Native, and MongoDB among many more

Global talent base that's spread out over 60+ countries across Africa, South America, and Eastern Europe

Andela is not recommended for minor projects as they mostly cater to long-term hires

Hands-on support that monitors the first 90 days of the commitments between the company and developer to ensure a smooth onboarding experience
3. Why Would You Need Alternatives to Andela?
What is Andela's Hourly Rate?
Andela does not officially state their rates, however, it is expected to cost around:
Hourly rate:
Average developer
What is Andela's hiring time?
While they do not define their hiring time, it is presumed that it would take up to 3 weeks.
One of the main concerns for someone intending to hire remote developers through Andela is the controversy surrounding the changing and evolving business model of Andela. For a company that started off on the grounds that it wanted to help African youth by providing them with valuable tech training, Andela has indeed strayed very far from its initial vision which landed them millions of funding opportunities. 
Today Andela is just another talent marketplace offering remote tech talent services with very little transparent information provided with regard to their pricing model and benefits to customers.
Andela offers no definite trial period nor do they confirm how long you would have to wait in order to find a developer through their platform.
While it is possible to make short-term recruitments using Andela, their specialty lies in training their developers in order to organize a pool of elite talent. They offer highly skilled teams of developers who are able to bring your tech projects to life.
Additionally, it is important to note that you cannot find a single customer review online regarding the supposedly excellent services provided by Andela's elite set of developers, which can appear like a huge red flag when it comes to choosing them for your hires.
If these factors concern you, then you'll be relieved to know that Andela has plenty of other alternatives out there. Up next, we shall examine the top competitors of Andela in the market, to help you make the right choice.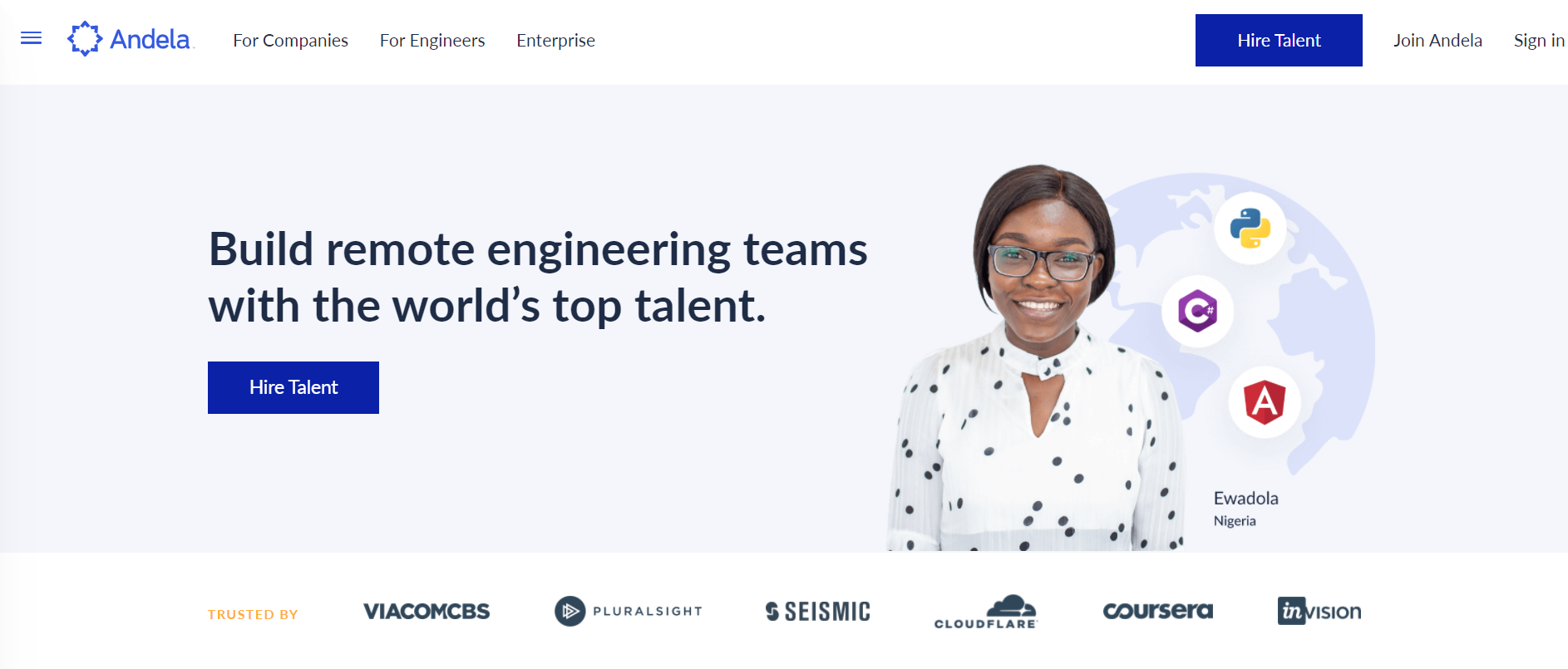 4. Andela Alternatives to Hire Remote Developers
1. CloudDevs Vs Andela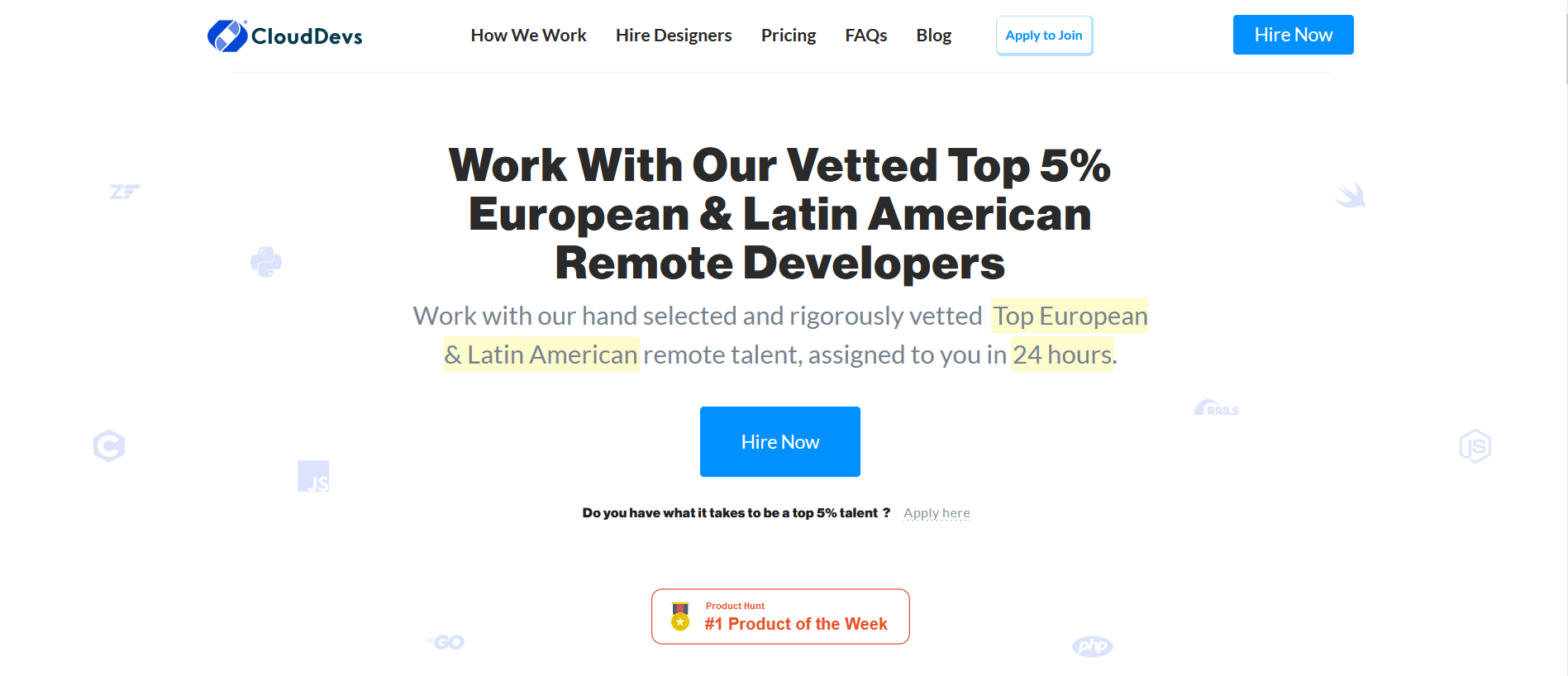 Unlike Andela, CloudDevs is transparent about its fee structure, charging a fee of $40 to $70 per hour for all its senior pre-vetted developers.

It is expected that Andela charges anything upwards of $70 per hour for their talent.

CloudDevs' 8000+ talent pool comprises

elite senior developers and designers

exclusively from Latin America, unlike Andela's global talent across multiple time zones.

CloudDevs

hiring process can take place within 24 hours

, unlike Andela's waiting period expected to be up to 3 weeks.

CloudDevs assures all their

talents are assigned from the same time zone as the client, in order to warrant all communications and delivery of services can be conducted efficiently. The clients are further matched personally to the talent, based on experience, niche, and any other requirements.
The company offers a 14-day no-risk trial period to guarantee the chosen talent is the right fit for the client. If the client is not fully content, CloudDevs is ready to either immediately replace the talent or refund the money.
CloudDevs offers a weekly rolling contract with no minimum commitment that allows the client to cancel the project whenever they want.

CloudDevs boasts an overall score of 4.9 on "

Trustpilot

" in a coveting assembly of 100+ excellent 5-star reviews and 'zero' negative feedback, in contrast to Andela's zero ratings with no customer reviews available.
Why Choose CloudDevs Over Andela?
Not only is CloudDevs more feasible than Andela, but the transparent pricing at flat rates they offer also helps you have a clear estimate of your project cost from the start. The fact that CloudDevs only hires elite senior developers into the platform, assures the quality of talent from the get-go. Additionally, CloudDevs ensures the talent is chosen from your own time zone, all in under 24 hours, unlike Andela's global talent with no definite hiring period available. Considered one of the best sites to hire remote developers, CloudDevs offers some of the best rates in the market to hire remote developers and designers making them one of the best Andela alternatives for startups and entrepreneurs.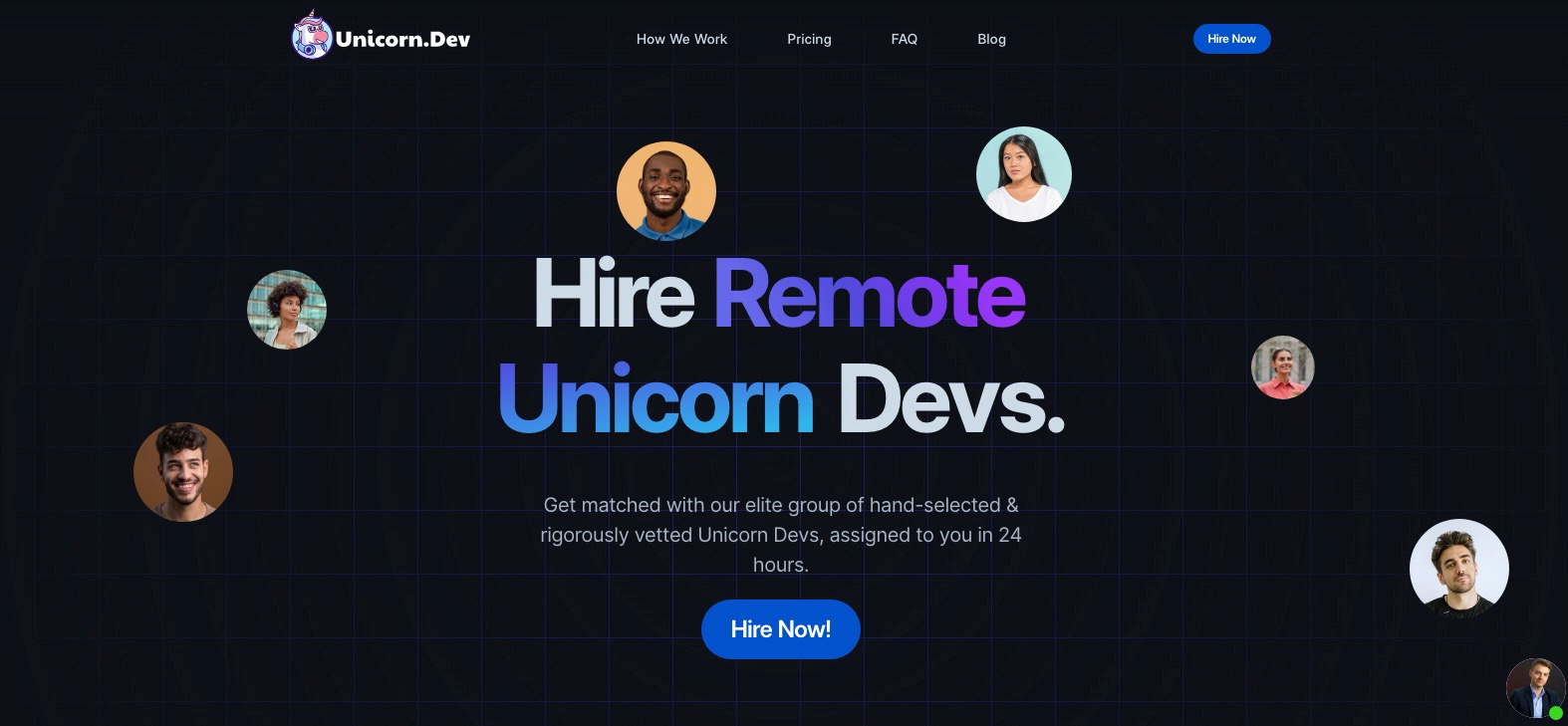 Specializing in offering internationally sourced tech talent for hire, Unicorn Dev offers a wider selection and larger talent pool in comparison to Andela and its competitors.
Unlike Andela, Unicorn.Dev offers a flat rate of 35 USD per hour for each of their highly vetted talents.
Unicorn.Dev offers its clients a 4-hour working time overlap with all their talents in order to make the process of collaborating so much easier.
Due to the extensive pre-vetted talent pool available, Unicorn.Dev is able to match you with the most suitable candidate in under 24 hours.
All Unicorn talents are offered a 1-week free trial so the clients can assess the work of the talent and ensure it's the right match!
Why Choose Unicorn.Dev Over Andela?
Compared to other Andela alternatives, Unicorn.Dev offers some of the most affordable rates for senior, pre-vetted tech talent. The flat rate in place for all their talents makes it easy to estimate project costs in advance. Unlike Andela, Unicorn.Dev's fast hiring process, together with the free trial and a 4-hour work-time overlap, makes them a fantastic option for bootstrappers and startups looking to hire remote developers at affordable rates.
3. Toptal Vs Andela
Only the most highly vetted talent has the potential to enter the company's talent pool which is very similar to that of Andela

Toptal charges vary based on the rates set by its developers

Global talent base across multiple timezones

A variety of talent including non-developers are available for hire within Toptal's platform

Trial period present
Why Choose Toptal Over Andela?
Although they offer pretty similar tech talent solutions to that of Andela, when you need to hire remote developers Toptal is still the market leader that has been around for much longer than Andela. 

Specializing in offering the entire tech team for hire, Gigster offers a very similar model to that of Andela. Gigster is not suitable for small-minded clients who require only one specific task that can be accomplished by an individual developer. Having access to a pool of top-quality remote developers and project managers, the company uses AI-based algorithms to bring together the right team for the job.
The global network of developers presented by Gigster spans multiple time zones and the company claims to find the right candidate to

fill your position in under 10 days

from a network of 1000+ global members. 

While the majority of Gigster's talent base is from the US, Andela offers a global talent pool with an emphasis on African freelance developers.

While they pride themselves on their timely delivery speeds, the company also offers free cancellation of your project at any time. 

Gigster is known to access a code library that significantly speeds up the coding process. However, this may not be the ideal solution for clients requiring more bespoke options.

Gigster pricing is in the higher range as they utilize time-based compensation, charging a steep per-project fee of a

minimum of $52,000 per license

.




All their staff work on a part-time basis; thus, they may not bring the same level of passion to their side hustle as to their regular 9-5. 

While they offer a strong development base, the same cannot be said about their design elements, which may lead to the client needing a third-party design team to do the final glow-up, which would in turn increase the overall cost of the product.

Furthermore, Gigster does not offer a trial for their services, so one has to put their complete faith in them and hand over the reins wishing for the best output.

Gigster holds a Trustpilot Score of 3.2
Why Choose Gigster Over Andela?
Try Gigster if your project requirement entails an entire team of highly skilled developers and designers and you are not too concerned about what it may cost, then Gigster may be the best option for you. However, many of Gigster's competitors also offer the option of hiring an entire team if that is your requirement, so you may want to consider those Andela alternatives as well.
5. Gun.IO Vs Andela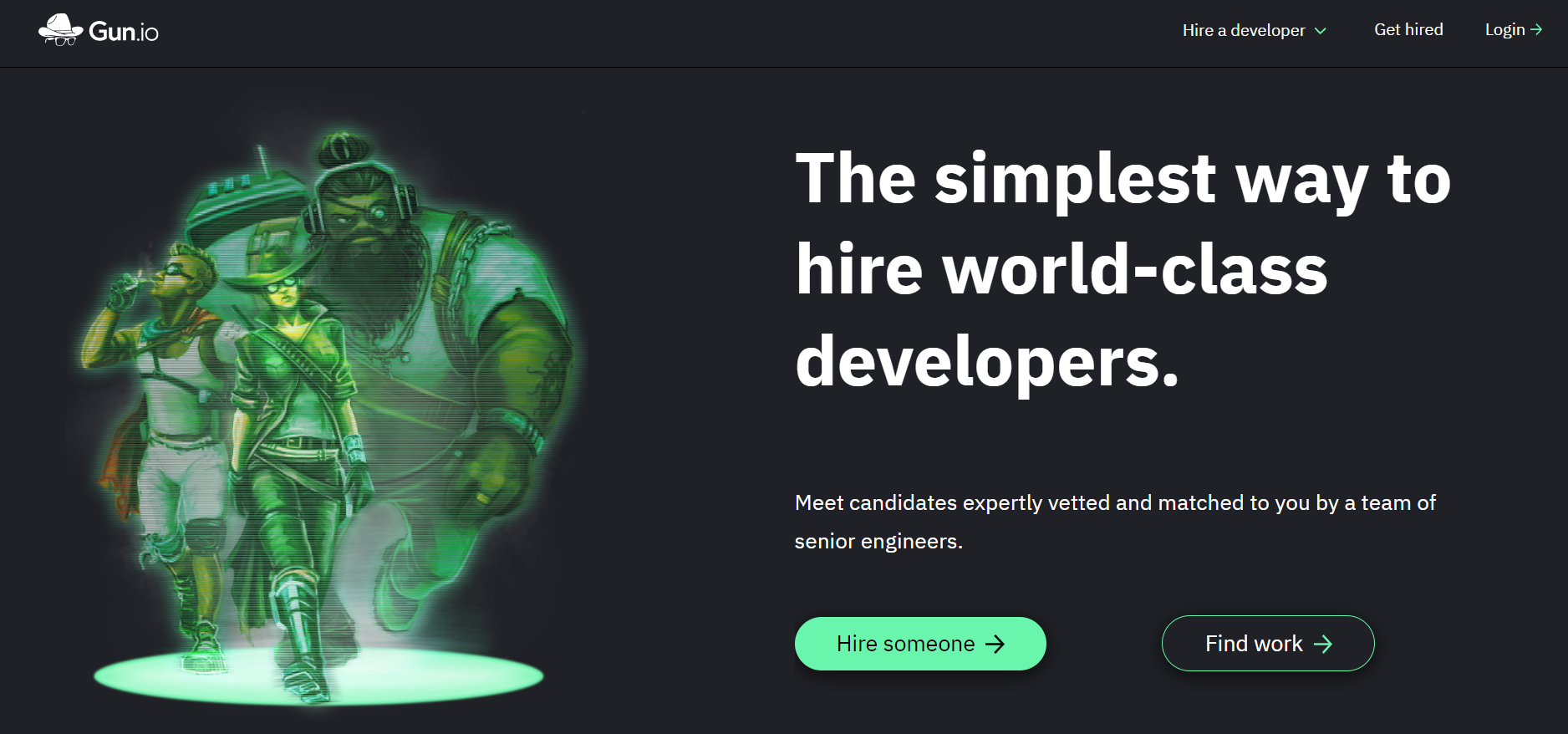 This small exclusive invite-only network of highly vetted and elite software developers incorporates a customized recommendation process to match developers with companies. 
However, this niche invite-only pool reduces the number of options the client has to pick from.

The company offers the ability to book the freelancer for the monthly hours required by the client and in general assures a

hiring time of 48 hours. 

The client is able to bring in additional resources or swap out talent as required.

Comparatively higher in its rates than

Andela

and other

Andela

alternatives, Gun.io is expected to cost 43% more than other freelance platforms with their talent setting their own rates. The company is expected to charge

upwards of $80 per hour

depending upon the required specifics, their talent pool carries a very average level of experience

The company however offers a refund guarantee if the client is unsatisfied with their work.

Gun.io holds a Trustpilot Score of 3.5
Why Choose Gun.io Over Andela?
If you're happy to pay a premium price for a product developed by an Andela competitor that houses an exclusive group of elite remote software developers then you'll be happy with what Gun.io has to offer.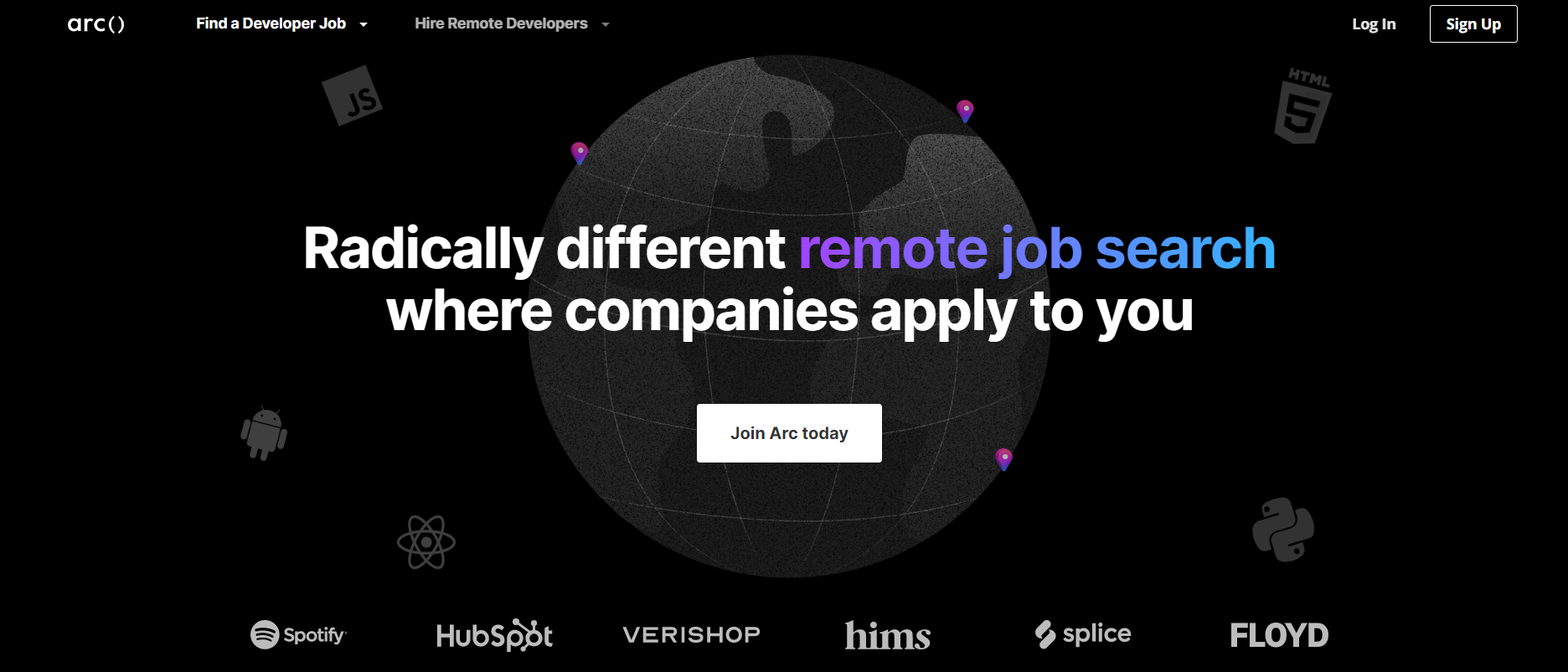 Among the existing sites like Andela, Arc is renowned for conducting a rigorous vetting process to warrant the quality of their developers who are said to be in the top 1.1%.
The company specializes in assisting clients hiring full-time remote developers can to make a hire in 1 to 3 weeks.
Akin to Andela, Arc.Dev lies in the higher price scale with developers costing anything upwards of $60 to $200+ per hour
Arc.Dev holds a Trustpilot Score of 4.5
Why Choose Arc.Dev Over Andela?
With a six-step screening process and a 1.1% pass rate Arc.Dev as an Andela alternative prides itself in having the best of the best. If this is what you aim for and their premium fees aren't a burden then Arc. Dev would be a great choice to consider.
7. Upwork Vs Andela 

Unlike Andela, Upwork does not screen its freelancers, hence the client needs to have the capacity to conduct the vetting process themselves, which may take up to 8 weeks to finalize the hire.
Even though Upwork's bidding system lowers the price of the project, it attracts a large number of sub-par talent hence it's not the most suitable place to search for high-end developers for long-term projects.
The average Upwork Developer rates are from $8-$15/hr and they go up to $200/hr based on seniority (Both Hourly & per-project payment options being available). Additionally, Upwork charges a commission rate of 2.75% per client.
Upwork holds a Trustpilot Score of 4.5
Why Choose Upwork Over Andela?
If your project requires people in multiple skill areas and you want to find a quick match for a cheap price, then you should consider Upwork. However, keep in mind that they do not conduct an interview or vetting process of their talent, therefore be ready to spend some time to finalize a hire.
8. Fiverr Vs Andela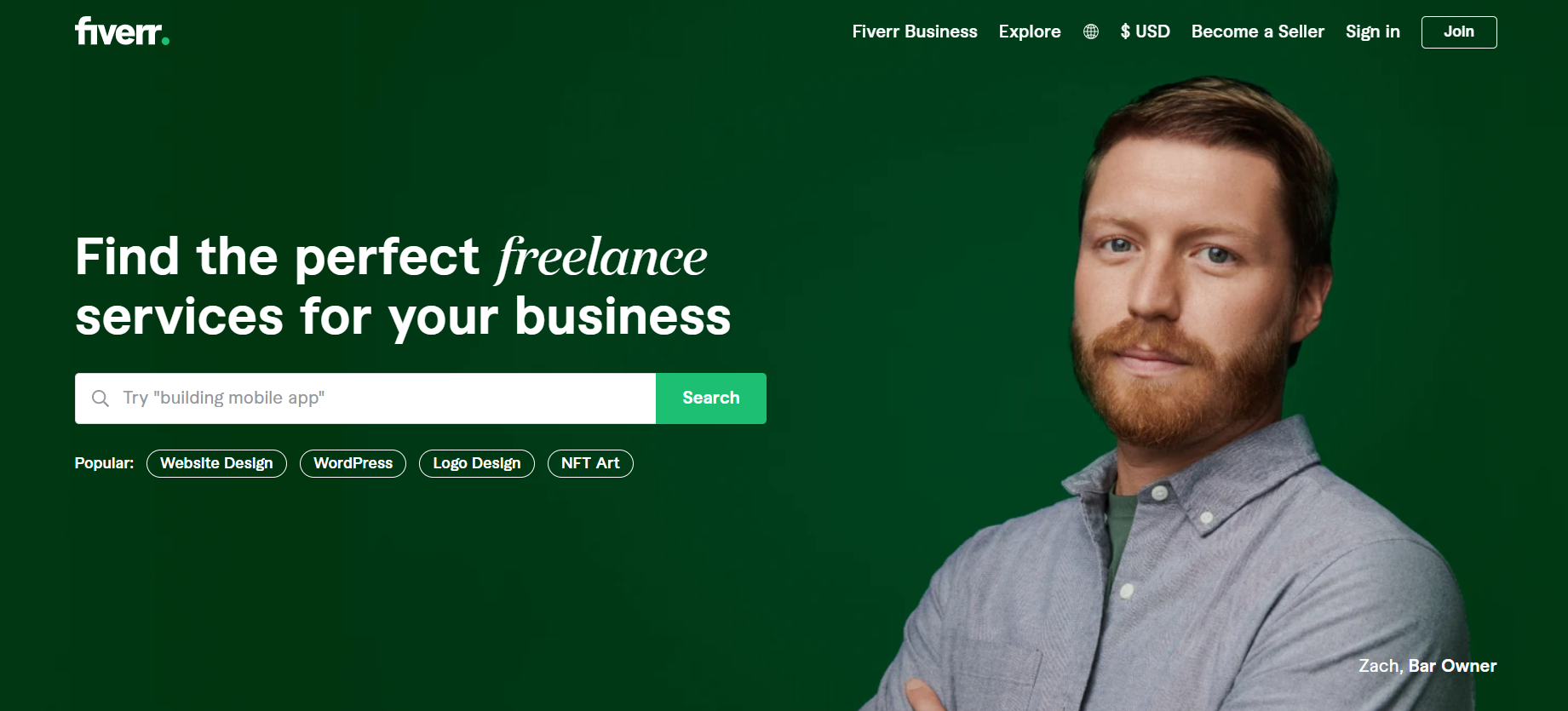 If you're on the hunt for alternatives to Upwork, then Fiverr offers a platform for freelancers of varying skill sets to provide their services online. Fiverr is one such Upwork competitor where you can either post your project and allow freelancers to bid on it, or you can directly approach the talent if you find one that seems right.
Similarly, their highly competitive bidding system makes talent reduce their rates in order to get gigs.
One can hope to hire a developer within $5-$800 per project. Additionally, Fiverr charges up to 20% of the service fee from the buyer.
They claim that hires can be made within 1 to 3 days. However, it should be noted that since Fiverr does not offer vetted talent, the hiring process can lengthen if the client doesn't find the right fit.
Fiverr holds a Trustpilot Score of 4.1
Why Choose Fiverr Over Andela?
If you're working on a very tight budget and are willing to overlook the quality aspect of the project, then Fiverr might possibly be the one for you. This growing platform provides a wide array of choices that fall within pretty much any price point, but do keep in mind that the talent is equally dispersed so you may have to spend quite a number of weeks in order to sift through them all and find your best fit.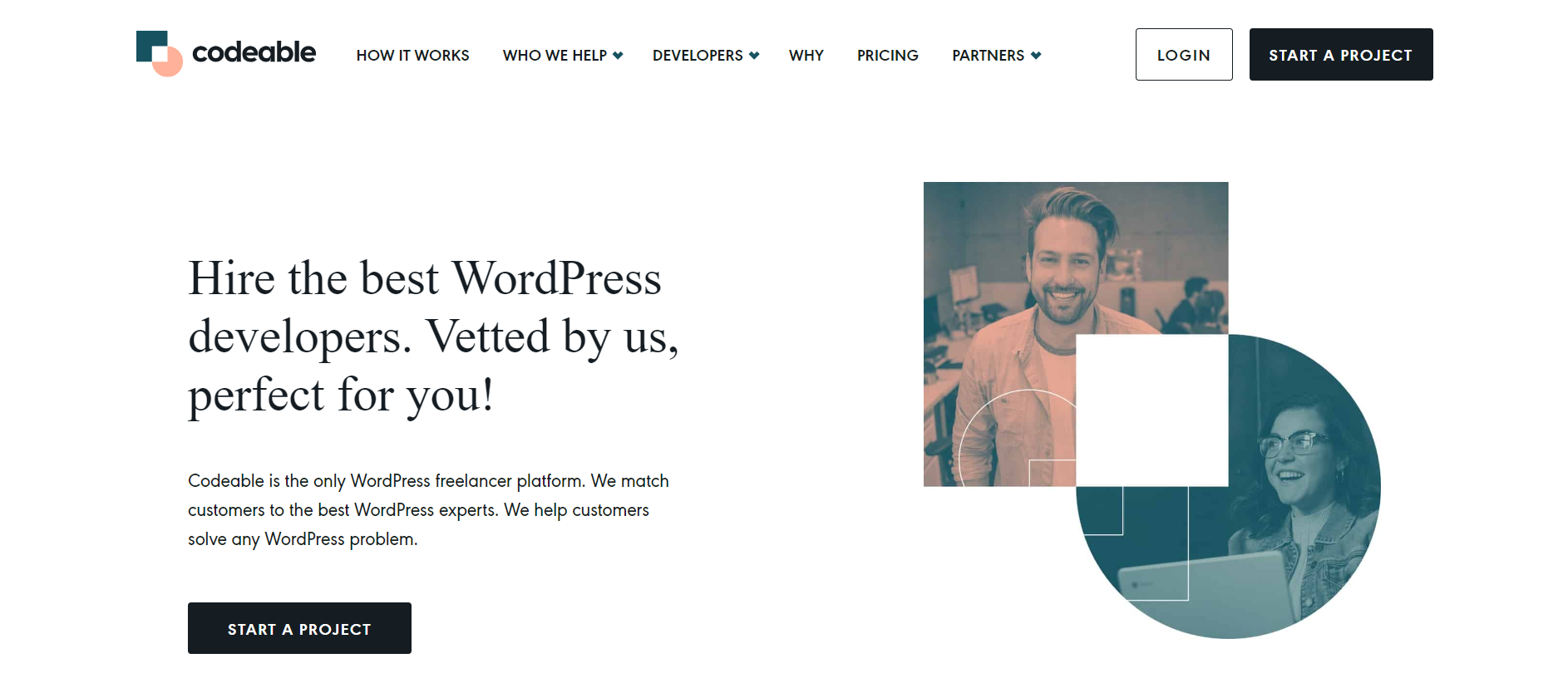 Specializing in WordPress-related development, Codeable offers vetted talent that has to undergo a 45-day trial period before being accepted to the platform.
While they provide free estimates for your projects, they place no obligation for you to make that hire through them.
You can expect an expert developer to review your project in as little as 3 to 5 hours from the time you post the job.
Codeable rates generally fall within $75 to $120 per hour and they are also known for their money-back policy in case the client is dissatisfied with their services.
Codeable holds a Trustpilot Score of 4.7
Why Choose Codeable Over Andela?
If your project specifically requires only WordPress coders, Codeable can provide you with some of the best in the field. However, the other Andela alternatives mentioned here offer WordPress developers as well, so you may want to consider them too when you intend to hire remote developers in 2023.
| | CloudDevs | Unicorn.Dev | PeoplePerHour | Gigster | Upwork | Fiverr |
| --- | --- | --- | --- | --- | --- | --- |
| Service Cost | $40/hour | $35/hour | $15 – $75/hour | Minimum $52,000 per project | $8- $200/hr | $5-$800 per project |
| Platform Features | | | | | | |
| No-risk Trial Period | (14 Days) | Yes | N/A | N/A | N/A | N/A |
| Time Taken to Hire Talent | 24 to 48 Hours | 24 Hours | 2+ Weeks | 2 Weeks | Up to 8 Weeks | Up to 15 Days |
| Pre-Screened Candidates | Yes | Yes | No | Yes | No | No |
| Trustpilot Score | 4.5 | | 2 | 4.2 | 4.4 | 3.9 |
| Talent profiles | | | | | | |
| Average Years of Experience | 7+ | 5+ | 5+ | 3+ | Not Required | Not Required |
| Talent Location | Latin American | Worldwide | Worldwide | US & EU mostly | Worldwide – Mostly Asian | Worldwide |
| Niche | Highly vetted Senior Developers and Designers from LatAms | Highly vetted Senior Developers and Designers from the world over | Varies | Software Development Only. Focuses on complete project development. | Varies | Varies |
5. Which of these is the best alternative for Andela to Hire Remote Developers?
As demonstrated, each of the above-mentioned freelance platforms offers distinct features that are suitable for different requirements.
Based on your needs, you may want to consider the following options:
| Requirement | Option 1 | Option 2 |
| --- | --- | --- |
| You require great quality while at a lower price | CloudDevs | Unicorn.Dev |
| You want the cheapest option regardless of quality | Fiverr | Upwork |
| You want to make a hire ASAP | CloudDevs | Unicorn.Dev |
| You wish to hire senior developers with 5+ years of experience | CloudDevs | Unicorn.Dev |
| You want the option of hiring a developer on a long-term basis | CloudDevs | Unicorn.Dev |
A. You require excellent standards, for a lower budget:
CloudDevs and Gun.io are by far the lowest in the pricing scale and offer the same quality of service as Andela. As some of the closest competitors to Andela, both these platforms ensure a rigorous screening and vetting process for all their developers.
B. You're looking for the cheapest option & are not too fussed about the quality of the product:
Fiverr and Upwork are by far the cheapest Andela alternatives available that can fit any budget framework, as the platforms that offer vetted developers doing quality work cannot bring down their rates below industry standards.
C. You want to make a hire ASAP for an urgent project:
If time is your main concern, CloudDevs and Gun.io are two Andela competitors that offer some of the fastest options out there to hire remote developers.
D. You want the option of hiring a developer on a long-term basis:
If you're on the hunt for Andela alternatives that you can work with in the long run, CloudDevs, and Arc.Dev is renowned for offering long-term contracts for clients.
E. You require an entire project built without your involvement:
If you require an entire group of talent to independently build a standard project like a social network etc. without your involvement then Gigster has that on offer for you.
F. You wish to hire senior developers with 5+ years of experience:
If your project requires senior developers then CloudDevs and Gun.io are the only platforms that solely offer seniors with 5+ years of experience.
G. Your project requires only WordPress developers:
While you can hire WordPress developers through any of the platforms mentioned above, Codeable offers you talent that is solely specialized in WordPress unlike the other Andela alternatives out there.