Developer Rates
The Cost of Hiring Developers Online – Rates for Freelance Developers in 2023
With the demand for talented devs being on the rise, so is the cost of hiring them. Hiring freelance developers online has definite advantages when compared to the traditional model of full-time onsite talent. 
On average, the cost of a full-time developer in the US will cost you around $250K per year, which includes taxes and benefits. Whereas the cost of hiring remote developers as freelance talent is far less in comparison. However, there remains a major difference between the price ranges of freelancers that's worth looking into when you're planning to hire.
To determine the cost of hiring online developers, the clients must first define their needs. Developer rates vary based on the talents' experience, expertise, available location, and market demands; hence, clients can choose their talent based on their specific requirements.
1. Factors that affect the rates of freelance developers:
Geographical location –

Where the developers are geographically located plays a significant part in how much they charge. For instance, developers from the USA cost a lot more compared to those of similar skill sets and experiences from other regions like Ukraine and Asia. This is mainly due to the region's economic conditions and lower living costs.

Skillset and qualifications – The bigger the skillset and seniority of the developer, the higher their cost. These include the soft skills of the talent, such as their ability to communicate, document processes, collaborate effectively, and rise up to challenges. Most customers search for the best quality talent, and as such, they do not mind paying a higher price tag as they believe the price they pay buys them superior quality talent.

Demand for their skills in the market – If you require a dev that possesses highly popular skills that are in demand, expect to pay higher rates for them. For instance, if you require a niche skill or a particular set of skills, those experts generally come at a premium price.

Work experience – Past work experiences and the big-name brands they've worked with play a huge part in the rates charged by developers. Work experiences enable the client to know what they're buying into as a dev that has worked for a major tech company for over 5 years is bound to possess the ability to write quality code and generate results.
Another factor that's important for potential customers is finding developers who successfully delivered projects similar to their own and have experience working with relatable industries—the more widespread the experience of a dev, the higher their cost. 
In addition to the above factors, the cost of sourcing your developers can vary based on where you look. There are many options available to hire freelance developers, from job boards such as StackOverflow and Indeed to hiring platforms like Toptal, CloudDevs, and Upwork. 
Companies with big budgets may opt for external headhunters or recruiters to search for talent. This generally costs up to 25% of the new hire's first-year salary. However, suppose you're running a bootstrapped company or developing a startup or MVP. In that case, the cost of hiring a developer has to be a well-thought-out process as, most likely, you will be conducting an in-house recruitment process. 
In such instances, talent platforms such as Toptal and CloudDevs are the most convenient options for hiring prevetted, highly qualified developers.  
2. Freelance developer pricing models
When it comes to freelance developer pricing, two main pricing models are popular in the market.
On one end, you have devs that request project-based pricing. Based on the project capacity, the developer or agency will set a fixed price that the client will agree upon. They may request an upfront deposit to get things started, and the final amount will be paid at the successful completion of the project.
2.1 Project-based pricing model
While this model may seem like a great option for those with major budget constraints, the project estimation is based on the initial agreement. In cases where some level of flexibility is required to add or drop features based on the development outlook, this model can become difficult to maneuver.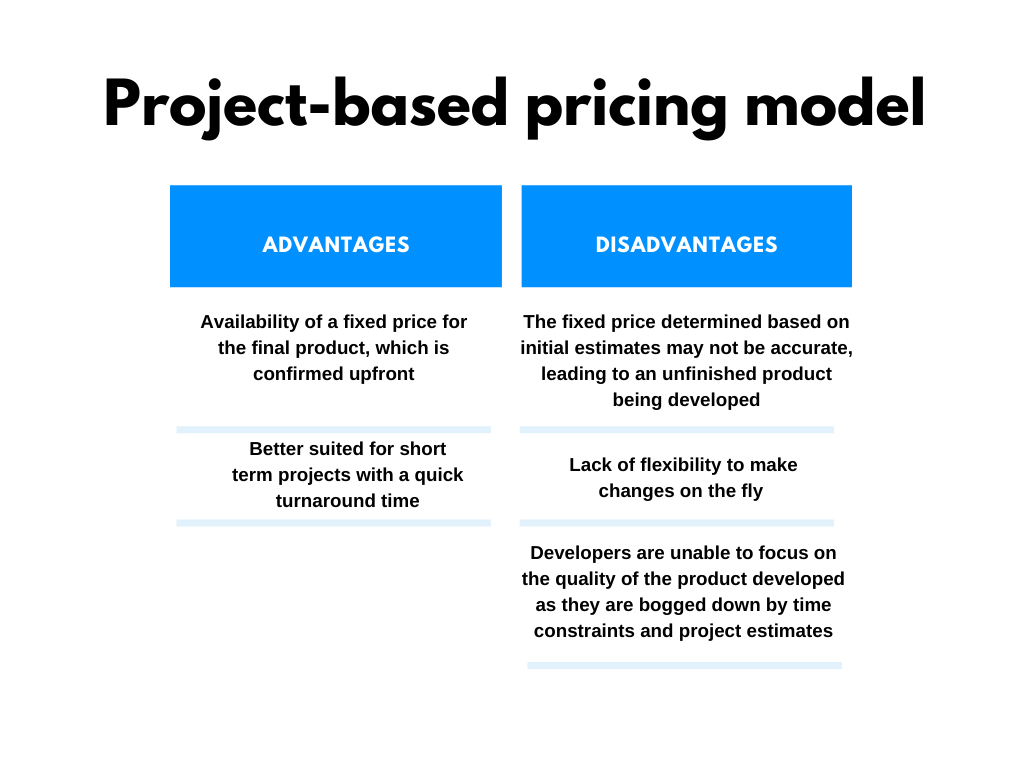 In general, most clients prefer to have some degree of flexibility, especially when building a product/ service from scratch, as you can never fully anticipate the outcome until the project is well underway. Having to stick to a rigid timeframe and set expectations not only restricts the ability of the developer to produce their best output but also prevents the client from making any changes to the original plan.
As showcased, it is evident that project-based pricing models restrict the level of flexibility offered in project development.
If this is still the type of model you feel is best for your needs, look into Gigster, as they offer a project-based pricing strategy that starts at $52,000/= per project. 
2.2 Time-based pricing model
The second option is to go for a time-based compensation model where you pay the freelancers for the hours of work they put into your project. While you'd have an initial discussion to estimate the number of hours it would take to develop your project in order to comprehend the overall approximate timeframe, time-based models are renowned for offering flexibility to client projects.

The time-based pricing model is in high demand among those that aim for more long-term projects, and they are favored among the majority for the flexibility they offer. CloudDevs and Toptal are some of the top time-based hiring models available in the market. 
3. Remote developer platform comparison
While there are quite a number of remote dev platforms the likes of Toptal and all its competitors, only very few out there actually provide the services of pre-vetted and screened tech talent. 
Turing is one such platform that offers a pool of highly vetted talent. They use an AI-driven engine to process their potential candidates' CVs, and they're also known to engage with mostly full-time long-term projects.
In contrast, CloudDevs offers a vast network of senior vetted remote tech talent that can be taken on with flexible contracts based on your project requirements. Their 5-step screening process ensures that the talent you get on board is qualified for the job at hand, and with every hire, you're provided with a free trial to ensure you got the right fit.
Furthermore, CloudDevs offers talent strictly from the Latin American region, where you can find some of the most qualified developers in the market. And due to the geographical proximity of their devs, all US clients are guaranteed that the talent is within their own timezone, enabling convenient communication and collaboration processes.
For a more in-depth analysis of Toptal and other similar freelancer platforms, head over to our review pages listed here: